6/2/07
| | |
| --- | --- |
| New England Revolution 0, Real Salt Lake 0 | |
Revs out-shoot RSL 23-8 but are unable to put one through.
FOXBOROUGH, Mass. - The New England Revolution and Real Salt Lake played to a 0-0 draw on Saturday evening at Gillette Stadium. Despite out-shooting RSL 23-8 - including a 14-2 advantage in shots on goal - and playing up a man for the final eight minutes of the game, the Revs were unable to put a shot past Salt Lake goalkeeper Nick Rimando and settled for their third tie of the season.
New England (5-2-3, 18 pts.) and Real Salt Lake (0-3-6, 6 pts.) played to their second 0-0 draw in the last two seasons, and the tie was Salt Lake's MLS-leading sixth draw of the season.
Revs keeper Matt Reis made two saves for his fourth shutout of the season, while Rimando recorded his second clean sheet of the year.
The Revs dominated the game in possession, and in the first half had several chances in the final third but couldn't get anyone on the end of several dangerous crosses. Taylor Twellman had a prime chance in the ninth minute when his header hit the crossbar after beating Rimando. Although the Revolution controlled the tempo early, RSL had a pair of chances when Freddy Adu found space in the 30th and 34th minutes but was wide of target in both occurrences.
In the second half, the Revs' defense held RSL to just one shot while the attack peppered Rimando with 15 shots, including nine on target. In the final eight minutes of the game when they were playing against the 10-man RSL squad, New England had four shots on goal all turned away by Rimando.
Twellman took seven shots in the game, his final before joining teammates Michael Parkhurst and Steve Ralston on the U.S. squad for the 2007 CONCACAF Gold Cup.
After a bye week, the Revolution return to action at 6:30 p.m. on Saturday, June 16, when the team hosts the Columbus Crew in the third game of a special soccer tripleheader. Prior to the MLS game, the quarterfinals of the CONCACAF Gold Cup will be contested at 1 and 4 p.m. For ticket information, call 1-877-GET-REVS.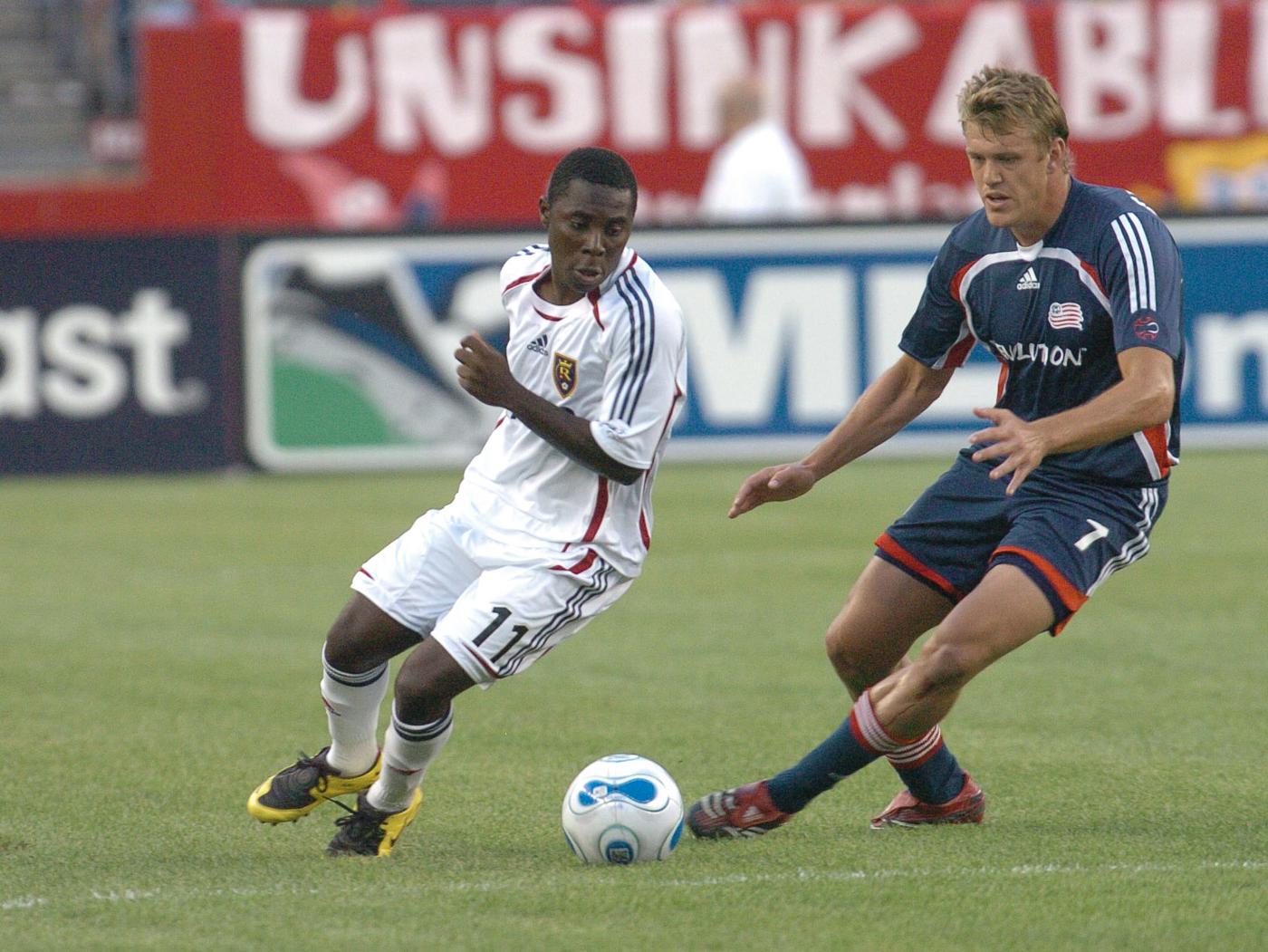 Real Salt Lake at New England Revolution
June 2, 2007 - Foxborough, Mass. (Gillette Stadium)

Scoring Summary
None
Real Salt Lake: Nick Rimando, Jack Stewart, Nikolas Besagno (Chris Brown 59), Eddie Pope ©, Willis Forko (Ritchie Kotschau 81),Chris Klein, Mehdi Ballouchy, Chris Lancos, Freddy Adu, Alecko Eskandarian, Atiba Harris (Andy Williams 66)

Substitutes Not Used: Chris Seitz, Kyle Brown, Steven Curfman, Jamie Watson
STATS: Shots 8 (3 players tied with 3); Shots on Goal 2 (Ballouchy, Klein 1); Saves 13 (Rimando 13); Corner Kicks 2 (Adu, Ballouchy 1); Offsides 2 (Adu, Ballouchy 1); Fouls Suffered 9 (Adu 3); Fouls Committed 14 (Pope, Lancos 3)
New England Revolution: Matt Reis, James Riley, Michael Parkhurst, Jay Heaps, Steve Ralston ©, Shalrie Joseph, Khano Smith (Bryan Byrne 71), Jeff Larentowicz, Andy Dorman (Wells Thompson 63), Adam Cristman (Pat Noonan 64), Taylor Twellman
Substitutes Not Used: Doug Warren, Daniel Hernandez, Avery John, Marshall Leonard
STATS: Shots 23 (Twellman 7); Shots on Goal 14 (Heaps, Twellman 3); Saves 2 (Reis 2); Corner Kicks 11 (Ralston 9); Offsides 7 (Noonan 3); Fouls Suffered 14 (Cristman 3); Fouls Committed 10 (Larentowicz 3)
Misconduct Summary:
RSL - Chris Lancos (caution) 38
NE - Jeff Larentowicz (caution) 42
RSL - Willis Forko (caution) 66
NE - Bryan Byrne (caution) 72
RSL - Ritchie Kotschau (ejection) 82
Referee: Baldomero Toledo
Referee's Assistants: Greg Barkey (SAR), Peter Calciunas (JAR)
Fourth Official: Jozef Batko
Time of Game: 1:50
Weather: Party Cloudy and 76 degrees
Attendance: 16,864
NOTES
Revs rookie midfielder Bryan Byrne made his MLS debut when he checked into the game in the 71st minute.
The Revs will benefit from their first full off week next weekend with no games scheduled … the Revs will return to action on June 16 vs. Columbus at home
Tonight's game was the second of the Revs' four-game homestand
Following the game three members of the Revolution will join the United States' CONCACAF Gold Cup squad in California: central defender Michael Parkhurst, midfielder Steve Ralston and forward Taylor Twellman … the trio will return to Foxborough when the U.S. plays its final group play game of the Gold Cup on Tuesday, June 12, against El Salvador.