5/3/09
Stuart Holden and Brian Ching provide the goals to lift the Dynamo over the Revolution in a rematch of the 2008 SuperLiga final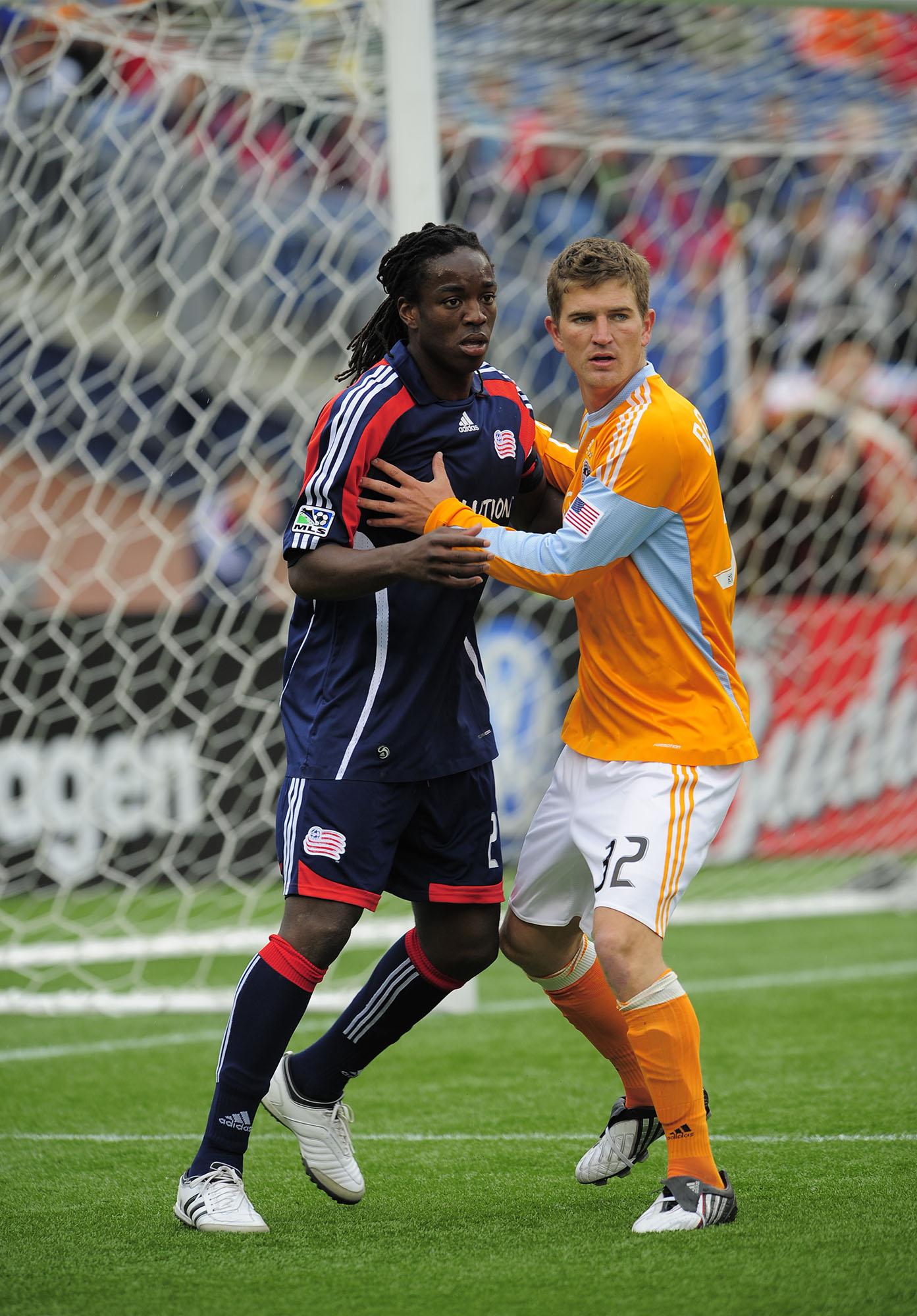 FOXBOROUGH, Mass. – Stuart Holden and Brian Ching scored goals either side of halftime and goalkeeper Pat Onstad earned his third consecutive shutout, as the Houston Dynamo defeated the New England Revolution, 2-0, on Sunday afternoon amid rainy conditions at Gillette Stadium.

The shutout loss was the second straight for the Revolution (2-2-2, 8 pts.) after starting the season undefeated through its first four matches. Meanwhile, the Dynamo (2-2-2, 8 pts.) has now won two straight after opening the season winless in its first four matches.

New England started the contest in a 3-5-2 formation for the first time this season, with rookie Darrius Barnes playing in the center of the three-man backline and Mike Videira playing as the attacking midfielder in his first career start. However, the change didn't generate the desired offense, as the Revs were outshot, 14-3.

Another change to the Revolution's lineup came between the pipes, as goalkeeper Matt Reis returned to the starting lineup after missing four games with inflammation in his right knee. He was tested for the first time in 18th minute when Houston midfielder Brian Mullan weaved his way through a pair of Revs defenders on the right wing, then pulled a cross back to Kei Kamara at the penalty spot. Kamara connected on his first-time shot, but the effort was kicked away by Reis.

Reis wasn't able to stop Holden's 22nd-minute shot, however, as the visitors took a 1-0 lead on an uncharacteristic mistake by the New England goalkeeper. Holden ran onto a loose ball in the midfield and struck a low blast from 25 yards out in the right channel, and the skipping shot squirted under Reis and inside the right post.

New England struggled to muster a response in the first half, as the home side was outshot, 7-0, in the opening 45 minutes.

The Dynamo continued to create the majority of the scoring chances early in the second half, and the pressure paid off as the visitors doubled their lead through Ching in the 58th minute. Brad Davis sent an in-swinging corner kick to the six-yard box, where Ching rose and powered a header into the roof of the net.

The Revolution handed 18-year-old forward Stephane Assengue his MLS debut when he was introduced as a substitute in the 65th minute, as the Revs looked for a spark in their attack. The move almost paid off in the 72nd minute when Jay Heaps' lofted cross into the box fell to Assengue, but the Cameroonian's shot sailed just wide of the upper right corner.

The match quieted down in the closing 15 minutes, however, as the Dynamo protected its two-goal lead on the road and shut down the Revolution attack.

The Revs will return to the road for their next match on Saturday, May 9, when they'll meet the Chicago Fire for the first time since being eliminated by their Eastern Conference rival in the first round of the 2008 MLS Cup Playoffs. The match is set to kick off from Toyota Park at 8:30 p.m. ET and will be televised live locally on TV38, while the action will also be available on the WEEI Radio Network.

New England Revolution vs. Houston Dynamo
May 3, 2009 – Foxborough, Mass. (Gillette Stadium)

Scoring Summary:
HOU – Stuart Holden (unassisted) 22
HOU – Brian Ching (Brad Davis) 58

New England Revolution (3-5-2): Matt Reis (GK), Amaechi Igwe, Darrius Barnes, Jay Heaps, Wells Thompson, Shalrie Joseph ©, Jeff Larentowicz, Sainey Nyassi, Michael Videira (Pat Phelan 77), Kenny Mansally, Kheli Dube (Stephane Assengue 65)

Substitutes Not Used: Brad Knighton (GK), Emmanuel Osei, Chris Tierney, Taylor Twellman, Rob Valentino

STATS: Shots 3; Shots on Goal 1; Saves 5; Corner Kicks 3; Offsides 1; Fouls Committed 9

Houston Dynamo (4-4-2): Pat Onstad (GK), Wade Barrett © (Andrew Hainault 42), Bobby Boswell, Geoff Cameron, Richard Mulrooney, Brad Davis (Corey Ashe 87), Ricardo Clark, Brian Mullan, Stuart Holden, Kei Kamara, Brian Ching (Ade Akinbiyi 87)

Substitutes Not Used: Tally Hall (GK), Julius James, Craig Waibel, Chris Wondolowski

STATS: Shots 14; Shots on Goal 7; Saves 1; Corner Kicks 5; Offsides 0; Fouls Committed 13

Misconduct Summary:
HOU – Ricardo Clark (caution) 44
NE – Kenny Mansally (caution) 51
HOU – Brian Mullan (caution) 63

Referee: Terry Vaughn
Referee's Assistants: Joe Fletcher (SAR), Claudio Badea (JAR)
Fourth Official: Jorge Gonzalez
Time of Game: 1:51
Weather: Cloudy and 64 degrees
Attendance: 9,112

NOTES
Sunday afternoon's match was just the seventh all-time, regular-season meeting between New England and Houston … the victory was the Dynamo's first over the Revolution in the regular season, as the Revs now lead the all-time series, 3-1-3.
The match was the first meeting between the two clubs since the SuperLiga 2008 final on Aug. 5, 2008, at Gillette Stadium … the Revolution won that match in a penalty shootout after regulation and extra time finished tied, 2-2, to claim the title of North American champions.
The Revs have now been shut out in back-to-back regular-season matches for the first time since August 2006 (Aug. 9, 0-0 draw with Kansas City; Aug. 20, 1-0 loss to Chicago).
Sunday afternoon's match was the first of a stretch in which the Revolution will play four of its next six games at Gillette Stadium … the Revs began the season by playing four of their first five matches on the road.
The match marked the first time that the Revolution hosted a Sunday afternoon game at Gillette Stadium since Aug. 5, 2007 (3-0 loss to D.C. United).
After deploying a 4-4-2 setup for the first five matches of the season, the Revolution started Sunday afternoon's game in a 3-5-2 setup … the Revs had used a 3-5-2 formation once before this season, in the second half of the home opener against FC Dallas.
For the sixth straight game, New England was missing several key players … Steve Ralston (R adductor strain), Kevin Alston (R hamstring strain), Mauricio Castro (L hamstring strain), Gabriel Badilla (lower back sprain) and Chris Albright (L lateral meniscus tear) were all unavailable because of injury.
Taylor Twellman (neck pain) dressed and was available on the substitute's bench for the first time this season, but did not enter the match.
Sainey Nyassi started the match on the right wing and played the full 90 minutes despite not training all week while suffering from a left knee contusion.
Milford, Mass., native Mike Videira made his first career start, serving as the attacking midfielder in New England's five-man midfield … Videira made his MLS debut last weekend against Real Salt Lake (April 25), entering as a second-half substitute.
18-year-old forward Stephane Assengue made his MLS debut, replacing Kheli Dube in the 65th minute … the Cameroonian teenager was signed by the Revs on March 26, while he first trained with the team on April 7.
New signing Emmanuel Osei was available on the bench for the first time since signing with the Revolution on March 31 … Osei arrived in Boston on Thursday (April 30) and trained with the Revs for the first time on Friday (May 1).