5/23/09
| | |
| --- | --- |
| Toronto FC 3, Revolution 1 | |
Revs drop road match after taking 1-0 lead early in first half on Shalrie Joseph's third goal of the year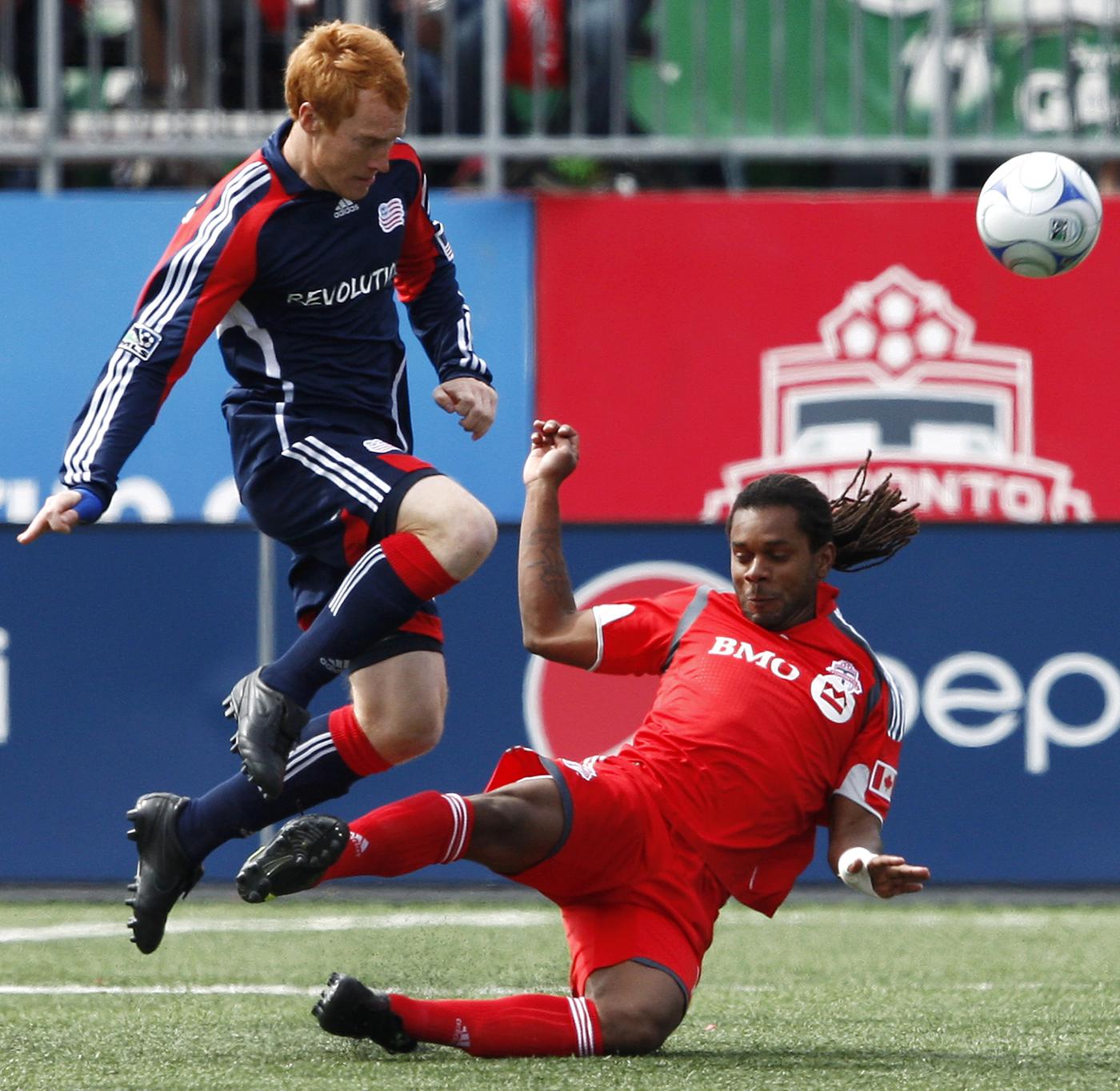 TORONTO - Despite scoring the first goal and having two more prime go-ahead chances, the New England Revolution suffered a 3-1 loss to Toronto FC at BMO Field on Saturday afternoon.

Shalrie Joseph gave the Revs a 1-0 lead in the 13th minute with his team-leading third goal of the year, but TFC scored three unanswered goals – including a pair in a two-minute span in the second half – to seal the victory.

With the loss, the Revolution fell to 2-3-4 (10 pts.) on the season and extended its winless streak to six games dating back to April 17. The victory pushed Toronto FC (4-3-4, 16 pts.) into first place in the Eastern Conference pending the results of tonight's matches.

The loss was also the Revolution's first-ever defeat against Toronto since TFC joined MLS in 2007.

Joseph notched his team-leading third goal of the year in the 12th minute, giving the Revs their earliest lead this season. After Jay Heaps played him into space on the left wing, Chris Tierney settled and sent a looping cross into the heart of the area that found Joseph surrounded by defenders. Joseph stepped free and flicked a header on to the far post, beating Toronto rookie keeper Stefan Frei from 10 yards out for the 1-0 lead.

The advantage was short-lived, however, as Amado Guevara equalized for Toronto less than a minute later. In the 13th minute, he blasted a short layoff from Danny Dichio past Revolution keeper Matt Reis from 19 yards out at the top of the penalty arc after the ball bounced around between several TFC players.

Joseph nearly re-established the Revs' lead in the 33rd minute when a low, slicing Steve Ralston pass from the left found him 12 yards out in the box. With the ball at his feet, Joseph stepped ahead of a pair of TFC defenders and was one-on-one with Frei eight yards from goal. However, just as Joseph launched his shot on an open goal, Toronto defender Jim Brennan stepped into the play and deflected the ball out of play.

As the second half opened, Ralston also had a chance to put the Revs back on top in the 46th minute. Ralston got enough space on Brennan as they ran toward goal after he was played into the area, and launched a dipping shot from eight yards, but it was just high of frame.

After two chances to take the lead went for naught for the Revs – and another blast from former TFC draft pick Pat Phelan was turned away by Frei – Toronto took advantage of a play close to being offside to take a 2-1 advantage in the 67th minute. Dichio chipped a ball over the back of the Revs' defense into the path of an on-running Dwayne De Rosario. The Canada international settled and snuck a shot under Reis on the run for the 2-1 lead.

Minutes later, Toronto extended its lead to two goals, pushing the score to its final 3-1 margin. After a foul and resulting caution on Wells Thompson 26 yards out from goal, Guevara stepped up and served a ball deep into the area. His service bounded over everyone in the box – including a leaping Dichio – and bounced just in front of the goal line and into goal, finding the far upper corner of the goal past a diving Reis who had come out into traffic.

The Revs return home to Gillette Stadium next Saturday, May 30, for the first of back-to-back home games, when the team faces rival D.C. United at 7:30 p.m. TV38 will televise the game live, while the WEEI Radio Network will also have the game.

A special pregame party will be held prior to the game, with Boston-based Lansdowne playing a special set for fans attending. The Rev Girls will also be on hand, with half-price food specials, as well as a selection of domestic and imported beers. For ticket information, visit revolutionsoccer.net or call 1-877-GET-REVS.

New England Revolution at Toronto FC
May 23, 2009 – BMO Field (Toronto, Ontario, Canada)

Scoring Summary
NE - Shalrie Joseph (Chris Tierney, Jay Heaps) 13
TFC - Amado Guevara (Danny Dichio) 14
TFC – Dwayne De Rosario (Danny Dichio) 67
TFC – Amado Guevara (unassisted) 70

New England Revolution: Matt Reis, Jay Heaps, Darrius Barnes, Emmanuel Osei, Kevin Alston, Chris Tierney (Sainey Nyassi 76), Pat Phelan (Stephane Assengue 79), Jeff Larentowicz, Wells Thompson, Steve Ralston ©, Shalrie Joseph

Substitutes Not Used: Brad Knighton (GK), Amaechi Igwe, Kheli Dube, Mike Videira, Kenny Mansally

Toronto FC: Stefan Frei; Jim Brennan ©, Nan Attakora, Adrian Serioux, Marvell Wynne; Sam Cronin, Carl Robinson; Amado Guevara (Kevin Harmse 85), Dwayne De Rosario, Danny Dichio (Pablo Vitti 81), Chad Barrett (Rohan Ricketts 90).

Substitutes Not Used: Greg Sutton, Fuad Ibrahim, Johann Smith, Marco Velez

Misconduct Summary:
NE – Wells Thompson (caution) 69
TFC – Amado Guevara (caution) 80
NE – Steve Ralston (caution) 81

Referee: Michael Kennedy
Assistant Referees: Daniel Belleau; James Conlee
Fourth Official: Carol-Anne Chenard
Time of Game: 90 minutes
Weather: Party cloudy and 66 degrees
Attendance: 20,478

Game Notes
New England suffered its first-ever loss to Toronto with the defeat this afternoon … the Revs entered the match 3-0-2 all-time against TFC, including a 0-0-2 mark at BMO Field … the Revs are now 3-1-2 all-time against TFC.
Today's loss marked the first time this season the Revolution lost a match when they scored a goal … the team's previous two losses came when the team had been shut out.
Shalrie Joseph's goal in the 13th minute pushed his team-leading season total to three … he now has 19 career goals.
Joseph's goal in the 13th minute marked the earliest the Revolution has scored so far in the 2009 season.
Chris Tierney's assist on Shalrie Joseph's first-half goal was his second career assist … both of his career assists have come against Toronto … his first career assist came at Toronto on Aug. 23, 2008, on Taylor Twellman's goal … his service on Twellman's goal came from approximately the same spot on the field as his assist on Joseph's goal this season.
Jay Heaps was credited with an assist on Shalrie Joseph's first-half goal, marking his first assist of the 2009 season and the 31st of his career.
With his start in goal, Matt Reis made his first appearance since May 9 … he missed the Revolution's last match while recovering from a concussion suffered in training during the week … this was his fourth start of the season.
With 10 total shots, the Revolution took the team's highest shot total since April 4, when the team had 14 shots in a 2-1 win against FC Dallas.
Stephane Assengue checked in late in the second half and made just his second MLS appearance since joining the Revolution in April … it was also Assengue's 19th birthday today.
Recently-acquired midfielder Nico Colaluca also celebrated his birthday today – his 23rd – although he did not travel with the team to Toronto.