5/1/09
| | |
| --- | --- |
| Game Preview: New England vs. Houston | |
Revolution renews its inter-conference rivalry with the Houston Dynamo on Sunday afternoon at the site of last season's SuperLiga final, Gillette Stadium.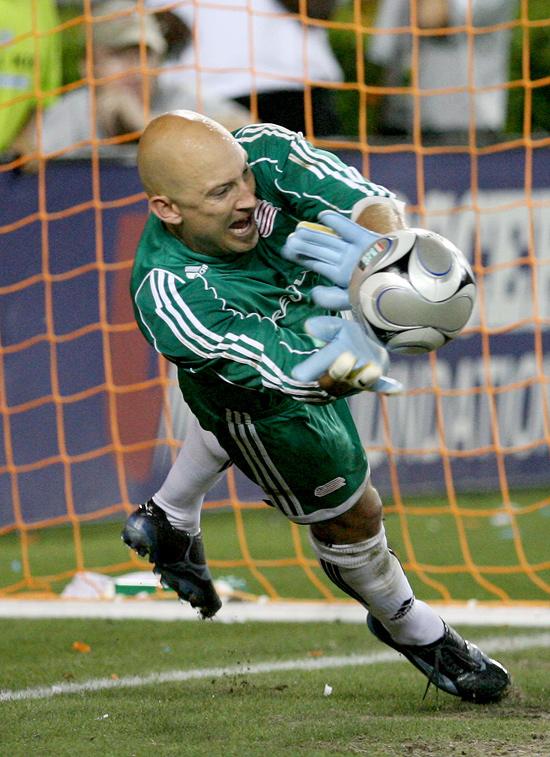 Matt Reis is expected to return to the field for the Revolution this Sunday afternoon when they take on the Dynamo at Gillette Stadium.
New England Revolution vs. Houston Dynamo
Sunday, May 3, 2009
Gillette Stadium (Foxborough, Mass.)
3 p.m. ET
TV: TV38 (English), Telefutura (National, Spanish)
Radio: WEEI Radio Network

OVERVIEW
After playing four of its first five games on the road – the latest being a 6-0 defeat to Real Salt Lake at Rio Tinto Stadium last weekend – the Revolution returns home on Sunday, May 3, to host the Houston Dynamo, a club which the Revs have never lost to in the regular season (3-0-3). However, a hard-fought game should be expected despite the one-sided nature of the clubs' brief regular-season history. A rivalry between the sides has been fueled while fighting for trophies during the past three years, and this contest should live up to recent performances. In 2006 and 2007, Houston walked away with a pair of MLS Cups by ousting the Revolution in the title match, but last season, New England gained a bit of redemption as it defeated the Dynamo, 6-5 in a penalty shootout, to win SuperLiga.
Sunday's match will be first time that the two have met since the SuperLiga final, and both clubs will be eager to pick up valuable points early in the season. The Revs are well-positioned with a record 2-1-2 despite last weekend's loss to Real Salt Lake, while Houston should be riding a bit of momentum after earning its first win of the season in its last match, a 1-0 victory over Colorado.
Hosting a familiar opponent this weekend, the Revs will look to build on their regular-season success against the Dynamo as well as make their move back into the top of the Eastern Conference standings.
The Revolution swept the 2008 regular-season series with a pair of shutout wins … the Revs won the season opener, 3-0, at Gillette Stadium on March 29 and earned a 2-0 victory at Robertson Stadium on June 12.
The Revs are 1-0-2 against the Dynamo in regular-season action at Gillette Stadium … New England is 2-0-1 in Houston.
The Revs have never been shut out by the Dynamo, but have posted three defensive shutouts in regular-season action.
After playing four of their first five matches on the road, the Revs will play four of their next six games at Gillette Stadium … entering this weekend, the Revolution was the only team in the league to have only played one home match.
While the Revs were shut out by Real Salt Lake in a 6-0 loss last Saturday night (April 25), history tells us that the Revs are unlikely to be blanked again this weekend … New England hasn't been shut out in back-to-back regular-season games since August of 2006, when the club was blanked by Kansas City (Aug. 9, 0-0 draw) and Chicago (Aug. 20, 1-0 loss).
Goalkeeper Matt Reis – who could return to the starting lineup on Sunday after missing four games with right knee inflammation – earned his 49th career shutout in the season-opening, 1-0 win over the San Jose Earthquakes (March 21) … he needs just one more clean sheet to become the seventh goalkeeper in MLS history to record 50 shutouts.
Midfielder Mike Videira could see increased time this weekend with Steve Ralston still battling an adductor strain … the Milford, Mass. native made his MLS debut with a substitute appearance against Real Salt Lake last Saturday night (April 25) ... Videira entered the match in the 64th minute and served as an attacking midfielder in a 4-4-1-1 setup.
INJURY REPORT (As of Tuesday, April 28)
New England Revolution
PROBABLE: Stephane Assengue (L foot contusion), Zack Simmons (L rotator cuff strain)
QUESTIONABLE: Sainey Nyassi (L knee contusion)
DOUBTFUL: Steve Ralston (R adductor strain)
OUT: Chris Albright (L lateral meniscus tear), Kevin Alston (R hamstring strain), Gabriel Badilla (lower back sprain), Mauricio Castro (L hamstring strain), Taylor Twellman (neck pain)
Houston Dynamo
OUT: Danny Cruz (broken nose), Eddie Robinson (L knee surgery)

PLAYERS TO WATCH
New England Revolution
Matt Reis – The veteran goalkeeper could see his first action on Sunday since his 1-0 win against San Jose in Week One … Reis is 3-0-3 against the Dynamo with a 0.83 goals against average in regular-season action.
Shalrie Joseph – The imposing central midfielder has had a stellar early start to the season with a goal and a pair of assists ... his ability to control the middle of park could prove to be the difference this weekend with the likes of Stuart Holden and Ricardo Clark opposing him in Houston's central midfield.
Houston Dynamo
Brian Ching – A handful for defenders with his physical nature up top … scored the only goal of the game in his club's 1-0 victory over Colorado two weeks ago to help notch Houston's first win of the season, which could help both his and his teammates' confidence moving forward.
Ricardo Clark – The Dynamo's stalwart in the center of the park, Clark will be tussling with Jeff Larentowicz and Shalrie Joseph all day … the Revs will need to close him down quickly because his long-distance strike can prove hazardous.

PREGAME QUOTES
HEAD COACH STEVE NICOL
On what the team can learn from last weekend's game …
"There's always lessons to be learned whether you win or whether you lose, but certainly when you lose the way that we did, the biggest lesson is that the fundamentals of the game need to be done correctly. If you don't pass the ball correctly, if you don't control the ball correctly, you don't make good decisions and put your teammate under pressure whenever you're giving him the ball – all those fundamental things. We all love the silky soccer and overhead kicks, but what wins you games is the fundamentals and doing them well."
On the expectations against Houston …
"We're at home and we want to win the game. How we go about that will be determined in the next couple days. We're hoping to get (Steve) Ralston back so that will certainly change how we play."
On the club's history with Houston …
"We've played each other enough times and know each other well enough and there's a good respect between the two teams – the clubs, the staff, the players. We do regard each other pretty highly. It's a league match, it's three points and both teams will want to win it."
On Matt Reis possibly returning to the field …
"After last weekend, it's good to get some experience back that'll settle everyone. Brad Knighton did a fantastic job for us, but the experience that Matt will be able to pass – to the backline in particular – I'm sure will calm them down and make last weekend a distant memory."
GOALKEEPER MATT REIS
On his knee …
"The knee's fine. It was a freak thing where there was no injury when it happened. It just kept swelling up and not going away and I've never had that it my career, so it was something to struggle with, but now it's fine."
On possibly getting back in goal on Sunday …
"It's going to be good. It's almost been a month now so there'll be a little bit of rust, but it's been tough watching games. It's been about seven years since I have had to watch games and it's a lot better to play in them."
On Houston …
"They're always a good team. They have great players. They have a lot of ways that they can beat you so we have to play a full 90 minutes. I don't think we did that last game. We probably played for about 75, 80 minutes and just those few minutes away, that's how you get a lot of goals scored on you. I think just bringing back our intensity and focus for 90 minutes is going to be the goal."
On the rivalry …
"Every game we play with them is a great game. We've played for a lot of trophies and championships and won some and lost some, so the history is there and whenever you play a good team you want to end up on top."