7/8/08
| | |
| --- | --- |
| Revolution 1, CP Baltimore 1 | |
Mauricio Castro converts the decisive penalty kick to send the Revs to the U.S. Open Cup Semifinals for the second straight year, where they will face D.C. United on Aug. 12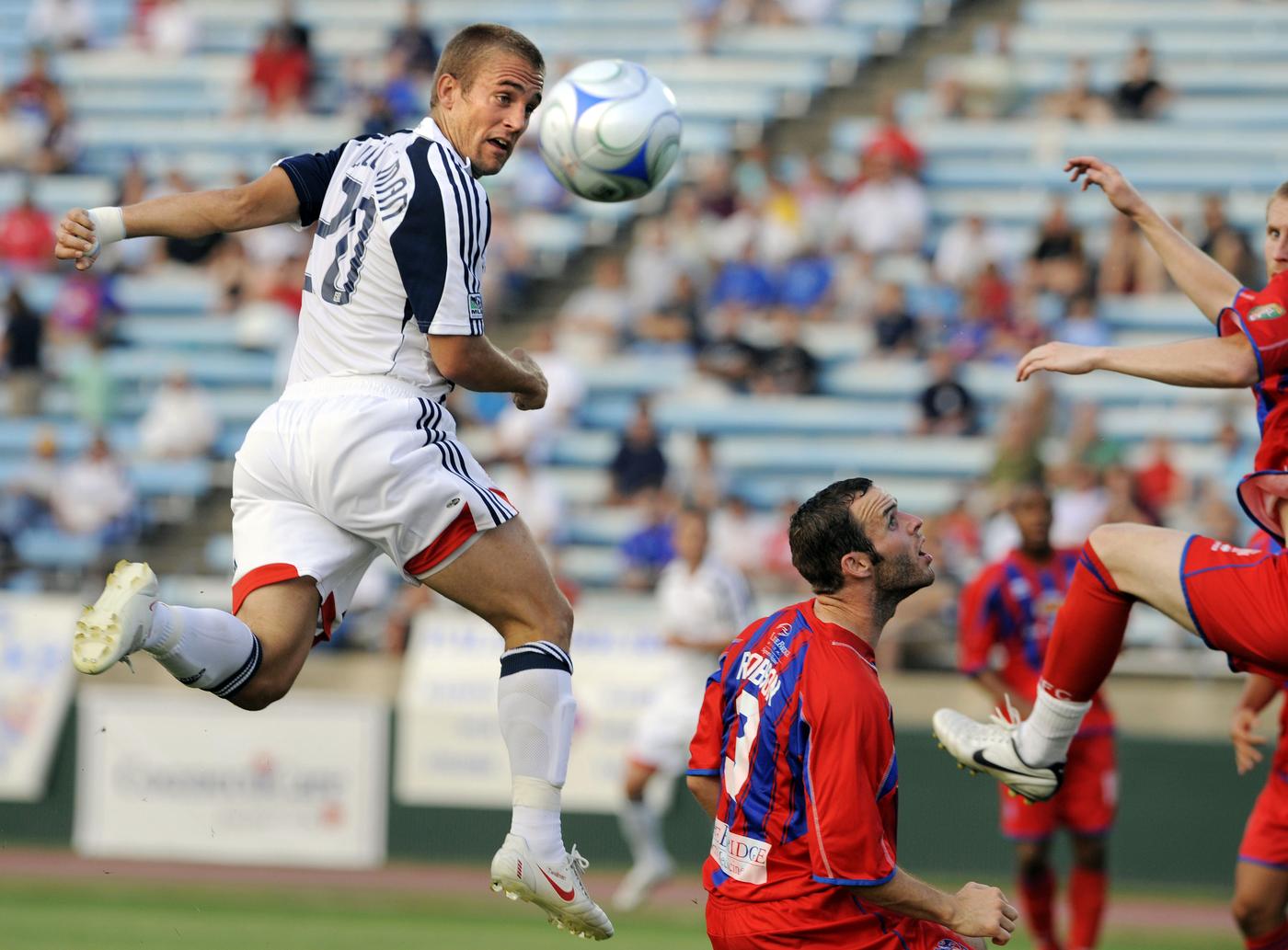 NEW BRITAIN, Conn. – Goalkeeper Doug Warren made the only save of the penalty shootout, as the New England Revolution defeated USL-2 side Crystal Palace Baltimore, 5-3 on penalty kicks, after 120 minutes of regulation and extra time finished 1-1 at Veterans Stadium in New Britain, Conn. on Tuesday night. With the win, the Revs advanced to their second consecutive U.S. Open Cup Semifinal, where they will meet D.C. United for the chance to play for the tournament title.

United secured its passage to the semifinal round with a 2-1, extra-time victory over the Chicago Fire at the Maryland SoccerPlex in Germantown, Md., also on Tuesday night. New England and D.C. will square off on Tuesday, Aug. 12, at RFK Stadium in Washington, D.C.

After goals from New England's Kenny Mansally and Baltimore's Dan Lader cancelled each other out over the course of regulation and extra time, Revs midfielder Mauricio Castro struck the decisive penalty, chipping his attempt deftly into the left side of the goal as Palace goalkeeper Brian Rowland dove the wrong way. Warren set up the chance for Castro to win it by diving full stretch to his left to deny Val Teixeira's well-struck attempt.

Mansally gave New England an early sixth-minute lead with his first career U.S. Open Cup goal. Midfielder Brandon Tyler played a long through ball from just inside the midfield stripe, which split the Crystal Palace defense and put Mansally in alone on Rowland. Mansally faked a shot and rounded Rowland to his left before slotting a shot into the net past a backtracking defender.

The Eagles nearly equalized in the 13th minute, as Matthew Mbuta settled Bryan Harkin's cross in the box and fired a close-range volley. However, Warren charged off his line and smothered the shot with his chest.

Seven minutes later, Palace did pull level through midfielder Dan Lader. A goalmouth scramble ensued following a corner kick from the right side, and the ball popped to Lader at the top of the box, where he fired a low, left-footed shot through a maze of players and inside the right post.

The Revs almost regained the lead in the 29th minute, as Taylor Twellman's shot from the left side of the area was saved and Mansally's follow-up effort on an open goal was looped over the crossbar.

After a quiet opening to the second half, the Revolution had back-to-back chances in the 73rd and 75th minutes. First, midfielder Chris Tierney blasted a left-footed shot from outside the area, which narrowly missed the far upper corner, while Twellman followed up two minutes later with a near miss after he had been set up in the box by Mansally.

Pat Phelan came inches from winning the match for New England in the 89th minute, but his header from eight yards out went just over the crossbar, sending the game to extra time.

The two best chances of extra time fell to the Revs, as Twellman had a dipping, long-range shot saved in the 97th minute, and Tierney's bending free kick was almost turned into the Crystal Palace net by a Baltimore defender in the 110th minute.

The Eagles were reduced to 10 men just seconds before the penalty shootout, as Sergio Flores was shown a straight red card for a tackle on Phelan.

New England will return to action on Sunday, July 13, when the club will open group play in SuperLiga 2008 by hosting Mexican power Santos Laguna at 8 p.m. ET at Gillette Stadium. The Revs will be participating in SuperLiga throughout the month of July before resuming their MLS regular-season schedule on Saturday, Aug. 9, when they will host the Chicago Fire at Gillette Stadium.

New England Revolution vs. Crystal Palace Baltimore
U.S. Open Cup Quarterfinal
July 8, 2008 – New Britain, Conn. (Veterans Stadium)

Scoring Summary:
NE – Kenny Mansally (Brandon Tyler) 6
BAL – Dan Lader (unassisted) 20

Penalty Kicks – Shootout:
NE – Chase Hilgenbrinck (Goal)
BAL – Shintaro Harada (Goal)
NE – Kheli Dube (Goal)
BAL – Bryan Harkin (Goal)
NE – Chris Tierney (Goal)
BAL – Matthew Mbuta (Goal)
NE – Amaechi Igwe (Goal)
BAL – Val Teixeira (Saved)
NE – Mauricio Castro (Goal)

New England Revolution: Doug Warren (GK), Chase Hilgenbrinck ©, Amaechi Igwe, Sam Brill, Rob Valentino (Brandon Manzonelli 84), Chris Tierney, Brandon Tyler, Pat Phelan, Khano Smith (Joe Germanese 67), Kenny Mansally (Kheli Dube 102), Taylor Twellman (Mauricio Castro 120)

Substitutes Not Used: Matt Reis (GK)

STATS: Shots 26; Shots on Goal 8; Saves 5; Corner Kicks 5; Offsides 4; Fouls Committed 11

Crystal Palace Baltimore: Brian Rowland (GK), Shintaro Harada, Andrew Marshall, Mike Lookingland, Paul Robson, Larry Mark (Cecil Lewis 81), Pat Healey (Val Teixeira 73), Dan Lader (Jim Cherneski 115), Bryan Harkin, Matthew Mbuta, Gary Brooks (Sergio Flores 81)

Substitutes Not Used: Matt Nelson (GK), Carlos Morales

STATS: Shots 12; Shots on Goal 6; Saves 7; Corner Kicks 2; Offsides 3; Fouls Committed 16

Misconduct Summary:
NE – Amaechi Igwe (caution) 33
NE – Chase Hilgenbrinck (caution) 59
BAL – Val Teixeira (caution) 78
BAL – Bryan Harkin (caution) 109
BAL – Sergio Flores (ejection) 119

Referee: Hilario Grajeda
Referee's Assistants: Claudio Badea (SAR), Russell Wolf (JAR)
Fourth Official: Niko Bratsis
Time of Game: 2:35
Weather: Sunny and 85 degrees
Attendance: 2,590

NOTES
The match was the Revs' first-ever against Crystal Palace Baltimore.
The Revs are now 10-6-3 all-time in the U.S. Open Cup, while they're 8-2-2 at home.
New England will open SuperLiga group play on Sunday, July 13, when the club hosts Mexican power Santos Laguna at 8 p.m. ET at Gillette Stadium.
This will be the Revs' third trip to the U.S. Open Cup Semifinals, as they previously advanced to the semifinal round in 2001 and 2007 … New England won both of its previous semifinal matches.
Midfielder Khano Smith returned to the Revolution starting lineup after missing a total of six matches – three while with the Bermuda National Team and an additional three games with a left foot sprain … Smith missed five MLS regular-season matches and the third round U.S. Open Cup contest against the Richmond Kickers … it was Smith's first appearance with the Revs since June 6 against FC Dallas.
New England last went to penalty kicks on Aug. 2, 2006, when it defeated USL-1's Rochester Rhinos, 4-3 on penalty kicks, after the game finished scoreless after extra time and regulation.