5/26/10
| | |
| --- | --- |
| Dube forges ahead through scoring slump | By Jeff Lemieux, Staff Writer & Online Host |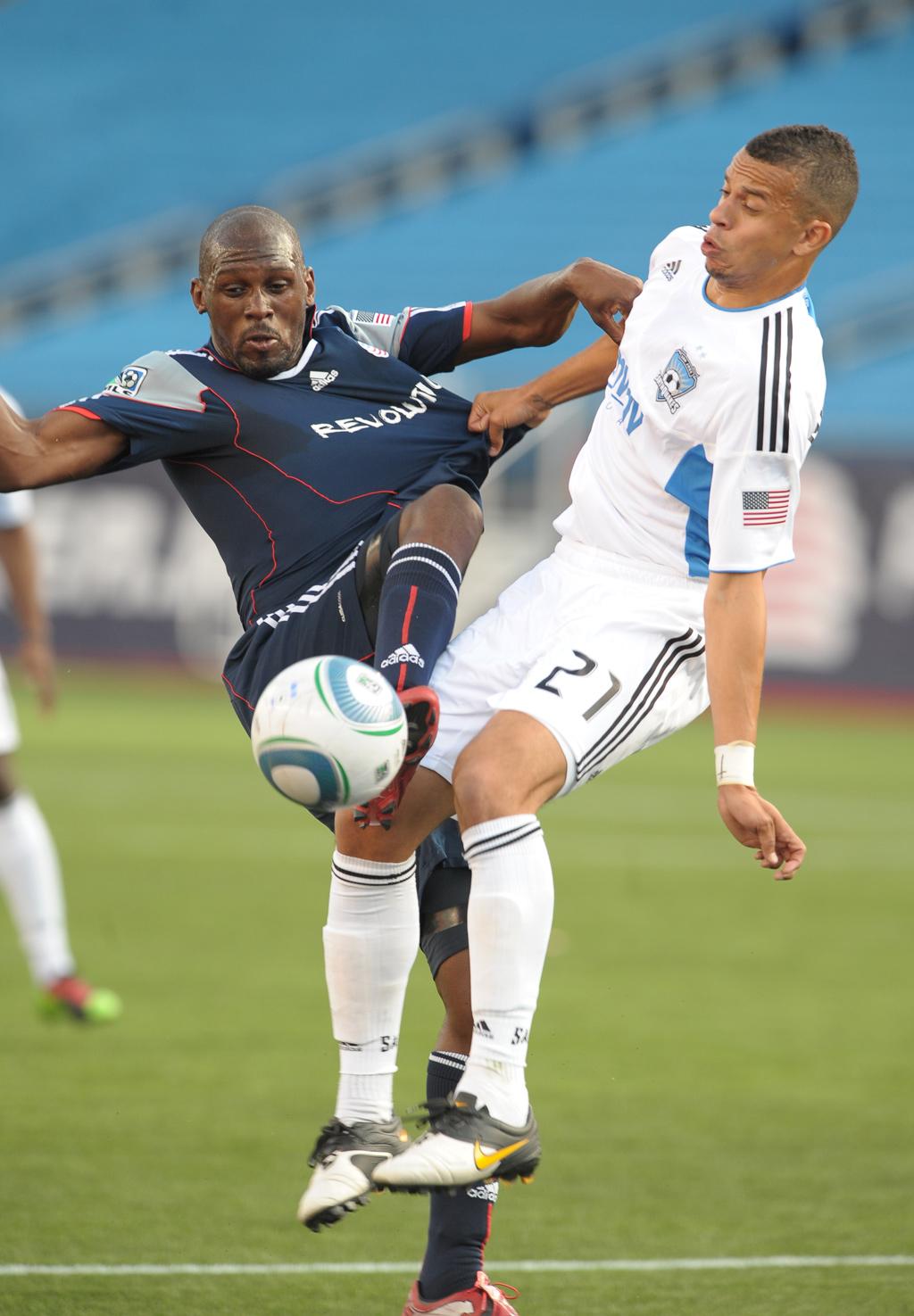 Kheli Dube has yet to find the back of the net in 2010, but its not been for lack of effort or chances.
FOXBOROUGH, Mass. – As a rookie out of Coastal Carolina University in 2008, Kheli Dube scored four goals and was a finalist for the league's rookie of the year award. In his second season, he erased fears of a sophomore slump by doubling his goal total to tie for the team lead in scoring with eight goals. It was a running joke leading up to the 2010 season that Dube would have to score 16 goals in his third year to continue his pattern of doubling his goal total each season.
While no one really expected Dube to score 16 goals – no Revolution player has done that since Taylor Twellman struck 16 times in 2007 – it's perhaps equally as surprising that the Zimbabwean has yet to find the back of the net even once in the first 10 games of the season.
The current scoring drought hasn't been for lack of playing time, as he's appeared in nine of New England's matches, starting eight. It surely hasn't been for lack of effort – Dube is widely considered one of the hardest working players on the club. It hasn't even been a lack of scoring opportunities.
Right now, the ball simply isn't going into the net.
"The fact that he's getting in positions to score is good," said head coach Steve Nicol, who drafted Dube in the first round of the 2008 MLS Supplemental Draft. "Obviously for both him and for us, it'd be nice for him to hit the net, get him rolling and take a bit of pressure off him as well as us."
The most recent example of Dube's misfortune in front of goal occurred in the Revolution's last match against Toronto FC. In the 11th minute, Marko Perovic swung in a perfect cross from the left wing, directly into Dube's stride about six yards from goal. Dube stretched out his right leg and made perfect contact with the volley, only to see his shot strike TFC goalkeeper Stefan Frei in the head and bounce harmlessly out of bounds.
To his credit, Dube did all any forward can hope to do when dealing with that type of cross – make solid contact and direct the shot on goal. Had the shot gone anywhere else, the ball would've been in the back of the net and you wouldn't be reading this story right now.
"I think he did everything right," said fellow forward Zack Schilawski, who was watching from the bench as Dube's shot was blocked by Frei's noggin. "If it was me out there that missed the chance, I wouldn't want people to be upset with me, for sure. He hit it well, he hit it on goal, he did well with it – it just didn't go in."
As a forward, Schilawski knows all about the pressure associated with a scoring slump. The rookie – who currently leads the Revs with four goals – said sometimes the stress becomes more mental than physical.
"It's extremely frustrating," said Schilawski. "As soon as you miss one, you kind of mentally start thinking about it and it keeps building and snowballing on you. It's tough."
Luckily for Dube, he's an experienced player who has broken out of similar slumps in the past. In 2009, Dube scored the Revolution's first goal of the year in the season opener on March 21, but didn't score again until July 19, a span of nine appearances without a goal. He then proceeded to score seven goals in his next 13 appearances.
As such, the 26-year-old believes he has the mental toughness necessary to avoid letting the pressure affect his play.
"I'm not thinking too much, because I've got great coaches who trust me," said Dube. "Just playing week in and week out gives me confidence. As much as I'm trying to score goals, if I'm assisting or making other guys score goals and win games, that's important to me."
The goals for Dube will eventually come, but in the meantime, he's accounted for his lack of goals by turning into the Revolution's primary setup man. After not recording a single assist last season, Dube has already racked up four helpers in 2010 and is currently tied for fourth in the league in the category. That type of setup play has helped Dube maintain his confidence, and his self-belief will only get stronger once he finds the target.
The Zimbabwean has ridden the wave of confidence in the past, and some might go so far as to call him a "streaky" player. Although he went nine straight games without scoring from March to July in 2009, he then scored five goals in his next six games. In 2008, all four of Dube's goals came in a five-game span during May and June.
"It's every forward," said Dube when asked if confidence makes him more effective. "If you look at forwards everywhere in the world, there are times they go on dry spells, and as soon as you get that one goal, then everything just comes up again. Right now, it's just a matter of getting that one goal. If I get that first goal, then my confidence is going to go up and I can start over again."
Dube became popular in his first two seasons for his array of goal-scoring celebrations, all of which are traditional African dances. Although he's yet to score a goal this season, Revolution fans are hoping Dube will be dancing very soon.
Maybe once he starts, he won't be able to stop.