6/4/10
| | |
| --- | --- |
| Injury Report - June 4, 2010 | By Revolution Communications |
Players upgraded highlight the end-of-week list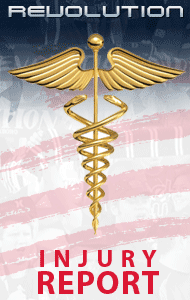 The Revolution athletic training staff released the end-of-week injury list on Friday morning ahead of the final training session in Seattle before tomorrow night's match against Sounders FC.

Five players have been upgraded from the early week list, while a full complement of 19 players made the trip to Seattle, meaning the Revs will dress 18 players on Saturday for the first time since May 1 against Dallas.

NE Injury List - June 4, 2010

PROBABLE: Nico Colaluca (L knee sprain), Kheli Dube (R hamstring strain), Cory Gibbs (R hamstring strain)

QUESTIONABLE: Mike Videira (L ankle Os Trigonum)

DOUBTFUL: Matt Reis (L shoulder/knee surgeries)

OUT: Darrius Barnes (R ankle sprain), Preston Burpo (R leg surgery), Taylor Twellman (concussion)

Starting with who is not on the list, both Kevin Alston and Emmanuel Osei have been upgraded off of the list, where they were both listed as PROBABLE on Tuesday. Both also traveled to Seattle.

Three other players - Nico Colaluca, Kheli Dube and Cory Gibbs - have all been upgraded to PROBABLE from QUESTIONABLE on Tuesday's list. All three had varying degrees of participation this week at training, with Dube and Gibbs making the travel squad.

The rest of the list - Mike Videira (QUESTIONABLE), Matt Reis (DOUBTFUL) and Darrius Barnes, Preston Burpo and Taylor Twellman (all OUT) - remains the same from Tuesday.