6/4/10
| | |
| --- | --- |
| Sounders present last hurdle before break | By Jeff Lemieux, Staff Writer & Online Host |
In search of back-to-back wins before taking two weeks off for the FIFA World Cup, the Revs visit Seattle Sounders FC on Saturday night at Qwest Field | GameDay >> | MLS MatchCenter >>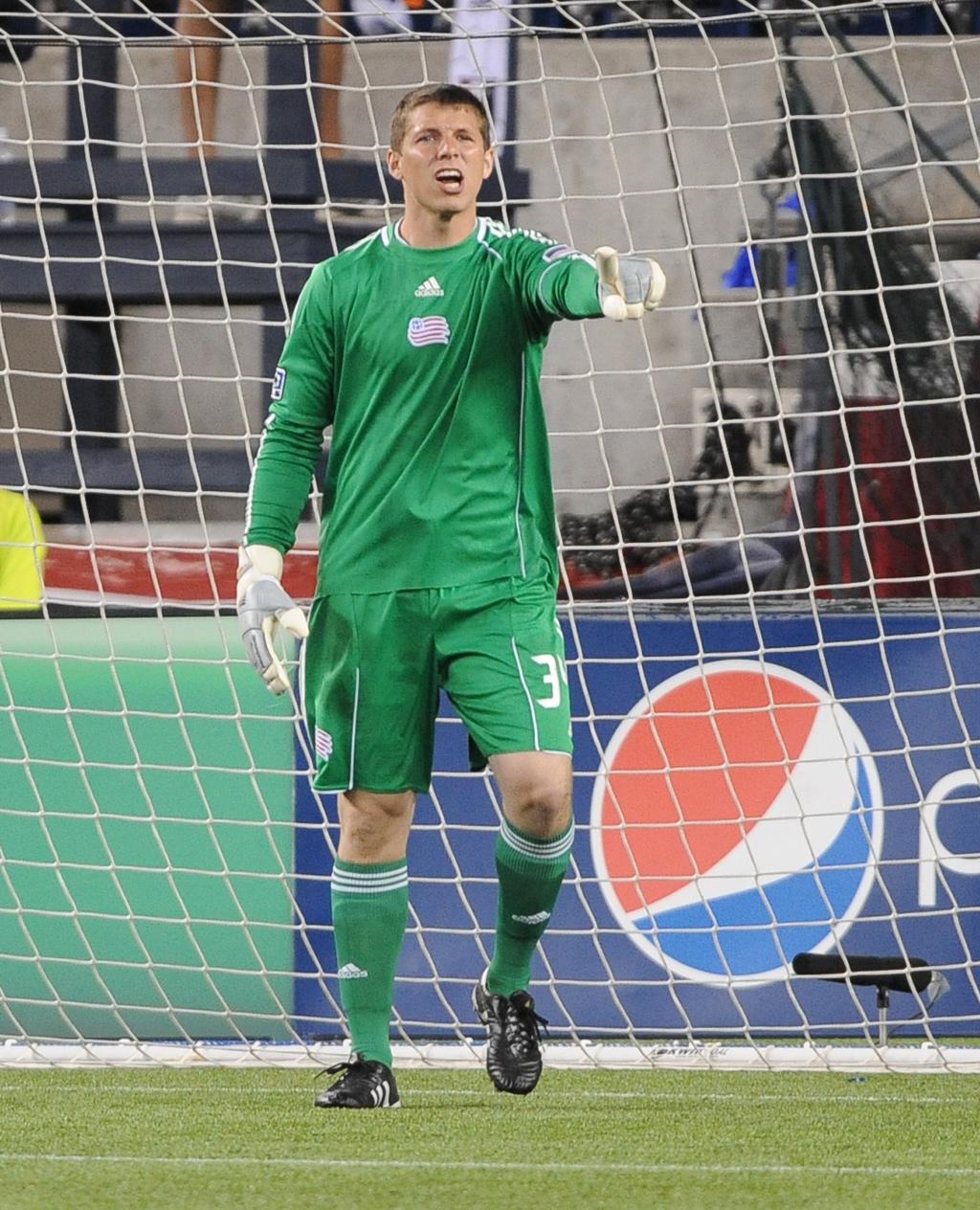 Goalkeeper Bobby Shuttleworth is expected to make his first career MLS start on Saturday night for the Revs.
SEATTLE, Wash. – Having snapped a nasty seven-game winless streak with an inspiring victory over the New York Red Bulls last weekend at Gillette Stadium, the New England Revolution hits the road looking to make it two wins in a row against Seattle Sounders FC on Saturday night, June 5. Kickoff is set for 10:30 p.m. ET from Qwest Field.
Although last weekend's victory was their first since April 10, the Revs (3-6-2, 11 pts.) are suddenly a confident bunch looking to break into the top of the pack in a crowded Eastern Conference. Captain Shalrie Joseph returned from a five-game absence to run the midfield in the Revolution's last two matches, and New England has looked a different side, steadily improving its possession while generating attacking chances with regularity.
Joseph's presence has been most notable in the attacking third of the field. After establishing himself as an offensive force with career highs in goals (8) and assists (8) in 2009, the 32-year-old has picked up right where he left off last season, recording three assists in three appearances thus far. The Revs have scored just six goals in the eight games Joseph has missed this season – including three matches with a right hip flexor strain – while they've scored seven goals in the three games he's played.
With Joseph back in the fold, head coach Steve Nicol has noticed a marked improvement in the Revolution's passing proficiency. Even so, Nicol believes the Revs need to be sharper still if they hope to continue their winning ways on Saturday night in Seattle.
"I still think we can do better," he said. "All three of the goals (against New York) were good moves. Although one was an own goal, it was a great ball in and a good move that led to it. So the three goals we scored were good goals and came from good passing, but I'd still like to see us do better and be more consistent throughout the 90 minutes with the ball."
While the Revs are trending upwards and looking to build momentum on Saturday night, the Sounders (3-5-3, 12 pts.) are merely hoping to stem the bleeding before the two-week break for the group stage of the 2010 FIFA World Cup. Perhaps the biggest success story in MLS expansion history, the Sounders regularly draw the biggest crowds in the league and rewarded their fans with a playoff appearance last season, becoming the first expansion club to reach the postseason since 1998.
Another bright start this season saw the Sounders jump out to a 2-1-1 record through four games, but they've struggled mightily since and have won just once in their last seven matches. More surprising has been the method in which Seattle has struggled, as it's been a lack of goals which has plagued one of the more offensively-talented clubs in the league. With just nine goals through 11 games, the Sounders have the second-worst goals-per-game average in the league, ahead of only D.C. United.
If Seattle is to improve offensively, it's going to need major contributions from Swedish midfielder Freddie Ljungberg and Colombian forward Fredy Montero. The duo provided much of the attacking flair in the Pacific Northwest last season, but both have struggled early in 2010. Ljungberg has just two assists in 11 appearances, while Montero has reasonable totals in both goals (3) and assists (3), but at one point lost his place in the starting lineup. Any complacency because of their current form could be deadly for the Revs, however, who are well aware that Ljungberg and Montero still pose a threat.
"Everyone goes through slumps," said Pat Phelan. "Their reputations precede them. We've always got to know where they are, because no matter if they haven't scored in a few games, it just takes one opportunity for them to turn things around. Those two guys in particular are guys you just always have to keep your eyes on."
In recent weeks, Phelan would've been one of the key players charged with containing Ljungberg and Montero. A central midfielder by nature, he's filled in as a central defender for the last three league matches with injuries limiting Cory Gibbs (R hamstring strain), Emmanuel Osei (R leg infection) and Darrius Barnes (R ankle sprain). However, both Gibbs and Osei have made the trip to Seattle and are hopeful of regaining their spots in the starting lineup after recovering from their respective injuries, although questions remain about Osei's fitness level after taking part in just three training sessions after a seven-week layoff.
"I feel great," said Gibbs after Friday's training session in Seattle. "The hamstring was a bit tight last week, but (now) I feel 100 percent."
Should Gibbs and Osei return to pair up in central defense, it would provide steady cover in front of second-year goalkeeper Bobby Shuttleworth, who is expected to make his first career MLS start on Saturday night. The 23-year-old made his MLS debut last weekend against New York, earning the victory after he replaced injured goalkeeper Preston Burpo late in the first half. With Burpo added to the season-ending injury list and long-time starter Matt Reis not quite ready to return from offseason shoulder and knee surgeries, Shuttleworth should get the call in front of a packed crowd at Qwest Field.
Having made a pair of saves in last weekend's debut appearance, both Shuttleworth and his head coach are confident the young goalkeeper can step in seamlessly on Saturday night.
"Obviously we feel horrible about what happened to Preston and you would never wish that upon anyone," said Shuttleworth of Burpo's broken right leg. "But [playing last weekend] really helped my confidence this week, just to get those jitters and my first MLS playing experience out of the way."
"Bobby's been here – this is his second season – so we know what he's capable of doing," Nicol said. "He came on (last) Saturday and he was very comfortable, was very calm. He came out and picked two or three balls out of the sky and looked very comfortable. We're quite confident that Bobby's going to come in and we know he's going to do a good job."