7/7/10
| | |
| --- | --- |
| Barnes, Ralston on the mend | By Jeff Lemieux, Staff Writer & Online Host |
Defender Darrius Barnes is healthy and hopeful of making his return this weekend against the LA Galaxy, while Steve Ralston will likely need another week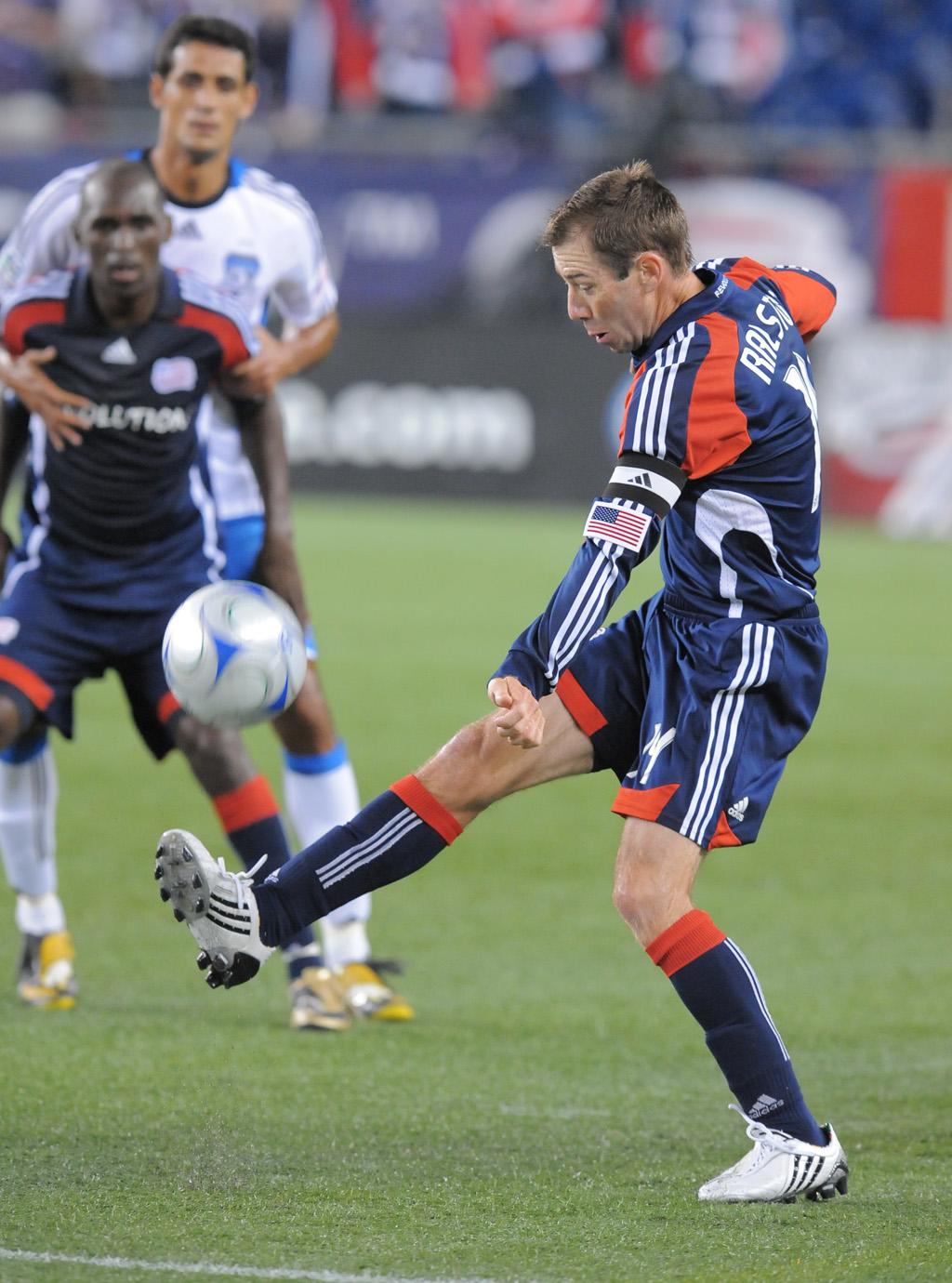 Steve Ralston is ahead of schedule as he aims to return from a dislocated left elbow
FOXBOROUGH, Mass. – For the majority of the 2010 season, the New England Revolution's injury list has read more like a game-day roster than an injury report. As of Tuesday, July 6, the Revolution' injury list featured 10 of the club's 26 players – including two players on the season-ending injury list – meaning almost 40 percent of New England's roster is carrying some sort of knock.
The good news for the Revs is that their injury list is expected to shrink in the coming weeks, as both Darrius Barnes and Steve Ralston are close to returning from long-term injuries. Barnes – who has been recovering from a sprained right ankle and foot – should be available for the first time in two months when the LA Galaxy visits Gillette Stadium this Saturday night, July 10, while Ralston has returned to training but likely needs another week to heal as he aims to return from a dislocated left elbow.
Barnes has been out of the Revolution's lineup since injuring his foot in a 3-2 loss to the Columbus Crew on May 8. As the central defender stretched to block a shot inside the box, his right foot was caught under onrushing goalkeeper Preston Burpo. Although he finished the game, Barnes suffered both a midfoot sprain and an ankle sprain, while he also tore ligaments in the area.
For more than a month, Barnes was limited to rehabbing in the treatment room, a place he rarely visited in 2009 when he played every minute of every game in his rookie year.
"It definitely takes a toll on you, mentally more than anything," he said of watching his teammates from the sidelines and staying home when the team went on road trips. "I went from playing every game (last year) to being up in the box, watching. Especially this season, seeing the team struggle like they have been, you just feel like at some point you can add a little bit."
Barnes could possibly add what he can on Saturday night against the league-leading Galaxy, a club which has scored 25 goals in its first 15 games. After gradually working his way back into passing drills and light jogging throughout the month of June, Barnes recently ramped up his routine and has since joined back into full training sessions.
"The ankle feels fine," he said after Wednesday's workout. "I've been able to do everything in practice. The only thing is getting my conditioning back a little bit. You can only do so much when you're out, and there's nothing like playing [at training] with these guys to get game fit."
While Barnes is anxious to get back on the field, he's fully aware that after missing two months of action, it'll be an on-going process as he not only aims to regain his fitness, but also his sharpness on the ball.
"It takes a little while to get fully back," Barnes said. "You lose it quickly (when you're out), but if you're in shape when you come back, you can also gain it back quickly. I was out six weeks, so it's going to take a couple weeks for me to get back to where I was. I feel a little bit like I'm getting there already."
It's unlikely Ralston will be able to join Barnes on the game-day roster for this weekend's match against the Galaxy, but the 36-year-old's progress as he recovers from the elbow injury he suffered in mid-June appears to be ahead of schedule.
Like many of the Revolution's injury victims this season, Ralston's dislocated left elbow would have to be classified under "freak accident." Just days after re-signing with his former team, Ralston made a hero's return at Gillette Stadium, entering the June 13 international friendly against Cruzeiro to a standing ovation in the 72nd minute. It wasn't more than 30 seconds later that Ralston stumbled in the box and landed awkwardly on his elbow, forcing him off the field mere minutes after returning.
"I knew right away that I did something when I looked down and saw the bone sticking out – I knew it wasn't good," joked Ralston, who had only recently returned from a torn ACL in his right knee. "Honestly, I didn't know whether to laugh or cry. I couldn't believe that my first game back, 30 seconds in, this happened."
The original prognosis had Ralston sidelined up to six weeks, but Major League Soccer's all-time leader in games played found himself taking part in full training sessions just three weeks after suffering the injury. As he nears a return, Ralston was upgraded from "Out" to "Doubtful" on Tuesday's injury report, a sure sign that definite progress is being made.
However, Ralston is still sporting a brace on his elbow and he must be cautious not to put himself in a situation in which he could reinjure his arm.
"Honestly, the brace doesn't bother me too much," he said. "I was wearing a huge knee brace for a long time, so it's great to just have this thing instead of that.
"Right now, I'm just trying to be smart," Ralston continued. "Not get into any tackles, not doing anything silly. For me, it's just about getting fit. I felt like I was just coming back from the knee, then to have this – I want to be able to get on the field, come back, be strong and be fit."
Although Ralston said he doubts he'll suit up against the Galaxy, he's hopeful of being ready by next week. That might put him in line for a return when the Revolution visits the Windy City to face the Chicago Fire in a SuperLiga group stage match on Saturday, July 17.
"I still have to talk to the doctor," Ralston said. "Initially they said six weeks and it's only been three-and-a-half, but it feels good. Obviously the one concern now is if I were to take a hard fall, is it going to withstand that? Is it healed enough? I would think (I'll be ready) pretty soon. This weekend is a question mark – I doubt this weekend – but hopefully next weekend, for sure."