7/19/10
| | |
| --- | --- |
| Top spot on the line in group stage finale | By Jeff Lemieux, Staff Writer & Online Host |
Having already assured themselves of a spot in the SuperLiga 2010 semifinals, the Revs can clinch first place in Group B with a win or draw against Morelia | MatchCenter >> | Watch Live >>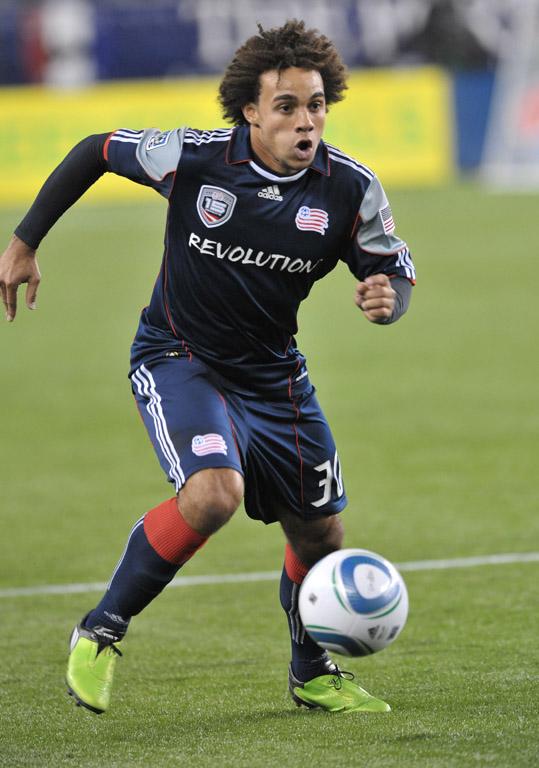 Kevin Alston and the Revs' backline have kept three consecutive clean sheets
FOXBOROUGH, Mass. – The New England Revolution has already secured passage to the semifinal round of SuperLiga 2010, but that doesn't mean that Tuesday night's meeting with Mexican Primera División club Monarcas Morelia is any less important.
The Revs (2-0-0, 6 pts.) claimed a spot in the last four of the competition by winning their first two group games against Pumas UNAM (0-1-1, 1 pt.) and the Chicago Fire (0-2-0, 0 pts.), and now they'll round out Group B play against Morelia (1-0-1, 4 pts.) on Tuesday night, July 20, at Gillette Stadium (8 p.m., Telefutura).
While a spot in the semifinal round is guaranteed, it's still yet to be decided whether the Revolution will finish in first or second place in the group. A win or draw on Tuesday night and the Revs will finish in the top spot; a loss and Morelia will take first place with the Revs in second.
The seeding may not seem important considering there will be just four teams remaining after the group stage, but it could be the difference between playing at home or on the road in the next round. A first-place finish guarantees the Revs will host their semifinal match regardless of opponent, while a second-place finish leaves open the possibility of having to travel to Houston to face the Dynamo.
Then, of course, there's the matter of momentum. New England has now won three straight games in all competitions – all shutouts – and will be eager to continue that form through SuperLiga and back into league play when it resumes in late July.
"We've been playing well the last couple games and we still want to continue that even though (Tuesday night) is not an MLS game," said captain Shalrie Joseph, who was recently named to his seventh career MLS All-Star team. "We still want to come out and give it our all and get a victory, then head toward the playoffs feeling good about ourselves. Tomorrow's very important that we get some points at home."
The Revs have a chance to build on the momentum created in their last three performances – a 2-0 victory over the league-leading LA Galaxy in regular-season action followed by the pair of SuperLiga wins. After going a stretch of 11 games with just one win from April to July, it's been a welcome turnaround in Foxborough.
Head coach Steve Nicol has credited better decision-making as the key reason for the recent success, while Kevin Alston praised the Revolution's ability to repeat their performances from game-to-game.
"Any time you can be consistent it makes everybody's lives easier," said the second-year defender. "The fact that we're kind of replicating what we did and taking it each game is great, but we've got to keep it going. It's not over."
The Revolution will look to keep it going against Morelia, a team which needs just a draw on Tuesday night to assure itself of a spot in the SuperLiga semifinals. The Mexican side has scored seven goals in its first two group games and looked particularly lethal in a 5-1 victory over the Chicago Fire last week.
Nicol and his coaching staff had the chance to watch Morelia take on Pumas live last Saturday night, as the two teams squared off immediately after the Revs played the Fire at Toyota Park.
"Their movement's good and they knock it around pretty sharp, which is no real surprise," said Nicol. "They're sharp, so we're going to have to be on our toes."
According to Joseph, the Revs will need to work as a seamless unit if they hope to replicate the success which has seen them go a perfect 6-0-0 against Mexican teams in SuperLiga play since 2008.
"All the Mexican teams move so well off the ball and if you don't communicate here and there, they can hurt you," he said. "We've just got to learn to follow our man, stay with whoever it is, and just be aware of where the most dangerous player on the field is."
It's possible the Revs could receive a boost against Morelia with Steve Ralston set to return from a dislocated left elbow, although veteran defender Cory Gibbs (L quad strain) won't play until at least July 31 when New England returns to league action against the Philadelphia Union. Ralston was hoping to receive medical clearance on Monday afternoon, and if given, he's likely to see action as a substitute on Tuesday night.
While Ralston could be returning to the field, the Revs will be hoping that a quartet of players can stay on the field by avoiding yellow cards against Morelia. Joseph, Kenny Mansally, Sainey Nyassi and Joseph Niouky were all cautioned in the opening group game against Pumas, and should any of those four receive another yellow card on Tuesday night, they'd miss the semifinal because of caution accumulation.
For that reason – and because the Revs have already clinched their spot in the semifinals – Nicol will have to be smart as he attempts to balance those concerns with the desire to win.
"It's not easy, but we need to do that – we need to try and be smart," he said. "We'll decide between now and then what's going on."