7/21/10
| | |
| --- | --- |
| "MLS Original" Ralston leaves a legacy | By Jeff Lemieux, Staff Writer & Online Host |
Steve Ralston's sterling 15-year career was highlighted by four MLS Cup appearances, seven all-star selections a host of all-time league records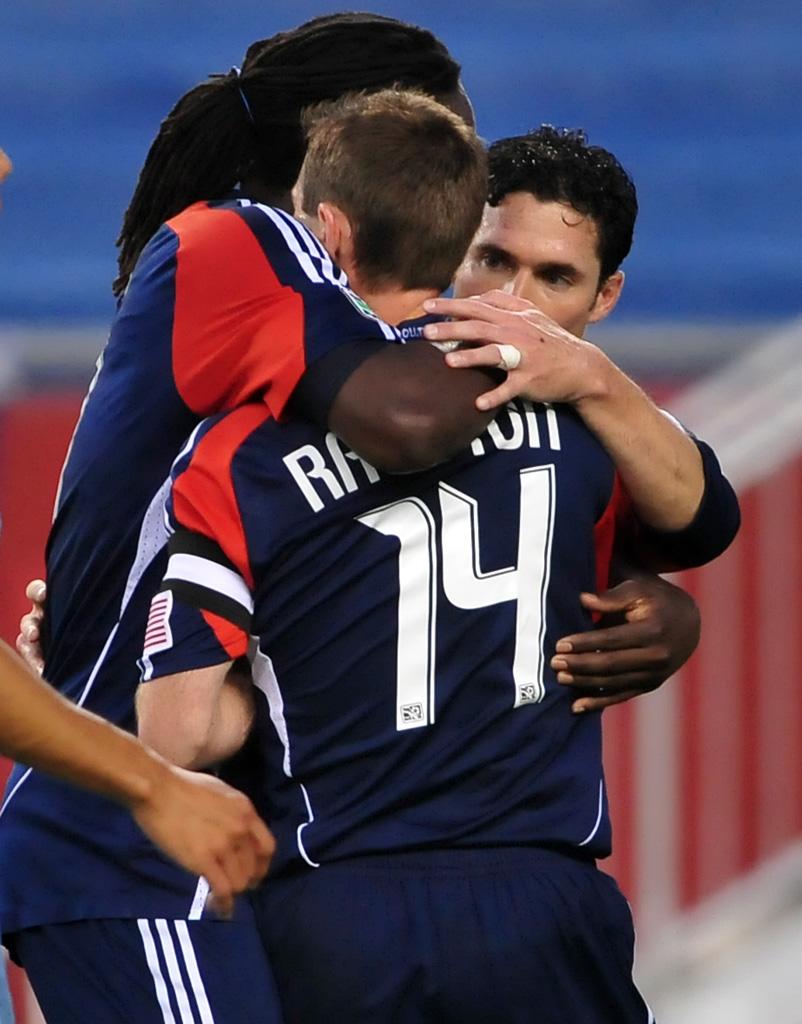 Steve Ralston retired as Major League Soccer's all-time leader in appearances (378), starts (372), minutes played (33,143), assists (135) and game-winning assists (41)
FOXBOROUGH, Mass. – Major League Soccer and New England Revolution legend Steve Ralston will forever be known as one of the "Originals."
The league's original rookie of the year, having claimed the award in the inaugural season of 1996 when he was a 21-year-old kid out of Florida International University. The original "iron man," establishing career marks for appearances (378), starts (372) and minutes played (33,143). The original playmaker, recording more assists (135) and game-winning assists (41) than anyone in league history.
But while Ralston's accomplishments on the field will forever be etched in the record books after he announced his retirement from professional soccer, it's his selfless personality which made the biggest impression on those who had the distinct pleasure of playing alongside him. Or coaching him. Or working with him. Or simply speaking with him for a few minutes.
"It's no surprise when you hear him talking, he spends more time talking about everyone else than himself," said Revolution head coach Steve Nicol, who arrived in New England the same year Ralston did back in 2002. "That sums him up. He said he enjoyed coming out to training every day. We enjoyed coming out and watching him every single day. He's a guy who I would call one of the originals."
Ralston entered the league as a starry-eyed rookie in 1996 and immediately made his presence felt, scoring seven goals and adding two assists for the Tampa Bay Mutiny to claim MLS' first-ever rookie of the year award. The accolades that first season were just the beginning, however, as the coming years saw Ralston blossom into one of the best midfielders this league has ever seen.
He moved to New England in 2002 when the Mutiny was retracted and the Revolution selected him sixth overall in the MLS Allocation Draft. It was a decision the club would never regret, as Ralston ultimately led the Revs to four MLS Cup appearances (2002, 2005, 2006, 2007) and helped them lift the first two trophies in team history (2007 U.S. Open Cup, SuperLiga 2008).
His individual accomplishments were just as impressive. In addition to the five league records he leaves behind, Ralston was also a seven-time all-star and a three-time MLS Best-XI selection. The St. Louis native represented the U.S. National Team more than 30 times, scoring four goals and claiming a place as an alternate on the U.S.' 2006 FIFA World Cup squad.
Oh, and as for that whole "selfless personality" thing? Ralston is the league's only three-time winner of the Fair Play Award.
Unsurprisingly during his modest retirement press conference following the Revolution's 1-0 win over Morelia on Tuesday night, Ralston not once mentioned his own accomplishments. Instead he spent the majority of his unscripted speech thanking anyone and everyone whom he'd worked with throughout his career.
"I think most importantly, all the players I've been able to play with," Ralston said as he recalled the most rewarding aspects of his playing days. "I've made a lot of great friends and have a lot of great memories. I've had the opportunity to play with some really amazing people … I've had teammates for a few years, but I have friends for the rest of my life."
While Ralston shied away from touting his own accomplishments, the friends he'd made throughout his career had no such reservations.
Nicol called Ralston "as good a player as we've had at this club, ever," while third-year midfielder Pat Phelan lauded Ralston as both a player and person.
"He's just class all the way around – there's no two ways about it," said Phelan. "Win or lose, he's just a classy guy, a good sport, just a true competitor who, when he's out there, gives it everything he's got. You know his time has run out here, but I think that will live on with us for the rest of the year."
Ralston hadn't planned on retiring so soon when he re-signed with the Revolution in early June, but another professional opportunity presented itself and he felt the timing was right to step away from the game.
After Ralston trained with the Revs on Monday morning, the Revolution released a statement that evening notifying the media that the 36-year-old planned to announce his retirement following the Revs' SuperLiga game on Tuesday evening. Just like that, Ralston's illustrious career came to an abrupt end.
"To quote my friend Taylor (Twellman), it's been a 'worldwind'," Ralston chuckled, taking a playful jab at one of his closest friends and perhaps the biggest benefactor of his playmaking expertise. "It has been – my head is still spinning and this has happened so fast. I really haven't processed the whole thing … I haven't had that moment yet."
The unexpectedness of Ralston's retirement also caught some of his teammates off guard, but they didn't need much time to come up with the necessary superlatives to describe their colleague.
"It came so sudden," said goalkeeper Matt Reis, who played with Ralston for eight years in New England. "It was a sad day for me and I have been fortunate enough to play with a lot of great players including Mauricio Cienfuegos, Alexi Lalas, Cobi Jones and I think that Steve Ralston is right up there with all of them. It's been a pleasure. There are really not enough positive things I can say about him."
In the midst of its 15th season, Major League Soccer is still in its infancy, and as such, the league is short on players who've reached that epic "legendary" status. As he steps away from the playing field, Steve Ralston is undoubtedly one of the first to achieve that level of greatness.
Once again, he'll always be an original.