7/29/10
| | |
| --- | --- |
| Shutout streak keyed by communication | By Jeff Lemieux, Staff Writer & Online Host |
The secret to the Revolution's run of four consecutive clean sheets is simpler than you might expect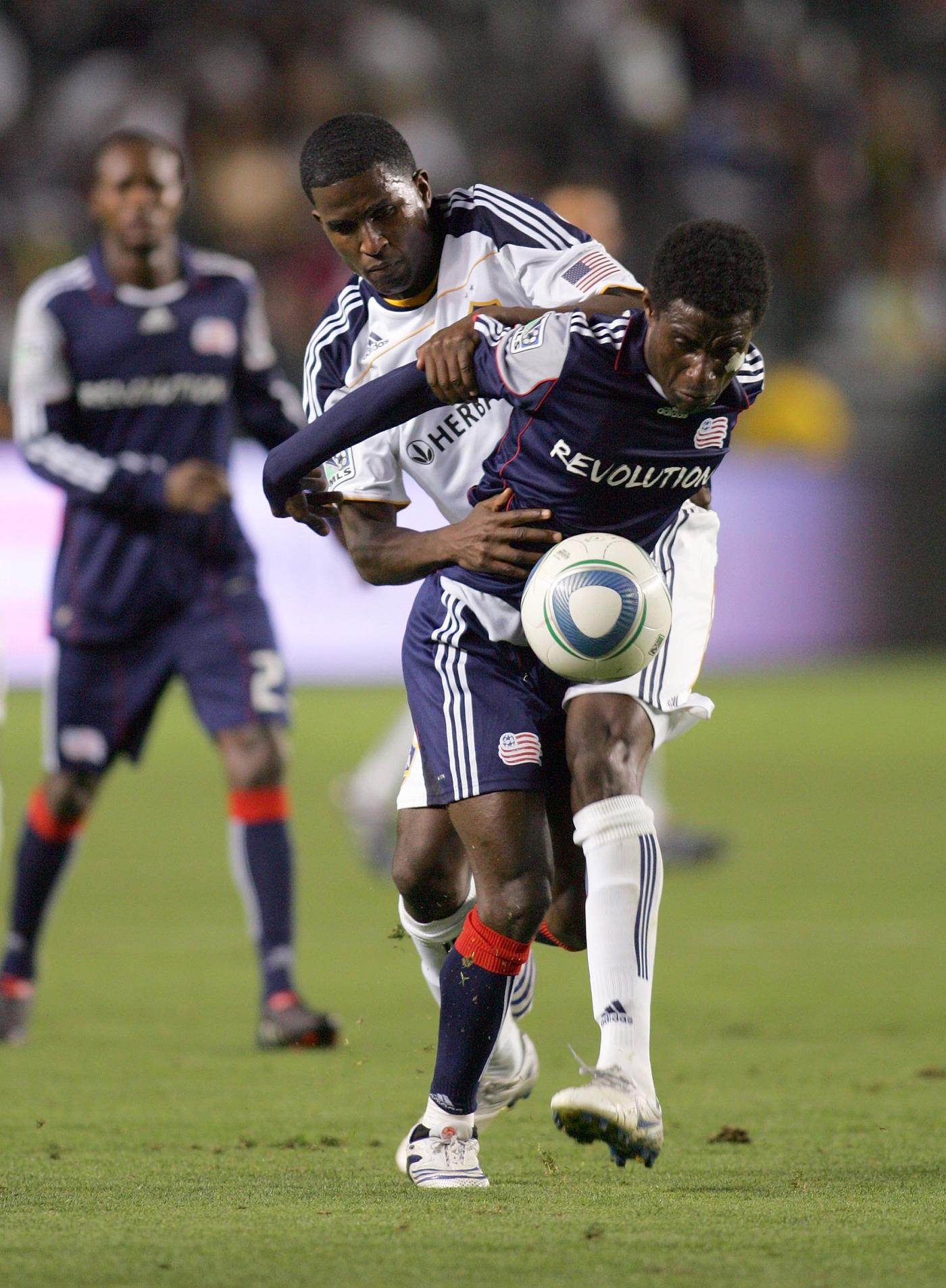 Emmanuel Osei (pictured) and Darrius Barnes have formed a method of communication in central defense
FOXBOROUGH, Mass. – At the very least, you could call the New England Revolution's recent defensive turnaround a bit of a surprise considering the club's difficult start to the month of July. In a game most everyone involved with the organization would like to forget, the Revs were humbled by defending MLS Cup champion Real Salt Lake on July 2, conceding a season-high five goals in a shutout loss.
Since then, the Revolution's backline has been nothing short of stellar, racking up four consecutive clean sheets and stonewalling opponents for a 365-minute shutout streak. Predictably, all four shutouts have resulted in Revolution victories.
As unexpected as the sudden turnaround has been, it's perhaps even more surprising that the key to the recent success is rooted in a simple task we all perform each and every day.
Talking.
"There's a lot of talk (on the field)," said rookie defender Seth Sinovic. "There are players running across us and players running in behind us, so it's important to keep constant communication. I think we've done that the last few games and I think it's shown on the scoreboard."
It seems a bit too simple, but it's been said before that soccer is a simple game. One of the most fundamental tenets of the sport is a team mentality, especially on the defensive side of the ball. The backline and goalkeeper must work in unison at all times.
For the defense to work as a unit, there must be regular communication between the defenders in order to keep a solid shape and pass on attacking players when necessary.
"It's all about putting people in the right spots," said central defender Darrius Barnes, whose return from a right foot injury has coincided with the current four-game shutout streak. "If you put people in the right spots, your defensive work is going to be cut down a little bit. That's the main thing – just organization and keeping our shape. If we get everybody in the right shape and everybody in the right spots, we're going to be successful."
Communication has been especially important between Barnes and his central defensive partner, Emmanuel Osei, who has been in the United States for a little more than one year since making the transition from his home country of Ghana. Still working on mastering the English language, Osei had a few notable communication breakdowns with defensive partners last year, and it's something the Revs have worked hard to correct this season.
The familiarity between Barnes and Osei – who played together for much of the 2009 season – has been invaluable as the process of communication has become progressively easier.
"I feel like me and Osei have kind of picked up where we were last year," said Barnes. "We kind of have a feel of what each other is going to do. We have different styles of play and I think we knew that from last year, being able to play with each other for pretty much the entire season. You just have to give little cues here and there, just little reminders.
"As far as communication with the outside backs, it's just having (right back) Kevin (Alston) tucked in and making sure he's supported from the outside, and when the ball's on his side that I'm tucked around and supporting him," Barnes continued.
Communication between the defenders is only part of the equation, however. Marshaling the entire backline is veteran goalkeeper Matt Reis, who has never been shy about being vocal.
Contrary to popular belief, the goalkeeper is not on the field simply to make saves. Rather, he must constantly be aware of the situation in front of him, even when his own team is in possession.
"It's like being the 'poppa bear,'" Reis joked. "I'm in the back, so I can see pretty much everything that goes on. I'm just trying to keep the players in front of me aware of where guys show up, and if they can be tighter or if they need to kind of back off. I'm just trying to give them as much information as I can and see if they can use that to their advantage."
When Reis uses his superior view of the field to organize the backline, his defenders are most appreciative of his efforts.
"Reis is huge, and (backup) Bobby (Shuttleworth) has been huge, as well," said Barnes. "They definitely make sure we're aware. As a center back, you're supposed to be able to see what's going on at all times, but if there's ever a point during the game when we're not seeing everything, [the goalkeeper] can see the entire field and let us know when runners are coming through.
"A lot of times goal opportunities come when a team tunes out when there's a free kick or a throw-in," Barnes continued. "That's one of Reis' jobs – to just make sure everybody's tuned in."
With four straight shutouts, it sure seems like everybody's been tuned in.