8/3/10
| | |
| --- | --- |
| SuperLiga semifinal pits Revs against Puebla | By Jeff Lemieux, Staff Writer & Online Host |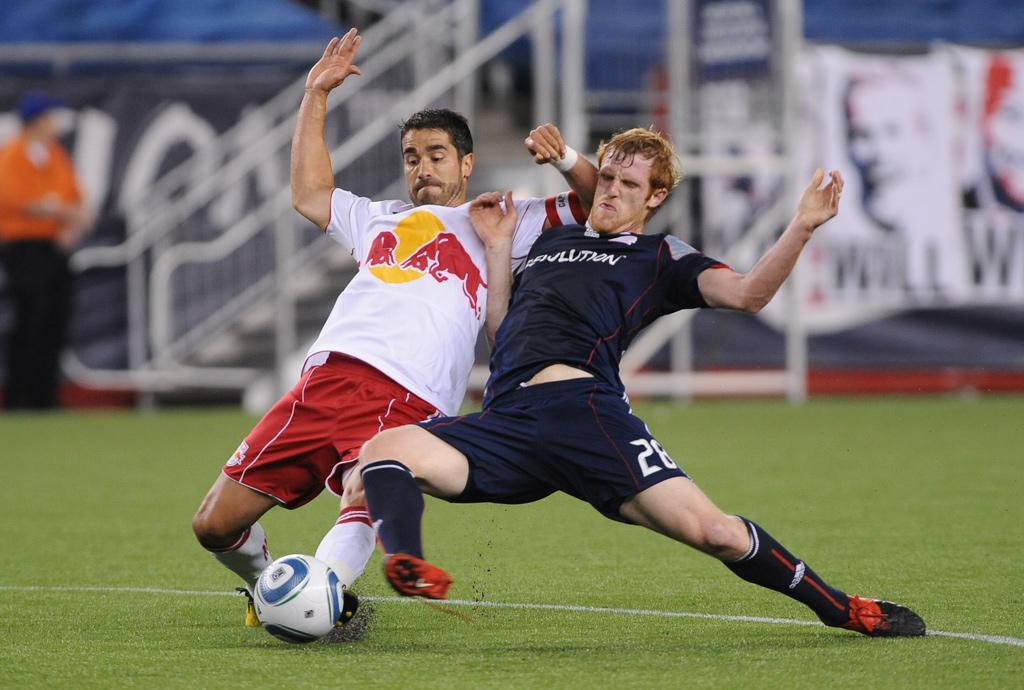 Pat Phelan believes the Revs will benefit from their SuperLiga experience in Wednesday night's semifinal
FOXBOROUGH, Mass. – Hosting SuperLiga semifinals is becoming old hat for the New England Revolution.
For the third straight year, the Revs finished unbeaten in the group stage of SuperLiga and subsequently earned the top seed among the tournament's final four teams, clinching home-field advantage throughout the competition's knockout phase. The Revolution plays host to Mexican Primera División club Puebla F.C. on Wednesday, Aug. 4, with kickoff from Gillette Stadium set for 7 p.m. The other SuperLiga semifinal also features an MLS–Mexico matchup, with the Houston Dynamo scheduled to host Monarcas Morelia on Thursday, Aug. 5.
New England – which rolled through this year's group stage with consecutive 1-0 wins over Pumas UNAM, the Chicago Fire and Morelia – has had mixed results in two previous SuperLiga semifinal appearances. The Revs earned a 1-0 win over Mexico's Atlante in the 2008 semis before claiming the SuperLiga title with a penalty shootout victory over the Dynamo one week later. More recently, the Revolution dropped a 2-1 decision to MLS rival Chicago in the 2009 semifinal.
Despite the loss in last year's semifinal round, central midfielder Pat Phelan believes the Revs' experience provides a leg up on the other clubs.
"We know what kind of competition we're up against with the Mexican teams and with Puebla," said Phelan, who was a rookie when the Revs first participated in SuperLiga 2008. "We're on a little bit of a run here and we're feeling good about it. We have a lot of confidence, especially playing at home, so I'm looking forward to [the challenge]."
Confidence is high in Revolution camp for good reason, as the club is currently riding a season-high five-game unbeaten streak in all competitions. The Revs ran off four straight wins through the middle of July, beginning with a 2-0 victory over the LA Galaxy and including the SuperLiga group stage, before being held to a 1-1 draw with the Philadelphia Union this past weekend. Union midfielder Sebastien Le Toux's wonder strike in the 25th minute of that match snapped a team record 390-minute shutout streak and broke a string of four consecutive shutouts.
The Revolution's historical domination of Mexican clubs in this competition will provide an even further confidence boost with Puebla coming to town. In seven previous games against Mexican teams in SuperLiga, the Revs are a perfect 7-0-0 and have conceded just two goals, both of which came in a 4-2 win over Santos Laguna in 2009. Remarkably, the other six results have all been 1-0 wins in favor of the Revolution.
Head coach Steve Nicol would gladly take a similar outcome on Wednesday night against Puebla, which finished second in Group A after winning its first two matches over Chivas USA and Pachuca before suffering a 1-0 loss to the Dynamo.
"The Mexican teams are very technical," said Nicol. "They move the ball quickly, so they're a good team and they pass it well. I'm sure they'll be coming to compete."
If the Revs are to shut down the high-powered attack of Puebla – which scored five goals in the group stage, second only to Morelia's seven – they'll need another solid performance from the backline and goalkeeper Matt Reis. The back four had a bit of a new look this past weekend against Philadelphia, with Cory Gibbs returning from a quad strain to take over at left back, leaving the central defensive pairing of Darrius Barnes and Emmanuel Osei intact.
With a quality showing from Gibbs in Philadelphia, Nicol may well stick with the same backline against Puebla. Although Gibbs missed the entire group stage of SuperLiga 2010 through injury, the veteran defender doesn't think it'll be an issue acclimating to the tournament.
"You always get pumped up for any semifinal, in any tournament, in any league," said Gibbs, who has played both in Europe and with the U.S. National Team. "We're excited about it and we want to go out there and win the whole thing. We're playing at home, so the only thing to do is win."
Being at home has multiple benefits for the Revs, who just recently passed the midway point of their 30-game regular-season schedule. Not only will they have the advantage of playing both the semifinal and a potential final in front of their loyal supporters, but they also won't have to go through the taxing process of traveling.
With an upcoming double-dip to Chicago and Kansas City approaching in the middle of August – not to mention further trips to Los Angeles, Denver, Dallas, Houston and New York still on the docket – staying close to home when possible is critical.
"It's huge to be at home, particularly when we're playing an MLS game on Saturday (against D.C. United)," said Nicol. "So being at home – it's obviously extra games – but we're not traveling, so as long as we keep winning, we'll quite happily play at home."
Phelan drew parallels to the Revolution's run to the SuperLiga 2008 title, which included semifinal and final victories at Gillette Stadium.
"It's kind of reminiscent of a couple of years ago when we won it," he said. "We like to be at home as much as possible, especially with the hectic MLS schedule; you don't want to be on the road if you don't have to be."
The last time the Revs hosted a SuperLiga semifinal against a Mexican team was in 2008, when a postgame scuffle broke out between New England and Atlante players just moments after the final whistle. Emotions ran high in the group stage once again this year, but the atmosphere of a semifinal always tends to up the ante another notch.
"They're trying to prepare for their season and we're obviously trying to keep on a run, and no one wants to lose," said Phelan. "The group stage was pretty physical – dirty at times – but that's to be expected in SuperLiga. I think both teams will have their guns out and ready to go."