8/4/10
| | |
| --- | --- |
| Confident Mansally guides Revs into final | By Jeff Lemieux, Staff Writer & Online Host |
Kenny Mansally was the hero on Wednesday night, scoring in regulation before converting the penalty kick which sent the Revs to the SuperLiga 2010 final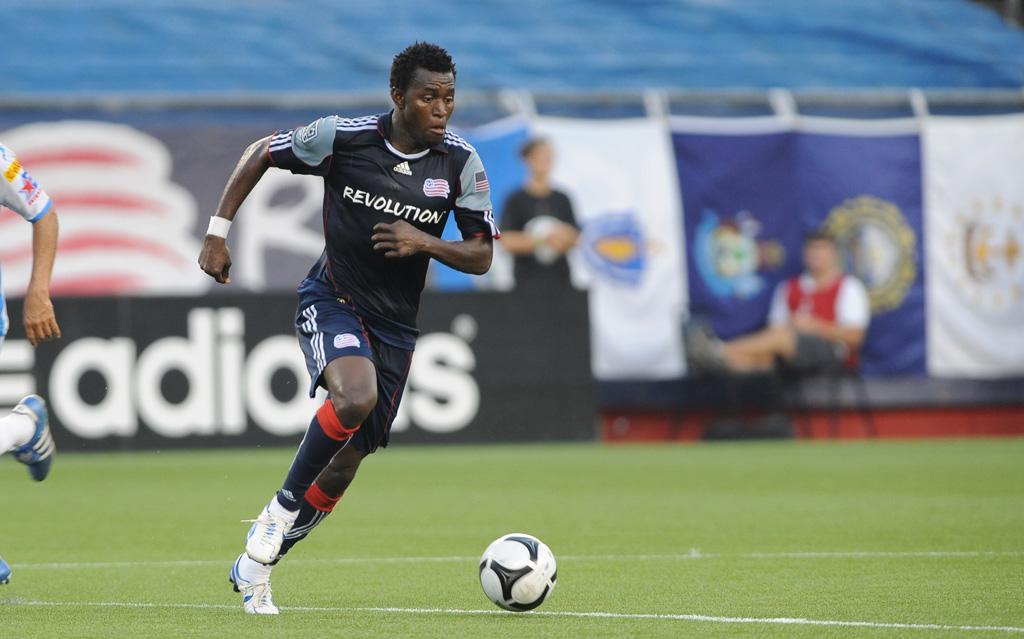 Kenny Mansally now has three goals in 13 all-time appearances in SuperLiga
FOXBOROUGH, Mass. – It's safe to say that Kenny Mansally likes SuperLiga.
Mansally continued his impressive run of form in the competition on Wednesday night at Gillette Stadium, helping the Revs advance past Mexico's Puebla F.C. in a penalty shootout to claim a spot in the SuperLiga 2010 final. The 21-year-old Gambian scored the Revolution's only goal in regulation – the teams finished level at 1-1 – and then converted the decisive penalty kick which sent the Revs to their second SuperLiga title game in the last three years.
With his 56th-minute tally against Puebla, Mansally now has three goals in 13 all-time appearances in SuperLiga play after striking twice in the tournament last year. For comparison, Mansally has just six goals in MLS regular-season play in more than 50 appearances.
"I think SuperLiga helped me a lot since last year," he said. "I didn't get a lot of chances during the league but when SuperLiga came, I just stepped in and tried to prove myself. It's helping me get back to the way I like to play – with more confidence."
Mansally started the 2010 MLS season brightly, scoring twice in a two-minute span to lift the Revs to a 2-0 win over D.C. United on April 3. He claimed league player of the week honors for that performance.
Yet inconsistency has plagued the young Gambian, who can play as a left midfielder or as a forward. He has yet to score a regular-season goal since that two-goal performance and just one of his 11 appearances has been a start.
Head coach Steve Nicol inserted Mansally into the starting lineup for Wednesday night's SuperLiga semifinal, however, after an impressive showing in a substitute role against the Philadelphia Union last weekend.
"I think (Mansally) got his confidence from Saturday," said Nicol. "He came on and worked real hard and caused (Philadelphia) problems on Saturday and then just carried it into tonight. When you score goals, obviously – if you don't take confidence from that, there's a problem."
Mansally actually had a couple of chances to win Wednesday night's semifinal in regulation – as did fellow striker Zack Schilawski – but his 60th-minute shot curled around the left post and his 89th-minute drive was pushed away by Puebla goalkeeper Edgar Hernandez.
Still, Mansally persevered and had no doubts as he stepped up for his attempt in the penalty shootout, knowing that a successful conversion would send the Revs to the final. He blasted his effort into the roof of the net and ran to the corner flag to be mobbed by his teammates.
Of course, Mansally only had the chance at heroics because the previous attempt taken by Puebla forward Edgar Lugo was saved by Revolution goalkeeper Matt Reis. Lugo tried to wait Reis out and place his shot down the middle of the goal, but the Revs keeper was patient enough to stick out his right hand and stop the ball on the line.
"Each one I got a little bit closer," said Reis. "The first one I went the wrong way, but on all the rest I was clicking closer and closer. [Lugo] stutter-stepped and I just tried to stay as long as possible. We were taking good penalties. I think everyone hit really, really good penalties and in this kind of situation, that's what you need, so it only took one save."
New England dealt with a bit of adversity to even reach penalty kicks, as Mansally's 56th-minute goal was followed by an equalizer from Andres Olivera just two minutes later. Rather than dropping their heads, the Revs responded by pressing for a game-winner and almost found it on more than one occasion.
The result will officially go down as a draw, extending the Revolution's unbeaten run to six games in all competitions (4-0-2). Nicol believes the recent run of success is the reasoning behind the Revs' ability to bounce back.
"I think that has a lot to do with the fact that we haven't lost for [six] games," he said of the team's confidence. "They just feel as though when things go against [them], we can keep going and keep going. That's what we did."