8/6/10
| | |
| --- | --- |
| Rivals reunite as Revs host D.C. United | By Jeff Lemieux, Staff Writer & Online Host |
Fresh off earning a spot in the SuperLiga 2010 final, the Revs return to league action on Saturday night against D.C. United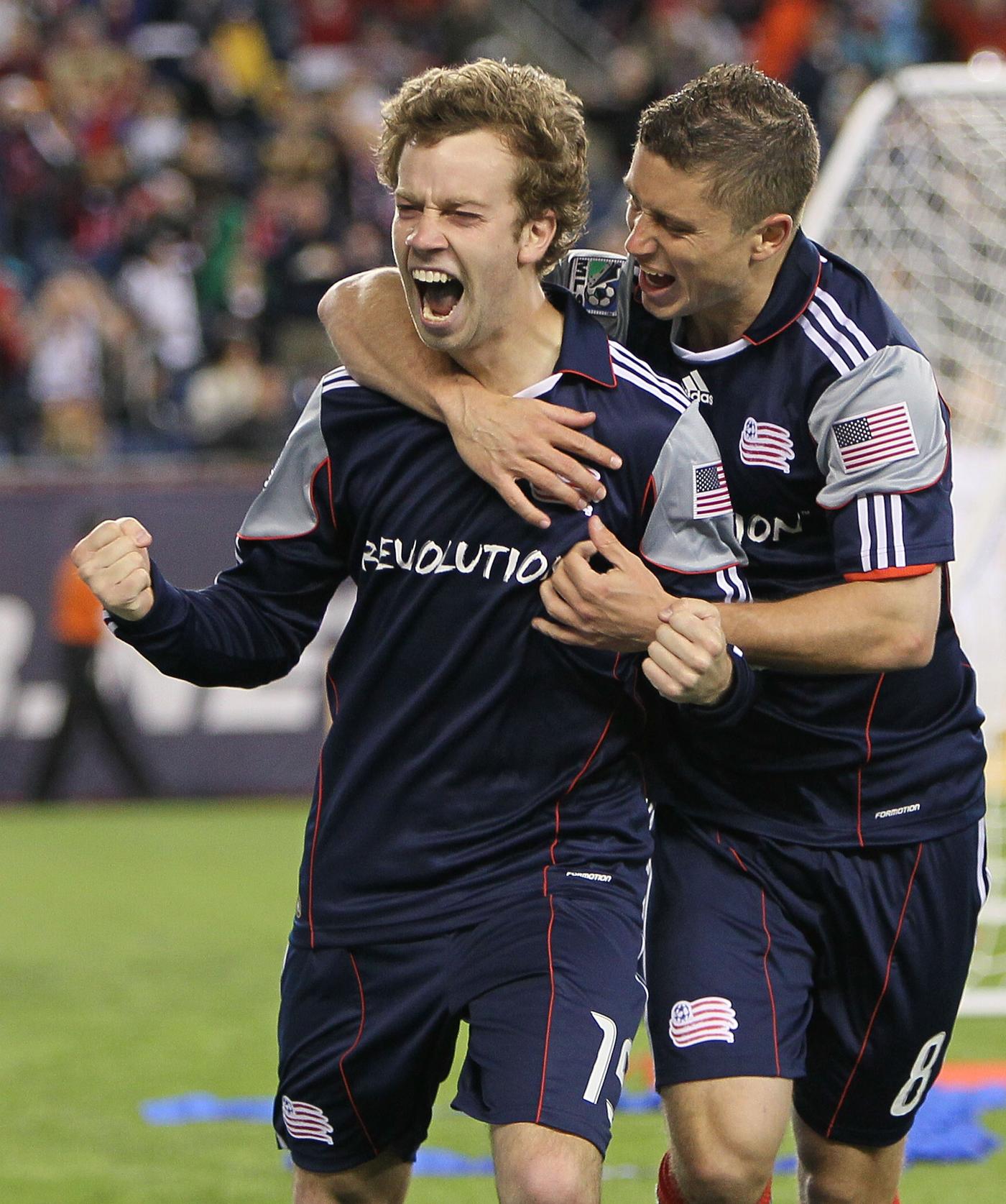 Zack Schilawski (left) will likely pair up with SuperLiga hero Kenny Mansally on Saturday night
FOXBOROUGH, Mass. – The New England Revolution received a bit of good news on Friday morning when it was learned that Serbian forward Ilija Stolica has been granted his U.S. P-1 Visa and will arrive in time for Saturday night's critical showdown with D.C. United. Unfortunately, that information was tempered by the loss of key contributors Marko Perovic and Kevin Alston, who will both be unavailable after sustaining minor injuries in the SuperLiga semifinal victory over Puebla FC on Wednesday.
Perovic (L calf strain) was forced off the field in the 33rd minute against Puebla, while Alston (mild L hamstring strain) joined him in the locker room 20 minutes into the second half. There was hope both players would recover for the weekend, but further evaluation on Thursday and Friday ruled the duo out for Saturday night.
The pair of injuries leaves the depleted Revolution (4-9-3, 15 pts.) even further shorthanded, with the club likely to dress only 14 healthy field players against United (3-12-3, 12 pts.). One of those players could be Stolica, who was scheduled to arrive in Massachusetts late Friday night.
While the 31-year-old Serb will likely be jet-lagged following the transatlantic flight and will be without the benefit of a recent training session with his new teammates, head coach Steve Nicol wouldn't rule out using Stolica in a limited role against United.
"He has been training," said Nicol. "He obviously hasn't trained with us (this week) and clearly he hasn't played any games, but I'm sure we could get something out of him."
One of the benefits of having the experienced Stolica available is a decreased sense of pressure on the younger forwards, particularly rookie leading scorer Zack Schilawski, who has shouldered much of the burden this year in his first season out of Wake Forest.
"We've had some young guys up front who've been asked a lot of this season so far, and it's unfair to keep asking and asking," said Nicol. "There comes a stage when they need a break, and obviously [Stolica's] pretty experienced.
"That's exactly what we expect him to do," Nicol continued. "Come in and use his experience and hold it up for us, help us get out and obviously put some balls in the back of the net, as well."
Whether or not Stolica is used against D.C., the Revs will have a different look regardless with Perovic and Alston sidelined. Perovic has been the Revolution's offensive catalyst in recent weeks, scoring four goals during the club's current six-game (4-0-2) unbeaten streak in all competitions, while Alston has had a stranglehold on the starting right back job since his first game as a rookie last season.
With Perovic unavailable to start in his usual withdrawn forward role and Kheli Dube (R MCL sprain) still injured, the Revs will likely pair Schilawski with SuperLiga hero Kenny Mansally up top. Mansally scored in regular time and converted the decisive penalty kick in the shootout win over Puebla earlier in the week. Filling in for Alston on the right side of defense could be left-footed players Chris Tierney or Seth Sinovic, or perhaps central defender Emmanuel Osei, who finished the Puebla match at right back after Alston's departure.
There will be changes aplenty on the other side of the field, as well, as influential midfielder Clyde Simms (L calf strain) recently joined Brandon Barklage (L ACL tear), Dejan Jakovic (R hamstring strain), Juan Manuel Pena (R quad strain) and Rodney Wallace (L fibula fracture) on the injury report. United did receive some relief late this week with the addition of defender Jed Zayner, acquired via trade with the Columbus Crew on Friday.
All of that is secondary to the coaching situation in D.C., however, as earlier this week Curt Onalfo was relieved of head coaching duties just 18 games into his stint with the club. Long-time United player – and former Revolution killer – Ben Olsen has been handed the reins in the interim.
The coaching change has the Revs prepared for an improved effort from United as the players look to prove a point.
"It's a classic situation where the coach loses his job and then the next game all of a sudden everybody's going to be running faster, chasing harder and doing more," said Nicol, who has been New England's head coach since 2002. "So that's exactly what we're going to expect tomorrow."
Nicol believes the Revolution can combat the boost from United by pressing the tempo in the opening stages.
"We really need to try to get on them early and try to shut that down a little bit," he said.
A string of slow starts provided cause for concern in Revs camp early this season, but they've alleviated the issue in recent weeks, allowing just one first-half goal in their last six games. As far as creating scoring chances, New England has been improved in the buildup department but has struggled to find the killer finish. Despite the current six-game unbeaten run, the Revs have scored just seven goals in that stretch.
"Obviously, we'd like to score more goals," said Nicol. "But at the present time, if we can keep making those chances, I'm sure we'll start putting more of them away."
One of the players charged with the responsibility of scoring goals is Schilawski, who is tied with Perovic for the team lead with six goals in all competitions. The 23-year-old had a couple of fantastic chances against Puebla earlier in the week – including one effort which beat the goalkeeper but was cleared off the line – and he believes if the chances keep coming, it will only help his confidence.
"I think we had a lot more success creating chances [against Puebla] than we have in the past couple games," Schilawski said. "That's what you take out of it – you take confidence that we can [create] a couple chances. It's not as much pressure as thinking that you're only going to get one (chance) and you've got to put it away."
The Revs will have to find the net at least once on Saturday night if they hope to sweep the season series with United following a 2-0 win at RFK Stadium on April 3. Currently eight points out of a playoff spot with 14 games remaining on the regular-season schedule, this weekend's meeting with last-place D.C. is about as close to a "must-win" as the Revs have had in 2010.
"We need points, and you figure for us to have a chance to make a real playoff push, we have to take care of these games, especially at home," said Tierney. "We had a decent result in [Philadelphia] – we got a point – but at home, we won't be happy with anything less than three points."