8/7/10
| | |
| --- | --- |
| Grit, determination lift Revs over United | By Jeff Lemieux, Staff Writer & Online Host |
Playing their third game in eight days, the Revs used a gritty defensive effort and a timely goal to claim three critical points at home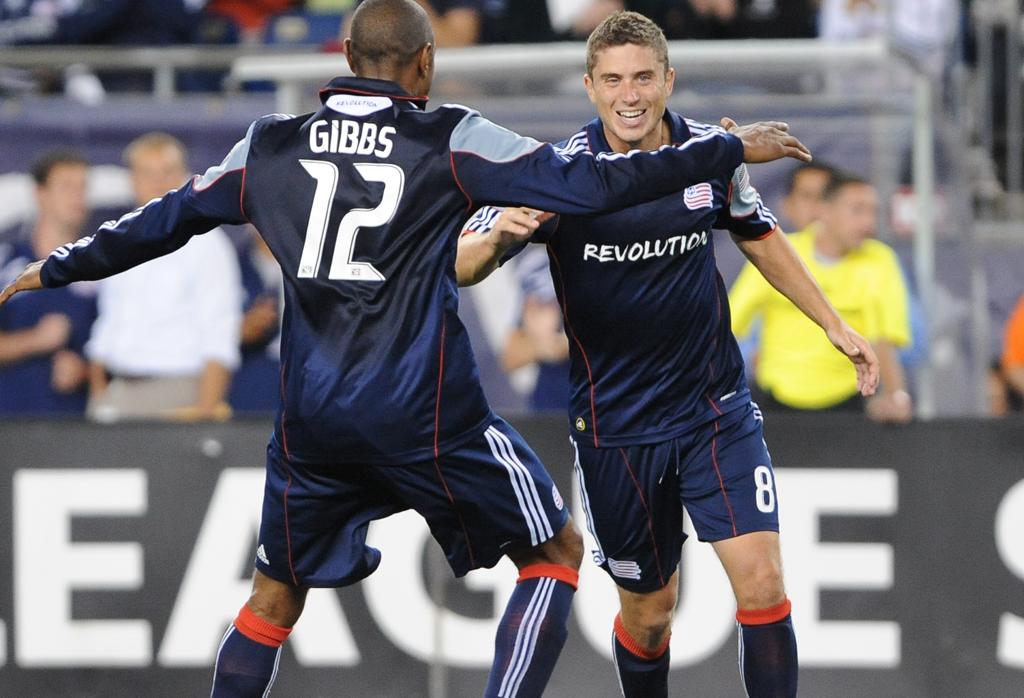 Chris Tierney recorded his second assist of the season on Pat Phelan's game-winning goal against D.C.
FOXBOROUGH, Mass. – New England Revolution head coach Steve Nicol knew heading into Saturday night's game against D.C. United that his players were on their last legs.
The Revs had already followed last weekend's 1-1 draw in Philadelphia with an emotional shootout victory over Puebla in a SuperLiga semifinal midweek, so the return to league action against United represented the third game in an eight-day stretch.
That type of schedule is hard enough for a team with a full roster, but the Revs are far from fully healthy at this point of the season. With nine players on the most recent injury report, the Revs welcomed United to Gillette Stadium with just 14 healthy field players, including two new signings – Ilija Stolica and Roberto Linck – who had yet to make their MLS debuts.
Yet a steely determination and an opportunistic goal from midfielder Pat Phelan provided all the Revs would need to nab three points they simply had to have with a 1-0 win.
"Truth be told, we didn't play well, we didn't pass the ball well," said Nicol. "But at the same time, the game we had midweek, I think really took its toll on us. We really didn't have much in the legs, and obviously Kevin (Alston) and Marko (Perovic) were missing. I think the biggest thing was we didn't have any legs tonight. Consequently, we didn't pass it well and we didn't play well, but what we did do was we stuck at it and we got a goal."
The absence of Alston (L hamstring strain) and Perovic (L calf strain) provided enough of an obstacle considering the impact each has on the field, but perhaps even more crushing was the loss of two bodies at the end of a busy stretch. Luckily for the Revs, Stolica and Linck were both available as cover and made their MLS debuts.
At the very least, the duo provided fresh legs as the Revs looked to hold on to a lead in the late stages.
"If we hadn't had them, then some guys would've had to stay on the field when they're tired," said Nicol. "So it gives us pace, fresh legs, but I wish we had a choice."
On a night when the Revs were admittedly outplayed, it took a spark from an unlikely source to deliver the full three points. Scoreless in the first 47 games of his MLS career, Phelan – wearing protective head gear after sustaining a cut which required 12 stitches in July – latched onto a Chris Tierney free kick and nodded home his first career goal in the 42nd minute.
After the game, Phelan was all smiles as he joked about his new-found offensive prowess.
"It's better to come in a 1-0 game than a 5-0 game, I'll tell you that," he said. "Hopefully, it's not my last.
"I think it was a crucial game for us to keep our run going, and to give our fans something to be excited about," Phelan continued. "I'm just glad to be a part of it. I started in an offside position and came back onside. When my man didn't follow me, I was kind of in the middle of the goal, and just had to deflect it one way or the other … It was all Chris. I just had to not mess it up, really."
Tierney likely wouldn't have taken the free kick had Perovic been healthy, but the versatile defender/midfielder has a deadly left foot of his own and proved just that with his service on Saturday night.
It was the second assist of the season for Tierney, and both have come against D.C.
"Basically, what you're trying to do is hit an area," Tierney said of the free kick which led to the goal. "I just figure we have some big, physical guys – Shalrie (Joseph) and Pat, obviously – they're always going to be trying to get across the goalkeeper … Pat did a great job of putting his body on the line and scoring a goal."
While it was far from the Revolution's best performance of the season, the three points secured were possibly the most important.
"Points are critical at this point," said Tierney. "Obviously, we didn't play our prettiest brand of soccer but at this point it's just about putting points on the board and getting back into the playoff race."