8/9/10
| | |
| --- | --- |
| Mr. Versatility | By Jeff Lemieux, Staff Writer & Online Host |
Now in his third year with the Revs, local product Chris Tierney has carved out a niche for himself as one of the league's most versatile players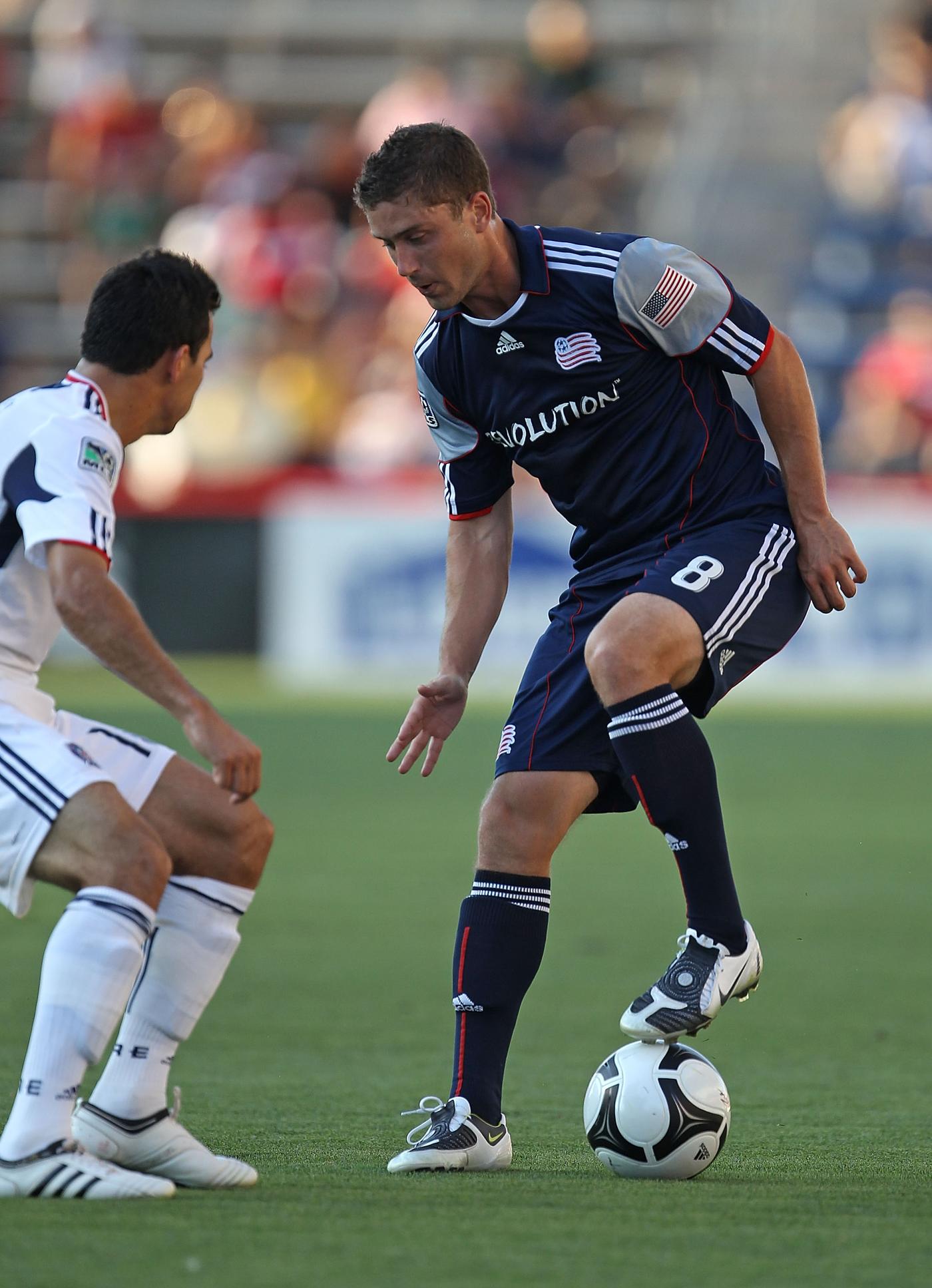 Chris Tierney has played five different positions for the Revs in 2010
The following story was published in the Revolution's "Match Day" program for the Aug. 7 game against D.C. United
FOXBOROUGH, Mass. – Growing up as a soccer fanatic in Wellesley, Mass., the young Chris Tierney wanted nothing more than to one day pull on the jersey of his favorite team – his hometown team – the New England Revolution.
As much as this may seem like a struggling writer's attempt at shaping a horribly constructed cliché, I can promise you it's not. It's the truth.
Tierney was just 10 years old when Major League Soccer kicked off its inaugural season in 1996, making him part of the first generation of Revolution fans to grow up with legitimate dreams of playing professional soccer in New England. Young American athletes could always aspire to play in the NFL, MLB, NBA and NHL, but soccer players had no such domestic league to dream about – until MLS came along.
On the occasions when he could be torn away from the field, Tierney vividly recalls summer evenings spent making the short 20-mile jaunt to Foxborough to sit in the stands and watch his childhood heroes pave the way for dreams of his own.
"My family and I used to pack the car up and drive down to the old Foxboro (Stadium) to tailgate and do the whole thing," Tierney said. "I've been a die-hard Revolution fan since as long as I can remember. I've always wanted to play for the Revolution."
You see? I told you it was the truth.
A high-scoring forward during his high school days at Noble and Greenough School in Dedham, Mass., and a creative attacking midfielder with his club team, the Boston Bolts, Tierney didn't merely want to play for the Revolution. The minor supporting details of his dreams may have differed from time to time, but there was one specific aspect which never changed.
He was always scoring goals.
"I was always an attacking player growing up, whether it was as an out-and-out forward or as a high left-winger," Tierney said. "I always liked to be an attacking player."
At just 24 years old, in many ways Tierney has already achieved his lifelong dream. He was drafted by the Revolution in the 2008 MLS Supplemental Draft and has since made more than 30 appearances for the club. He's suited up against the rival Chicago Fire in the MLS Cup Playoffs and taken the field in Foxborough in front of family and friends. He's even lifted the SuperLiga 2008 trophy, etching his name into the Revolution's history books by converting one of the club's successful penalty kicks in the shootout victory over the Dynamo.
Yet there's one facet of Tierney's uplifting journey from Revolution fan to Revolution player which surprised even Tierney himself.
"I definitely didn't envision myself playing left back, I can say that," he chuckled. "Or right back, or center back, or central midfield."
Remarkably, Tierney has played almost every position for the Revolution except forward, the spot he had hoped to occupy from childhood. In fact, he's become the club's most versatile player, appearing as a left midfielder, central midfielder, left back, center back and right back. And that's all this season.
"I think good pros realize what their niche is in a team, and I've kind of found mine here in being a guy that can be relied upon in a bunch of different spots," Tierney said. "I value players that know their strengths and weaknesses and know the things that they should and shouldn't do. I realize that at this level, me being the flying winger that I used to be in high school isn't going to work anymore."
Tierney's emergence as Mr. Versatility began in his rookie year of 2008, when a rash of injuries led the Revolution's coaching staff to try the natural left midfielder as a left-sided defender in a SuperLiga match against Pachuca. Although he'd never even trained at the position before, Tierney sufficiently impressed against the Mexican side and went on to make four regular-season starts on the backline that season.
The evolution continued in Tierney's second year as he bounced back and forth between left midfield and left defender, but the vast range of his abilities weren't made fully apparent until this season, as head coach Steve Nicol has used him in no less than five different positions.
"Obviously we've had more than our fair share of injuries this year," said Nicol. "It's huge when you have a guy who can not only fill in – tons of people can fill in – but to do it at the level he does, wherever you ask him to do it, that's the key."
So what is it about Tierney's personality that lends itself to taking on a variety of roles? According to the player himself, it's an unrelenting work ethic.
"I've always thought that if I'm going to be a pro, my [approach] is going to be that I'm going to make sure I'm one of the hardest-working – if not the hardest-working – guy in training each day," Tierney said. "I approach training like that every day. I always want to win in training. I always want to be a guy who everyone knows exactly what they're going to get, and that's 100 percent at all times."
Tierney's reputation as Mr. Versatility on the field has become well-known among Revolution fans, but few are aware that he's established an equally versatile array of work off the field, as well.
Never one to turn down a charitable opportunity, Tierney is the Revolution's representative for the Pepsi Refresh Project, which funds innovative ideas for projects which will have a positive impact in the community. He's also heavily involved in Grassroot Soccer, the non-profit organization developed by Survivor: Africa winner and former professional soccer player Ethan Zohn which aims to provide African youth with "the knowledge, life-skills and support to live HIV-free."
"I think it's a responsibility for guys like myself who are lucky enough to play pro soccer to use the position we're in to better the world in whatever way we can," Tierney said. "I think it's a responsibility that not enough pros take on and I'm happy to do it and hope to continue to do it in the future."
As part of his work with Grassroot Soccer, Tierney spent one month this past offseason in South Africa volunteering with the organization and its inoculation and AIDS/HIV education work. Tierney could've spent the winter months on sandy beaches resting his body for the 2010 season, but instead he chose volunteer work in the townships of South Africa. It was a decision he'll never regret.
"It was life-changing, it really was," he said. "It was eye-opening for me to get out and see another part of the world. It's amazing how powerful soccer can be and how it can be used as a tool for social change, both here and across the world."
As if he didn't already have enough on his plate, Tierney also played a critical role in another major project this past offseason: the Collective Bargaining Agreement negotiations between the league and the MLS Players Union. Although he's in just his third year in the league, Tierney is one of the Revolution's union representatives.
"I think it's important for the younger players in the league to have a voice," he said. "It worked out well and I think the guys appreciated me fighting for some of the younger guys."
Considering the wide range of his abilities both on and off the field, fans shouldn't be shocked to one day see Tierney finally accomplish his childhood dream of playing forward for the New England Revolution. However, Tierney believes he might actually have a better shot at playing the only other position he's never played for the Revs.
"I think I have goalkeeper and striker left (as the only positions I haven't played), and I'm not going to lie, in sixth grade I was pretty good at goalie," he said with a grin and a hefty dose of sarcasm. "So I think I have a decent shot at that, especially if there are injuries.
"Striker and goalkeeper," he reiterated. "That's all I've got left on my checklist."