8/18/10
| | |
| --- | --- |
| Chicago Fire 2, New England Revolution 1 | By Jeff Lemieux, Staff Writer & Online Host |
Calen Carr's 85-minute goal hands Chicago the full three points and snaps the Revs' unbeaten streak at eight games in all competitions I Game Highlights I Postgame | RevsWrap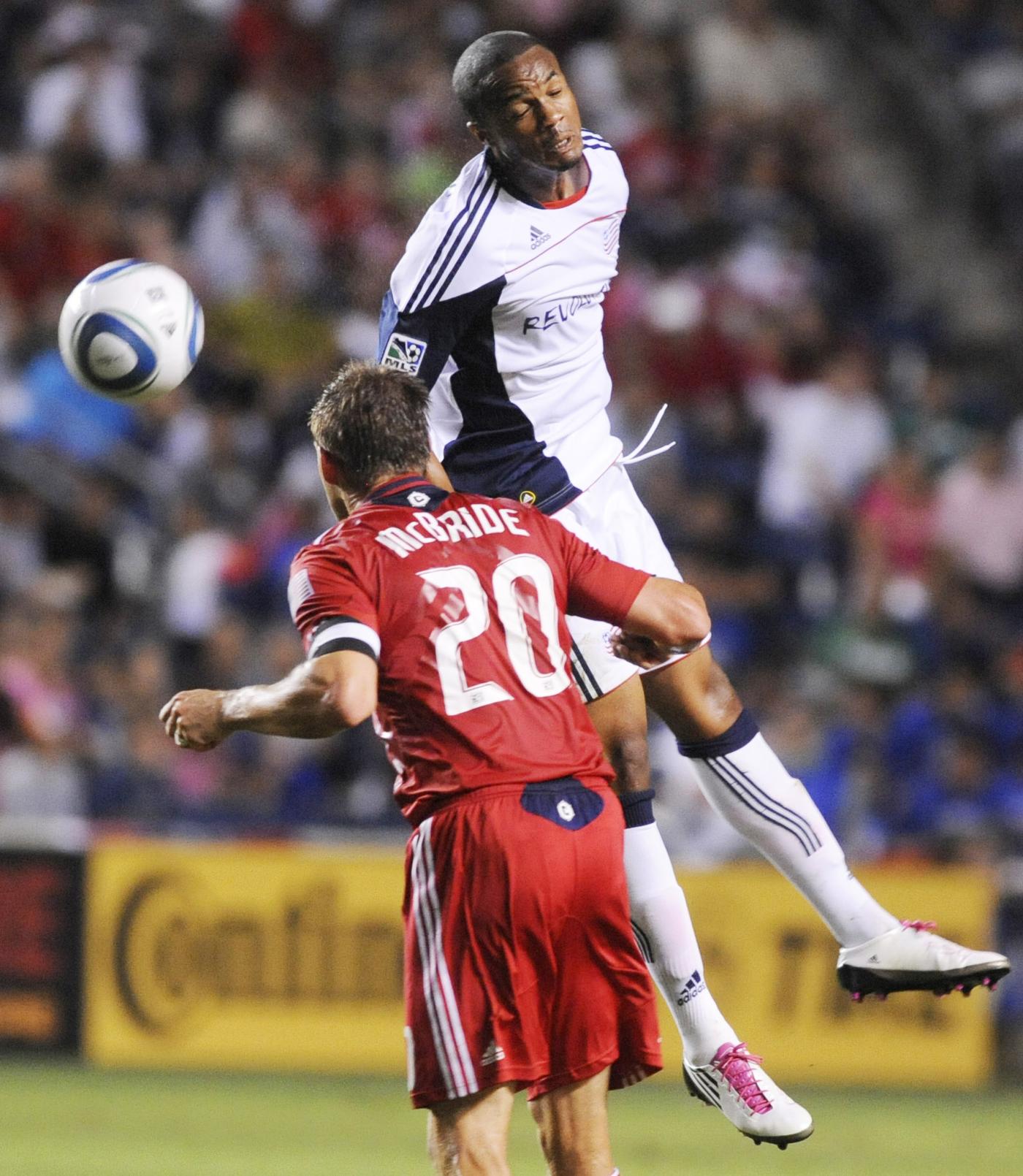 BRIDGEVIEW, Ill. – Second-half substitute Calen Carr scored the game-winning goal in the 85th minute as the New England Revolution began a two-game road trip with a 2-1 loss to the Chicago Fire on Wednesday night at Toyota Park.

Marko Perovic gave the Revs (6-10-3, 21 pts.) an early lead with his fifth goal of the season, but Baggio Husidic brought the Fire (6-5-6, 24 pts.) level before halftime to set the stage for Carr's late heroics. Carr – who replaced Brian McBride in the 69th minute – was making his first appearance of the season after recovering from a right quad injury which had plagued him since preseason.

The result separated the Revs and Fire in the standings as the clubs entered the night level on points. Chicago now sits alone in fourth place in the Eastern Conference, two points out of the final playoff spot, while New England is in fifth place in the East.

The loss brought an end to the Revolution's eight-game (6-0-2) unbeaten streak in all competitions, while it also snapped the club's four-game (3-0-1) undefeated run in league play. It marked the first time the Revs conceded more than one goal in a game since a 5-0 loss to Real Salt Lake on July 2.

There was one change to the Revolution lineup which earned a 1-0 win over the Houston Dynamo last weekend. Kevin Alston (L hamstring strain) passed a late fitness test and returned to the starting lineup at right back, pushing Chris Tierney to left midfield in place of Khano Smith.

Perovic was bright from the opening whistle and twice came close to scoring in the first 10 minutes. In the seventh minute, the Serb unleashed an optimistic 40-yard blast which forced Chicago goalkeeper Sean Johnson to tip the ball over for a corner kick. Just one minute later, he was nearly played through on goal before Johnson charged off his line to collect with a sliding effort.

It didn't take long for Perovic to find a reward for his endeavor, however, as the 26-year-old scored his fifth league goal in the 16th minute to pull even with Zack Schilawski for the team lead. Fire defender Wilman Conde struggled to deal with a routine back pass and then slipped when put under pressure, allowing Perovic to walk in alone and round Johnson before finishing from a tight angle.

A quiet spell followed, but Chicago responded with the equalizer from a seemingly innocuous play in the 32nd minute. McBride's low effort from outside the box clipped a Revolution defender and landed at the feet of Husidic, who dribbled toward goal before delicately chipping a shot over the charging Matt Reis and inside the left post.

The Revs began the second half brightly and almost restored their lead in the 51st minute, but Johnson got down well to his right to save Shalrie Joseph's long-range blast. Chicago then threatened seven minutes later when the Revs failed to clear Husidic's lofted service into the box, but Dasan Robinson couldn't get on top of the bouncing ball and directed his effort over the top.

With the score still tied at 1-1, the Revs used all three of their available substitutions in the 68th minute. Jason Griffiths, Seth Sinovic and Smith all entered the game, replacing Pat Phelan, Cory Gibbs and Tierney, respectively.

The fresh legs seemed to rejuvenate the Revolution, but it was the home side which found a late game-winner. After buildup play from Husidic and Freddie Ljungberg, Carr cut inside from the left wing and moved across the top of the box before slipping a low shot through the Revs' backline. Reis dove to his right but couldn't get a fingertip on Carr's shot, which slipped inside the left post.

There was one final chance for the Revs in stoppage time when Perovic surged through the middle and appeared to be clipped at the top of the box, but the challenge was deemed fair despite the Revolution's protests.

The Revs will conclude their brief two-game road trip on Saturday, Aug. 21, against the Kansas City Wizards. Kickoff from CommunityAmerica Ballpark is set for 8:30 p.m. ET.

New England Revolution (6-10-3, 21pts.) at Chicago Fire (6-5-6, 24pts.)
August 18, 2010 – Toyota Park (Bridgeview, Ill.)

Scoring Summary:
NE – Marko Perovic (Unassisted) 16
CHI - Baggio Husidic (Unassisted) 32
CHI – Calen Carr (Freddie Ljungberg, Baggio Husidic) 85

New England Revolution: Matt Reis (GK), Cory Gibbs (Seth Sinovic 68), Darrius Barnes, Emmanuel Osei, Kevin Alston, Chris Tierney (Khano Smith 68), Pat Phelan (Jason Griffiths 68), Shalrie Joseph ©, Sainey Nyassi, Marko Perovic, Iljia Stolica

Substitutes Not Used: Bobby Shuttleworth (GK), Kenny Mansally, Zack Schilawski, Roberto Linck

STATS: Shots: 8; Shots on Goal: 4; Saves: 1; Corner Kicks: 4; Offside: 1; Fouls Committed: 18

Chicago Fire: Sean Johnson (GK), Gonzalo Segares, Wilman Conde, CJ Brown, Dasan Robinson, Nery Castillo (Mike Banner 46), Baggio Husidic, Logan Pause, Marco Pappa (Kwame Watson-Siriboe 89), Freddie Ljungberg, Brian McBride (Calen Carr 69)

Substitutes Not Used: Andrew Dykstra (GK), Peter Lowry, Krzystof Krol, Steven Kinney

STATS: Shots: 10; Shots on Goal: 3; Saves: 3; Corner Kicks: 5; Offside: 3; Fouls Committed: 3

Misconduct Summary:
NE – Pat Phelan (caution) 12
NE – Cory Gibbs (caution) 26
CHI – Nery Castillo (caution) 38
CHI – Wilman Conde (caution) 39
NE – Marko Perovic (caution) 43?NE – Emmanuel Osei (caution) 52
NE – Darrius Barnes (caution) 92+

Referee: Michael Kennedy
Referee's Assistants: Chris Strickland, Paul Scott
Fourth Official: Abby Okulaja
Weather: Sunny and 80 degrees?Attendance: 14,056

NOTES:
• The loss dropped the Revolution's record against the Chicago Fire to 13-17-8 all time, and 4-9-6 on the road – including 1-4-2 at Toyota Park since the facility opened in 2006.
• The Revs dropped their second game of the year after going ahead, 1-0 … it was the first instance since a 3-2 loss at Columbus on May 8.
• The loss was also the first time since the Columbus match on May 8 that New England lost by conceding the game-winning-goal after the 75th minute.
• New England lost its first match since July 2 when the club dropped a 5-0 decision at Real Salt Lake … The Revs had gone 6-0-2 in all competitions since that loss in Sandy, Utah.
• Kevin Alston returned to the starting lineup at right back after missing the last two matches with a left hamstring strain.
• Kevin Alston's return to his customary spot at right back meant that Chris Tierney moved back up to left midfield after his first MLS start at right back last week.
• Marko Perovic scored his fifth goal in MLS competition (seventh overall) and has now registered a point in five of the last seven games in all competitions he has appeared in.
• Matt Reis conceded his first MLS goal this month after posting two consecutive shutouts … Reis went 277 minutes since letting up his last league goal – in the 25th minute of the Revolution's 1-1 draw at Philadelphia on July 31.
• The Revs were tied, 1-1, at halftime for only the second time all season in league play … the only other match this season that New England was knotted at one with its opponent at the break was in a 2-1 loss to the Colorado Rapids at home on April 24.
• Steve Nicol opted to use all three substitutions simultaneously on Wednesday night … Seth Sinovic replaced Cory Gibbs at left back, Khano Smith came on for Chris Tierney at left midfield and Jason Griffiths replaced Pat Phelan at central midfield – all in the 68th minute.
• Seth Sinovic made his first MLS appearance since he started at left back against LA on July 2 when he replaced Cory Gibbs on the back line in the 68th minute.