8/18/10
| | |
| --- | --- |
| Unbeaten streak halted; focus shifts to KC | By Jeff Lemieux, Staff Writer & Online Host |
The Revs were stung by Wednesday night's heartbreaking loss to the Chicago Fire, but they must quickly turn their attention to Saturday's meeting with the Kansas City Wizards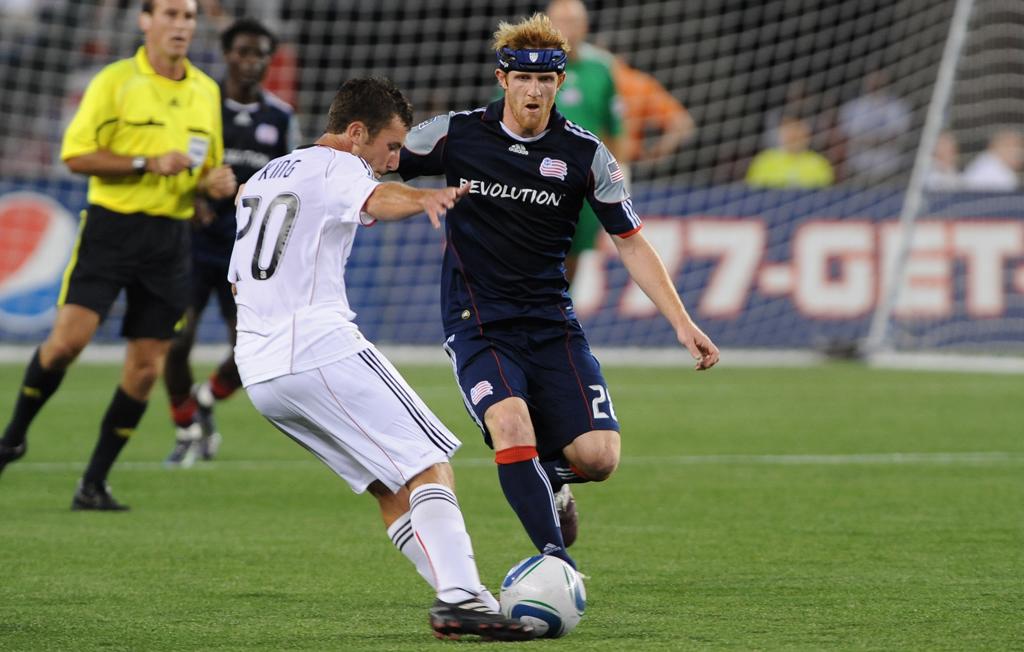 Pat Phelan said the Revs must move past Wednesday night's loss and focus on this weekend's meeting with the Wizards
BRIDGEVIEW, Ill. – Of all the places for the New England Revolution to have its eight-game unbeaten streak snapped, Toyota Park against the rival Chicago Fire was likely last on the list of preferable venues. Unfortunately, that's precisely where the Revolution's undefeated run came to an end on Wednesday night in painstaking fashion, as Calen Carr's 85th-minute goal lifted the Fire to a 2-1 victory.
The Revs (6-10-3, 21 pts.) had surged through their last eight games in all competitions with a record of 6-0-2, including a 3-0-1 mark in league play. Not only that, but they had conceded just two goals in that stretch, a figure which was matched in the span of 53 minutes on Wednesday night.
It looked likely that New England would stretch its unbeaten streak to nine games as the Revolution and Fire entered the waning minutes level at 1-1, but Carr's dramatic game-winner sent the Revs to their first defeat since July 2 against Real Salt Lake.
"It's a hard loss to take, one of the hardest of the season," said defender Cory Gibbs, who was replaced in the 69th minute after aggravating an ankle injury but plans to be ready for Saturday's game against the Kansas City Wizards. "We just have to move on from it and keep going. We had a nice little run and now it stopped and reality is back in check. We just need to go and keep pushing."
Marko Perovic gave the Revs an early lead with his fifth goal of the season in the 16th minute, a just reward for his workmanlike performance in the opening stages. But the consistently-dangerous Baggio Husidic took advantage of a fortunate carom in the 32nd minute to level the score before halftime and Carr sent the home fans happy with his late strike.
While the Revs were the beneficiaries of a mistake at the back themselves – Fire defender Wilman Conde struggled to control a routine back pass and slipped when Perovic put him under pressure, allowing the Serb to round the goalkeeper – they'll feel they could've easily prevented both Chicago goals. Husidic was set up for his strike when Brian McBride's low effort deflected off a Revolution defender right into his path, while Carr was allowed to run across the top of the box before slotting home the game-winner.
"We've got to pinpoint the mistakes, especially on the goals," said central midfielder Pat Phelan. "The team has to try and tighten things up. I think we know we can play better than this; it's just a matter of going out there and getting our heads right and our legs back under us. It's a tough road trip. The good thing is we've got a game coming up quick, so we don't have a lot of time to sit and whine about it."
If there's a silver lining to Wednesday night's defeat, it's that the Revs must refocus as quickly as possible for Saturday night's meeting with the Wizards, another team with which the Revs are fighting for a postseason berth. The club will travel directly from Chicago to Kansas City on Thursday afternoon, then train on Friday before Saturday's game.
"We'll take stock tonight and figure out what we did wrong, but we get on a plane tomorrow and this is behind us," Phelan said after the game. "It's unfortunate that our run's ended, but we've got another good opportunity. We've got a game coming up, a chance to put forth a better performance and pick up some points."
With 11 games remaining on the regular-season schedule, the Revs are currently five points back of the final playoff spot. They're well aware that a postseason berth is still within reach, but for it to become a reality, losses like Wednesday night's will have to be few and far between.
"We're still right in there," said Phelan. "It's definitely possible; you just have to pick up points on the road in this league to be in the playoffs. We dug ourselves a big hole. It's more important for us to pick up points. The game against Kansas City is a must-win for us, just like all of our games."