8/24/10
| | |
| --- | --- |
| From the field to the broadcast booth | By Jeff Lemieux, Staff Writer & Online Host |
Having ended his 11-year playing career following the 2009 season, Jay Heaps now gets his soccer fix as the Revolution's color commentator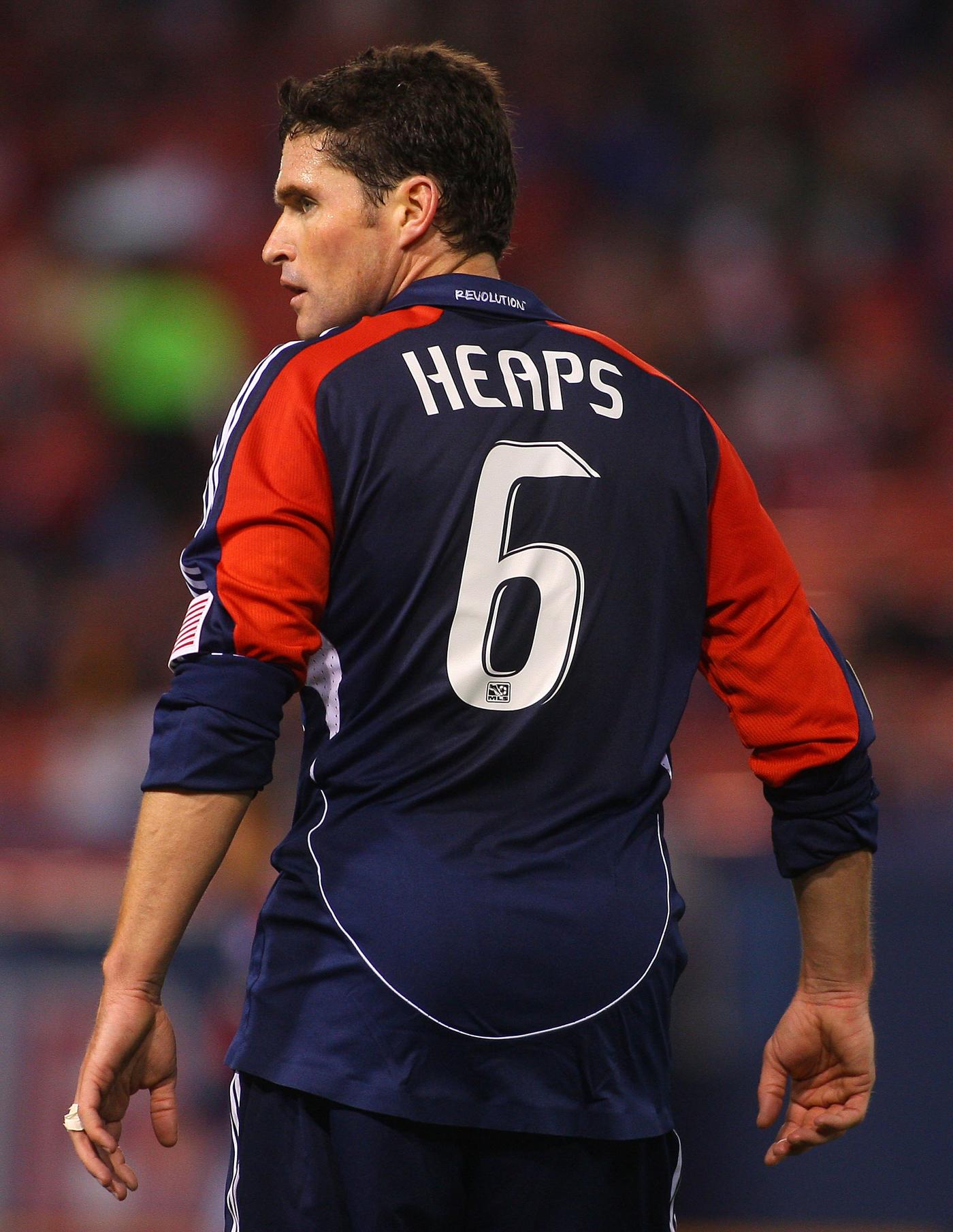 Jay Heaps traded in his jersey for a microphone at the start of the 2010 season
FOXBOROUGH, Mass. – As Jay Heaps watched last week's meeting between his beloved New England Revolution and bitter rival Chicago Fire from the broadcast booth, he found it tempting to rip off his tie and bound down the stadium stairs onto the field. After all, that's where he spent the last nine years of his playing career, fighting tooth and nail as a fiery Revolution defender from 2001-09.
But Heaps retired at the end of the 2009 season and traded in his jersey for a microphone, taking over as the Revolution's color commentator on Comcast SportsNet New England alongside longtime play-by-play man Brad Feldman. Well-spoken and remarkably comfortable on camera from the outset – not to mention knowledgeable about the game of the soccer and the Revolution – Heaps' transition from the field to the broadcast booth has been seamless.
Yet despite his composed demeanor while the camera's rolling, Heaps still grapples with the urge to lace up the boots when the whistle blows.
"I think that's been the hardest part, from an emotional standpoint," said Heaps about watching his former teammates go to battle without him. "Even just the other day in Chicago, I felt like I wanted to run out there and help the guys and be there yelling at the ref or whatever it was, because that was how I played the game, with so much emotion. So watching [from the broadcast booth], I still have a lot of those (emotions) flowing through me."
Fighting his desire to jump the advertising boards and join in the action is just one of the obstacles Heaps has encountered in his first season behind the microphone. Always one of the easiest players to interview during his playing days because of his comfort level with public speaking, Heaps has found the role reversal more complicated than he imagined.
"It's something I really enjoy doing, but it's definitely harder than I was expecting," he admitted. "You have to really prepare. It's not just about watching the game, it's also about knowing the underlying stories of each player and opposing teams. It's easy to know a lot about the Revolution players, but it's difficult when you're bringing in new players.
"There are also a couple of technical things just about when to talk, when not to talk and what you're saying," Heaps continued. "There's a lot more going on in the booth than you're expecting, whether it's a producer in your ear, or timing issues and things like that where you're just trying to get the right rhythm. It's like anything; the more you do it, the more repetitions (you get), the better. I think as time goes on, I'm getting more comfortable."
What many fans don't know is that Heaps is simultaneously learning the ropes as a color commentator and adjusting to his new full-time job as an associate with Morgan Stanley. Heaps – who graduated from Duke University in 1999 – interned with the financial services firm while still playing with the Revolution and accepted a job immediately following his retirement from soccer.
Typically the daily commute entails an early-morning train ride from his home outside Boston into his office in the city, but Heaps is currently stationed in New York City while participating in an intensive training program. For the time being he's balancing his attention between his family in Boston, work in New York City and his nomadic job as part of the Revolution's broadcast team.
"It's a difficult schedule, but I've always been someone who wanted to do this," Heaps said while waiting to grab a quick dinner prior to last weekend's game in Kansas City. "I never wanted to walk away from soccer. I knew that I wanted to go for a career maybe a little different than most at the end of my (playing) career in terms of going from soccer into the financial world, but I never wanted to give up soccer completely. This has been a great outlet for me."
Considering the hectic pace of his day-to-day schedule, it would be understandable if Heaps took a bit longer than usual to fine tune his broadcasting skills. Yet it seems as if the 34-year-old has actually done just the opposite, earning praise from his peers for his analysis and preparation from the very start.
Heaps' partner in the booth, Feldman, is one of his biggest proponents.
"He's a quick study and we knew that he would be," Feldman said of Heaps, whom he's known for years. "Jay's always been comfortable around a microphone. He's a good communicator, an articulate guy who obviously knows the game inside and out from his career as a pro player.
"But he's adapted more quickly than I might've even guessed because he has impeccable work habits," Feldman continued. "He does the homework, he talks to people, he reads, he asks questions, he has the humility to ask if he's done something the right way and he has the intelligence and the adaptability to make adjustments on the fly. I think he's an excellent color commentator already, and I think he's only going to get better."
Feldman admitted to being amazed at the level of preparation Heaps manages considering his dual jobs, claiming his new color commentator has already been thinking about storylines and key players for the Revolution's upcoming opponent prior to the weekly Monday conference call.
"He stays abreast of everything," Feldman said. "I'm always surprised when he shows up on game day how much he's paid attention to other teams and other games around the league, especially since he has another career going concurrently. He's able to keep one eye on MLS at all times."
For his part, Heaps gives much of the credit for his ease of transition into the broadcasting world to Feldman, who has been an invaluable resource to the rookie announcer.
"Brad's been great," said Heaps. "I think Brad has made it for me. His commitment is contagious. He's probably the most prepared guy in the league at what he does and how he does it, so when you see that, you realize to be able to be in step with him, you really have to bring your game."
Throughout his playing career, Heaps never stepped onto the field without bringing his game. It would appear as if he's taken a comparable approach to broadcasting, and the similarities are not lost on Heaps.
"Overall, I really have enjoyed it," he said. "It's been a very good link for me, retiring but still having a hand in what's going on in the soccer world."