8/27/10
| | |
| --- | --- |
| Revs welcome Union for critical clash | By Jeff Lemieux, Staff Writer & Online Host |
The expansion Philadelphia Union visits Gillette Stadium for the first time on Saturday night to battle the playoff-chasing Revs | VIDEO: Gameday >> | MatchCenter >>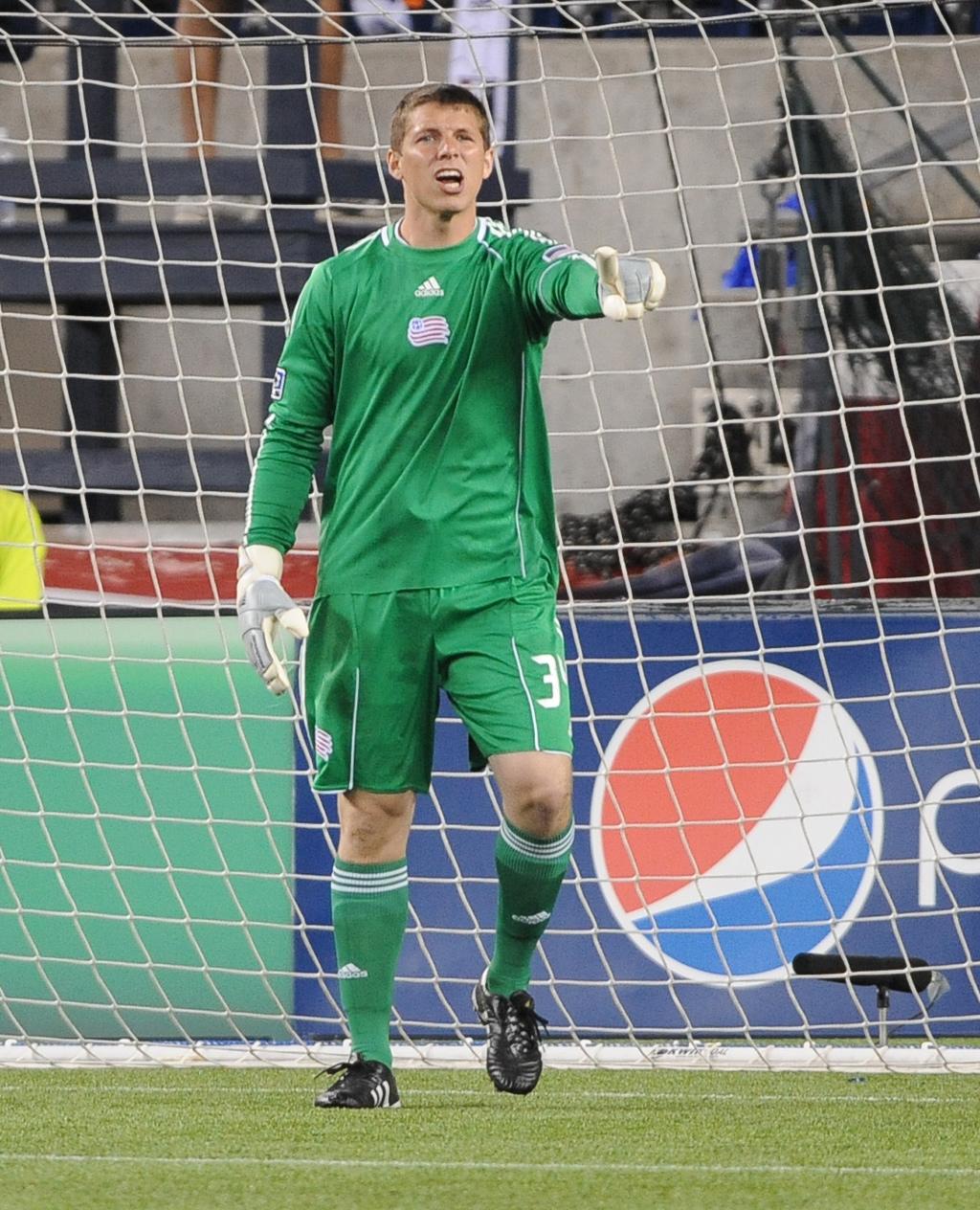 Bobby Shuttleworth will make his second career MLS start on Saturday night in place of the injured Matt Reis
FOXBOROUGH, Mass. – The 2010 MLS Cup Playoffs won't officially start until late October, but Saturday night's meeting between the New England Revolution and Philadelphia Union carries as much importance as any postseason clash.
Both the Revs (6-11-3, 21 pts.) and Union (4-11-5, 17 pts.) have work to do in the final 10 games of the regular season if they hope to be part of the playoff picture. New England currently occupies sixth place in the Eastern Conference and 13th in the overall league standings, seven points behind the Colorado Rapids and the final postseason spot. Philadelphia, meanwhile, is second-from-bottom in the league and must make up an 11-point gap in the next two months if it hopes to become the second straight expansion team to qualify for the playoffs.
Opportunities for both sides to pull closer to the playoff pack have gone by the wayside recently. The Revs had a four-game league unbeaten run (3-0-1) snapped last week when they dropped back-to-back road games to the Chicago Fire and Kansas City Wizards, a pair of fellow Eastern Conference playoff chasers. The Union has claimed just three points from its last six league games – going winless with a record of 0-3-3 – including a 1-1 draw with the Revs on July 31 at PPL Park.
With 30 points still there for the taking in the remaining third of the season, there is time to make a run, but consensus indicates it must happen now.
"It'll be a desperation game for both teams," said central midfielder Pat Phelan about Saturday night's showdown with the Union. "They've got some firepower up front, but we're at home. We've done pretty well at home, we're coming off two losses that really set us back a bit, and I think there's no way in heck we're going to let a third one come in here.
"It's going to be a tough game," he continued. "It's going to be physical, it might be scrappy, it might be ugly, but we're going to grind it out and hopefully get the victory."
Shalrie Joseph – who has reached the postseason every year since joining the Revs in 2003 – agreed with Phelan's assessment that this weekend's game is essentially do-or-die for both sides. With that in mind, the Revolution captain doesn't expect either team to hold anything back.
"I think it's one of those games you come out there and it's all guns loaded," Joseph said. "It's going to be physical throughout the midfield the whole game and it's going to be a matter of who wants it most. Right now we know there are points on the line and we need three, especially at home. We've got to get those three points to be one of those (playoff) teams."
The Revs are expected to revert to their preferred 4-4-2 formation this weekend after an unsuccessful attempt with a 3-5-2 setup saw them yield four goals last Saturday night in Kansas City. New England deployed the customary 4-4-2 formation in each of its first 19 games this season before trotting out the three-man backline and five-man midfield on the narrow surface at CommunityAmerica Ballpark.
Head coach Steve Nicol – who admitted the decision to play a 3-5-2 was "a gamble" – will have a decision to make with his backline this weekend as right back Kevin Alston is not expected to be available after re-aggravating a left hamstring strain against the Wizards. With Alston likely sidelined, utility man Chris Tierney could serve as a makeshift right back as he did against the Houston Dynamo on Aug. 14. Another option would be for rookie left back Seth Sinovic to return to the starting lineup and have someone else – possibly Emmanuel Osei – shift to the right side of defense.
While the starting backline presents a few question marks, there is no such uncertainty at the goalkeeper position, where Bobby Shuttleworth will fill in for the injured Matt Reis (low back pain). Shuttleworth has made six appearances in all competitions this season, seeing action in the regular season (2), SuperLiga (1), U.S. Open Cup (1) and international friendlies (2). He earned his first career victory in relief of Preston Burpo in the 3-2 win over the New York Red Bulls on May 29, while his only league start came in a 3-0 loss to Seattle Sounders FC on June 5.
Shuttleworth made six saves to earn his first professional shutout in his most recent start – a 1-0 win over Pumas UNAM in the group stage of SuperLiga on July 14 – and the second-year goalkeeper believes he's improved with each successive appearance.
"Playing in as many games as I have this year, I feel a lot more comfortable with the guys and just playing-wise with the speed of play," Shuttleworth said. "I just think I've settled into where I know I'm comfortable at this level, playing here and being on this team."
The Revs could also make changes on the attacking side of the ball, as forward Kheli Dube has recovered from a right knee sprain and will be available for selection against the Union. Dube – who recently spent two weeks in London visiting his newborn son – hasn't played since the group stage of SuperLiga in mid-July, missing six games in all competitions. Still short on fitness after taking part in just three training sessions following his return, Dube will likely be eased into the lineup.
"I'm not going to hurry that," Dube said when asked if he was ready to go 90 minutes. "I'm just going to get whatever minutes I get and try to get my fitness back. It's been two weeks, which [seems] like it's small-time, but it takes its toll on you."
After leading the Revolution with 10 goals in all competitions in 2009, Dube has yet to find the back of the net in 17 appearances this season, but the 26-year-old's hard-working style has produced a team-leading four assists. Even still, Dube is looking forward to getting off the mark with his first goal of 2010.
"Every forward goes through a dry spell and right now I'm going through one," he said. "I'm just hoping next game it'll be over, because as soon as I get one goal, then my confidence will go up."