8/30/10
| | |
| --- | --- |
| Flying under the radar | By Jeff Lemieux, Staff Writer & Online Host |
While fellow 2009 draftees Kevin Alston and Omar Gonzalez receive All-Star nods and National Team call-ups, defender Darrius Barnes continues to go quietly about his business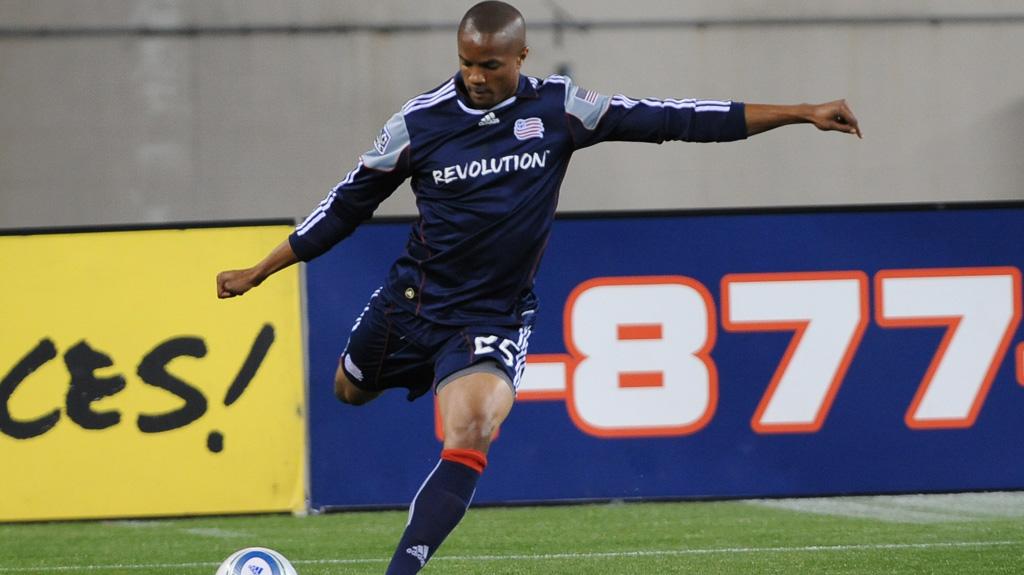 Darrius Barnes became just the second player in MLS history to play every minute of his rookie season in 2009
The following story was published in the Revolution's "Match Day" program for the Aug. 28 game against the Philadelphia Union
FOXBOROUGH, Mass. – There's a popular saying in the soccer world which claims a defender who goes unnoticed is a defender who's doing his job. Perhaps that's why Darrius Barnes has largely flown under the radar during his first two years with the New England Revolution.
Part of an impressive rookie class of 2009, Barnes joined Major League Soccer alongside a bevy of highly-touted defensive prospects including teammate Kevin Alston and LA Galaxy center back Omar Gonzalez. While Alston (10th overall) and Gonzalez (3rd overall) were both selected in the first round of the MLS SuperDraft, Barnes was drafted with the 40th overall pick and watched as a total of 13 defenders were selected ahead of him.
Despite overcoming the odds to become just the second rookie in MLS history to play every minute of every game last season, Barnes has often been overlooked as both Alston and Gonzalez have received call-ups to the U.S. National Team and have been named MLS All-Stars. Gonzalez was also honored as the 2009 MLS Rookie of the Year, an award Barnes wasn't even a finalist for despite his steady contributions along the Revolution backline.
While many players would feel slighted – or perhaps even disrespected – by such an oversight, Barnes is more than happy to let the spotlight shine on others.
"I'm not all about headlines and glory," he said. "As long as I'm getting my job done, I'll be satisfied."
Barnes has been satisfied working outside the limelight since an early age. While most youth soccer players beg and plead with their coaches to play forward so they can score goals, the Raleigh, N.C., native stepped aside as a youngster and let the other children take the credit while he honed his skills on the backline.
Although Barnes admits to playing forward when he was very young – "On those recreation teams where you score like five goals a game," he said – he began playing as a defender the moment he started to take the game seriously.
"I've just always had that knack for defending, getting stuck in and organizing," Barnes said. "I feel like that's my best position."
Barnes was recruited as a central defender out of high school and had a stellar four-year career at Duke University, playing right back for three years before moving to his more natural central position for his senior season. He earned All-ACC honors during his senior year and helped lead the Blue Devils to NCAA Tournament appearances in each of his four seasons.
Yet heading into the 2009 MLS SuperDraft Barnes was overshadowed by Duke teammate Mike Grella, a high-scoring forward who finished his collegiate career with 41 goals and 27 assists. Despite making clear his European aspirations, Grella was drafted 34th overall by Toronto FC, six spots ahead of Barnes. Grella now plays with English club Leeds United in the Football League Championship.
As Grella began his overseas adventure, Barnes joined the Revolution's preseason training camp with little fanfare. As the sixth of New England's seven selections that year, Barnes was well aware of his underdog status as he tried to earn a roster spot, but that didn't stop him from approaching camp with a positive attitude.
"Of course there was always a chance (I wouldn't make the team), but I didn't come in thinking like that," he said. "I came in thinking I had an equal shot at making the team, just like everyone else. You just have to go in and put your best foot forward. I went in there with a strong mental mindset that I was going to work hard and try to earn a spot."
Barnes did just that, impressing the Revolution coaching staff during a pair of preseason trips to Texas and North Carolina. He signed his first professional contract with the Revs just days before the regular season started, while four of the five players New England drafted ahead of him didn't make the cut.
Not only did Barnes make the team, but he shone when injuries presented him with an opportunity to start the season opener in San Jose. He helped anchor the Revolution backline to a shutout that night against the Earthquakes and never looked back, playing every minute the entire season.
While Barnes had a positive outlook from the start, even he was a little surprised by how smoothly his first professional season unfolded.
"You can never anticipate or predict things like that," he admitted. "It just goes to show if you really want something and you work hard, then anything's possible. That's what I always believe in; whatever I do, I want to put my best foot forward, go out there and give it everything I have. I did that last year, [head coach Steve Nicol] rewarded me, and I was thankful for the opportunity he gave me."
Throughout that first year in the league, Barnes formed a tight bond with Alston, who started 26 games alongside Barnes on the right side of defense. The duo learned the ropes of professional soccer together, often confiding in each other about their experiences both on and off the field. In addition to rooming together on the road, Barnes and Alston now share an apartment outside Boston.
So when Alston received a pair of call-ups to U.S. National Team camps this past winter and started for the 2010 MLS All-Stars against Manchester United in July, Barnes could've easily felt overlooked considering his similar contributions on the Revs' backline. However, Barnes instead seems genuinely delighted about the recognition his friend and teammate has received.
"I think it's great," he said. "I'm happy for him. We came into the league (together) and we're great friends, and to see him get that recognition at such a young age and see him get a call-up to his first National Team camp, I think that's excellent. I hope to join him at some point.
"That's definitely a goal of mine," Barnes said about one day getting his own chance with the U.S. National Team. "I feel like that's every soccer player's goal is to try to play at the highest level you can."
If he continues to perform at his current level, there's no reason he couldn't eventually find himself in consideration for a spot on the National Team. Since Barnes returned from a right foot injury which forced him to miss two months of action – the longest he's ever missed because of an injury, including high school and college – the Revs have gone 6-2-2 in all competitions and have kept six clean sheets during that stretch.
Barnes called the timing of his return from injury and the team's recent success "coincidence," but where the 23-year-old won't give himself credit, his teammates and coaches surely will.
"I think his athleticism is bar none in this league," said goalkeeper Matt Reis, who's had a first-hand view of Barnes' performances the last two years. "He's a great one-on-one defender, he's getting better with the ball at his feet and he's making good decisions.
"It's something that's been proven over the years that if you do well in MLS, then you'll get a try at the National Team level," Reis continued. "He's definitely on an upward trend and he's improving year-in, year-out. If he keeps doing that, then he'll definitely get a chance."
Nicol lauded Barnes' partnership with fellow central defender Emmanuel Osei, who has also played a key role in the Revs' recent success.
"He's been solid," Nicol said of Barnes. "He and Osei have made good decisions when they've played together – that's the biggest thing. Defending is not always about challenges and winning headers, it's about positional stuff and just making good decisions. They've done both of those things."
Ironically, it's Barnes' superior positional sense which makes him a quality defender while simultaneously keeping him out of the spotlight. Defenders rarely receive the same attention as flashy midfielders and high-scoring forwards, but those who do are typically speedy outside backs (like Alston) or physically imposing center backs (like Gonzalez).
As a cerebral defender, Barnes will likely stay out of the headlines no matter how flawlessly he performs his duties. Ask Barnes, and he'll tell you that's just fine with him.
"I enjoy flying under the radar," he said, "because when your opportunity comes to shine, it's that much sweeter."