8/31/10
| | |
| --- | --- |
| Revs-Morelia to battle for SuperLiga title | By Jeff Lemieux, Staff Writer & Online Host |
Already the first-ever two-time SuperLiga finalist, the Revs look to become the competition's first two-time winner on Wednesday night at Gillette Stadium | Gameday >> | Watch live >>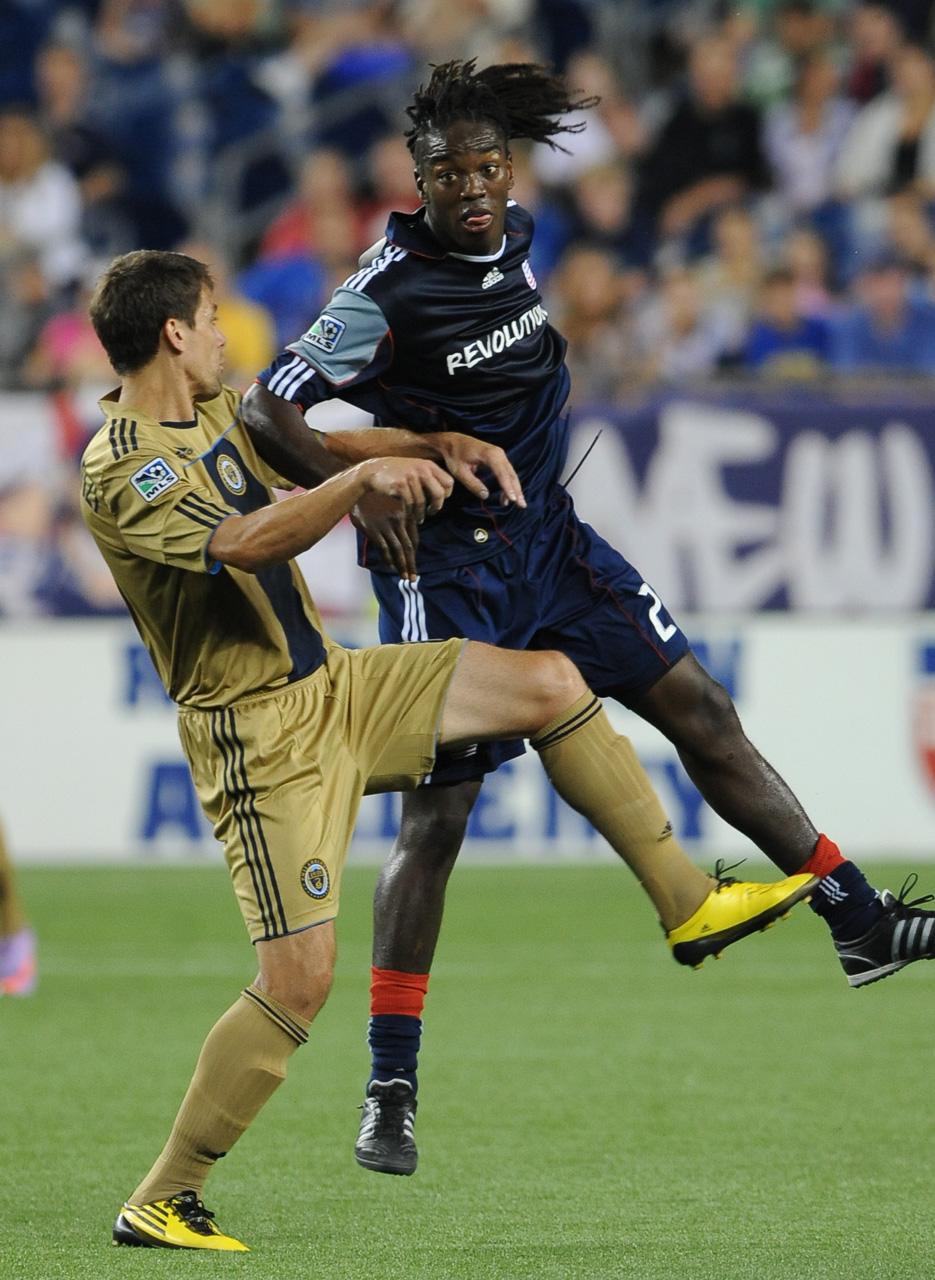 Shalrie Joseph will try to guide the Revs to their third cup championship in the SuperLiga 2010 final
FOXBOROUGH, Mass. – Since first participating in the competition in 2008, the New England Revolution has never lost to a Mexican opponent in eight all-time meetings in SuperLiga play, compiling a near perfect 7-0-1 record. If the Revs can continue that trend in Wednesday night's SuperLiga 2010 final against Monarcas Morelia, they'll be rewarded with their third cup championship in club history.
The Revolution flexed its muscle over Mexican sides yet again in the group stage of SuperLiga 2010, shutting out both Pumas UNAM and Morelia – in addition to MLS rival the Chicago Fire – to claim three consecutive 1-0 wins. In the process, the Revs became the first team in SuperLiga history to register a perfect 3-0-0 record in the group stage, while they also became the first team to finish group play without conceding a goal.
Morelia qualified for the semifinal round as the second-place finisher in Group B, behind the Revolution with a record of 1-1-1. The Mexicans began the group stage with a thumping 5-1 win over the Fire before drawing with Pumas and losing to the Revs.
Both teams claimed narrow victories in the semifinals. The Revolution defeated Mexico's Puebla in a penalty shootout after regulation finished level at 1-1, while Morelia clawed out a 1-0 win over the Houston Dynamo.
Those results have set up an MLS-Mexico showdown in the SuperLiga final for the third time in the competition's four-year history. On the previous two occasions the Mexican side has emerged victorious, as Pachuca defeated the LA Galaxy in 2007 and Tigres UANL defeated Chicago in 2009. The only final which didn't feature the border rivalry was 2008, when the Revs became the only MLS team to claim the SuperLiga crown with a win over the Dynamo.
Now the Revolution hopes to become the first team – MLS or Mexican – to win the competition twice. To do that, the Revs will have to be disciplined defensively and push the attacking tempo when they have the chance.
"The biggest thing for us is to make sure we don't dive in and stay on our feet," said head coach Steve Nicol, who was at the helm for the Revolution's previous two cup championships in the 2007 U.S. Open Cup and SuperLiga 2008. "[Morelia's] movement is good, they'll try to play one-twos anywhere on the field and they'll be sharp, so it's important that we don't get out of position.
"Once we get the ball, obviously we're putting pressure on them and we're trying to take advantage of some situations in the final third."
Captain Shalrie Joseph reiterated the importance of concentration and defensive positioning, especially considering the Mexican possession-oriented style of play.
"Mexican teams, they're pretty much the same," said Joseph. "Not to disrespect them by any margin – they're just great possessive teams, they move the ball well, they move off the ball and they keep us on our heels for pretty much 90 minutes because they love keeping the ball just like any other team.
"Tomorrow we're just going to have to stay focused," he continued. "We have to stay concentrated and just try to limit their chances, limit their creativity throughout the midfield and just try to get that early [goal]. I think if we get that early goal tomorrow, it's going to be huge for our confidence and huge for our team."
If the Revs are to score an early goal, they'll have to do so without the services of two attacking weapons in Kenny Mansally and Sainey Nyassi, both of whom will miss Wednesday night's final while on duty with the Gambia National Team. Nyassi has started all 21 regular-season games for the Revolution and has recorded two goals and two assists, while Mansally was the club's hero in the SuperLiga semifinal victory over Puebla, scoring the Revolution's only goal in regulation before converting the decisive penalty kick in the shootout.
Although they'll be without Mansally and Nyassi, the Revs will likely welcome two key defensive players back into the lineup. Right back Kevin Alston (L hamstring strain) and goalkeeper Matt Reis (lower back pain) – both of whom missed this past weekend's loss to the Philadelphia Union – trained on Tuesday and are hopeful of taking the field against Morelia.
"Every day [my back] is getting a little bit better," said Reis. "It's day-by-day, and so far, so good. We'll see [on Wednesday] how it feels, but I'm expecting to play."
The addition of Alston and Reis would provide a boost for the Revolution, which has already proven it can compete with Morelia even when less than full strength. Despite playing without regular starters Joseph (precaution to avoid yellow card accumulation), Nyassi (precaution to avoid yellow card accumulation), Alston (L hamstring strain) and Cory Gibbs (L quad strain), the Revs earned a 1-0 win over Morelia in the Group B finale on July 20.
However, it's difficult to put too much stock in last month's result considering the form Morelia has shown in recent weeks. Morelia – which was still in the midst of preseason training during the group stage of SuperLiga – has since begun its 2010 Apertura season with a record of 3-1-1 and has conceded just two goals while scoring nine. The Mexican side doesn't play another league game until Sept. 12, so it will be focused entirely on claiming the SuperLiga crown when taking the field at Gillette Stadium.
"They've played more games now, so they'll be quicker, faster, stronger and sharper," said Nicol. "We have to make sure we're ready for that."
Regardless of current form, prior meetings between MLS and Mexican teams have often taken on a physical tone. Considering there will be a trophy on the line, the aggressive nature could raise to yet another level on Wednesday night.
"There'll be a little more bite to the game," said central midfielder Pat Phelan. "It'll probably be pretty chippy, kind of ugly at times. Historically these games have gotten kind of ugly if one team's losing, so we'll see how it goes. Hopefully we come out on top and we're the ones getting fouled and not the other way around."
Joseph said the physical makeup of the MLS-Mexico rivalry is no coincidence, and the Revolution's success rate against teams from south of the border would seem to support his argument.
"We know we've got to be physical with them," said Joseph. "They don't like that style of play and our team definitely has some guys who can lay in some tackles and be very physical.
"I think we have to set the tone early, whether it's getting in that first tackle, creating chances or letting them know we're here to play," he continued. "Tomorrow is going to be a good day for us."