9/4/10
| | |
| --- | --- |
| Revs bounce back in emphatic fashion | By Jeff Lemieux, Staff Writer & Online Host |
The Revs simultaneously erased a one-goal deficit and the memory of Wednesday night's SuperLiga final defeat with three quick-fire strikes against Seattle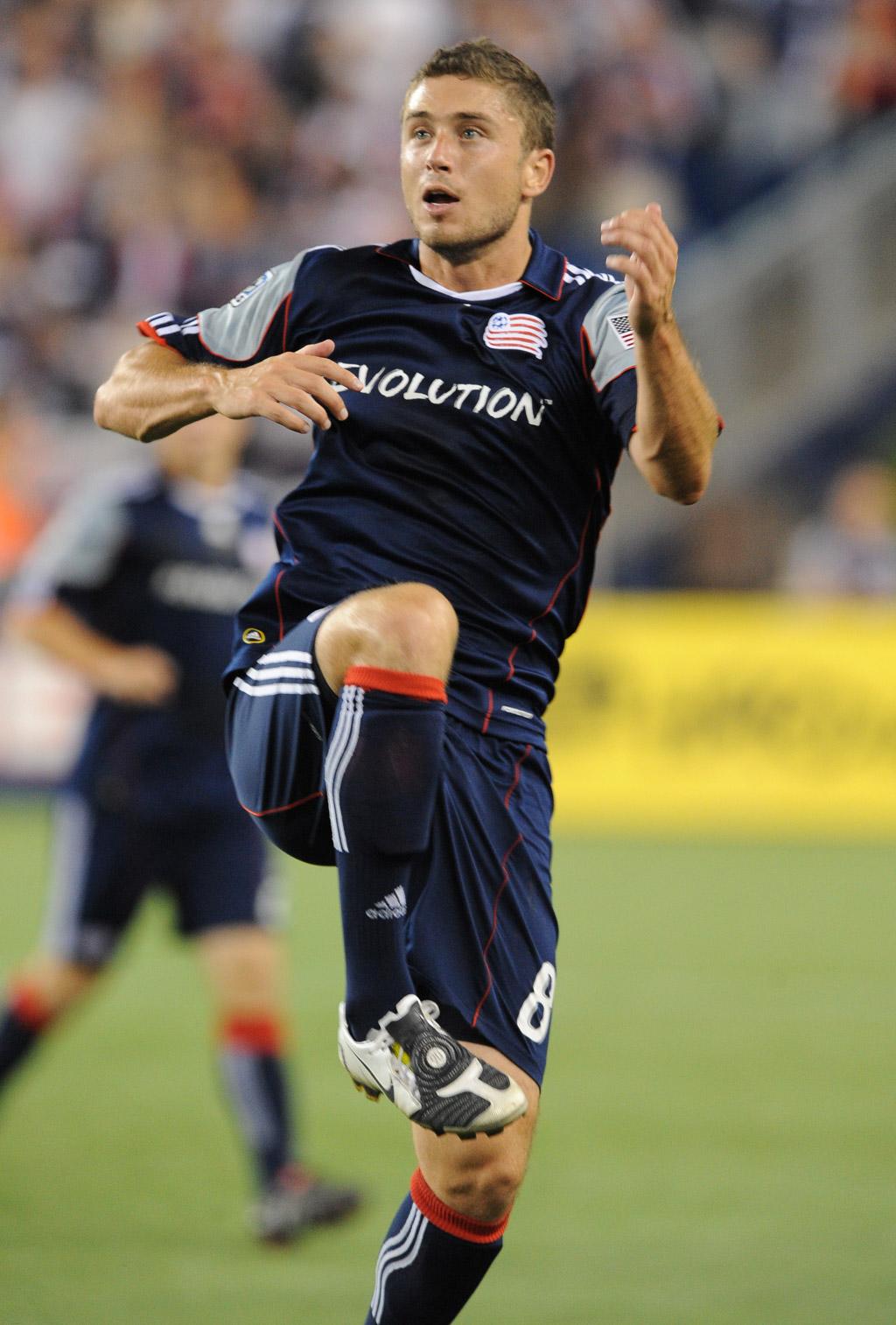 Chris Tierney scored his first career goal in his 40th career appearance on Saturday night
FOXBOROUGH, Mass. – The New England Revolution faced a tall task on Saturday night, hosting a Seattle Sounders FC team riding a club-record seven-game unbeaten run just three days after watching Monarcas Morelia lift the SuperLiga 2010 trophy at Gillette Stadium.
That task became even tougher when Sounders midfielder Steve Zakuani gave the visitors a 1-0 lead with his eighth goal of the season in the 59th minute. The Revs had won just one previous match when conceding the first goal this season, that a 4-1 win over Toronto FC all the way back in the home opener on April 10.
But Chris Tierney (70th), Marko Perovic (73rd) and Kheli Dube (81st) each scored in a frantic 11-minute stretch late in the second half to lift the Revolution to a critical 3-1 win. The three points the Revs claimed were vital to the team's playoff hopes, but the character shown in the process of claiming them may ultimately be more influential as they approach a grinding finish to the regular-season schedule.
"We were real unfortunate on Wednesday in the (SuperLiga) final," said head coach Steve Nicol about his side's 2-1 loss to Morelia. "But to come back from those two games – the third game in eight days – and go about it the way we did I think says all we need to know about the players, their attitude, the commitment and how they stick together. It was fantastic."
Each of New England's goal scorers had a special storyline attached to his strike against Seattle. Perovic's goal was his team-leading sixth of the season, pulling ahead of rookie Zack Schilawski (5). Dube's was his first of 2010 after he was the Revolution's leading scorer with eight goals last year.
But Tierney's was perhaps the most meaningful, as the tally represented his first career goal in his 40th career appearance. Tierney is one of the most versatile players in the league – serving time as a left back, right back, center back, left midfielder and central midfielder this season – and his hard-working, unsung approach is often overlooked because of his lack of statistical contribution.
"I don't really measure my game by goals to be honest," said Tierney. "It's always good to get on the score sheet and I'm happy to get the first one. Now I get that zero off the stat sheet.
"It's just about the performance tonight," he continued. "All around we were pretty good tonight, and we deserved to win."
Tierney's 70th-minute goal was a long time coming for the Revolution, which was pressing from the opening whistle and almost took the lead less than two minutes into the game. Ironically, New England's frustration in the attacking third came to a head just one minute before Tierney finally made the breakthrough, as he saw a close-range effort scrambled off the line.
The floodgates opened following that first goal, however, as Perovic and Dube added further goals shortly thereafter to help turn a 1-0 deficit into a 3-1 lead in a matter of minutes.
"We felt like we were pushing it, which we wanted to do," said Nicol. "We had some chances and couldn't take them, and obviously going one behind was disappointing to say the least. But the players just kept pushing and we got three goals in the end. But we deserved to win. No doubt about it."
It was the first time the Revolution scored multiple goals in a game since a 2-0 win over the LA Galaxy on July 10, while it was the first time the club scored three goals since a 3-2 win over the New York Red Bulls on May 29. Although the Revs had scored in 12 straight games in all competitions prior to Saturday night, they had scored just 13 total goals in that time, registering one goal in 11 straight games.
Fittingly, the Revs broke out of their offensive slump in emphatic fashion by scoring three goals in an 11-minute span.
"It's just a matter of getting the ball in the net, simple as that," said Tierney. "We had a couple of decent chances in the first half, I thought. We played some good stuff tonight. We just – the story of our season – we just couldn't, that last ball was just missing a little bit. We knew that if we just stuck to it, with the way we were playing tonight creating chances, we were going to score goals eventually."