9/6/10
| | |
| --- | --- |
| New country, familiar challenge | By Jeff Lemieux, Staff Writer & Online Host |
Having played professional soccer in five foreign countries prior to joining the Revolution, Ilija Stolica is well-versed in the process of adaptation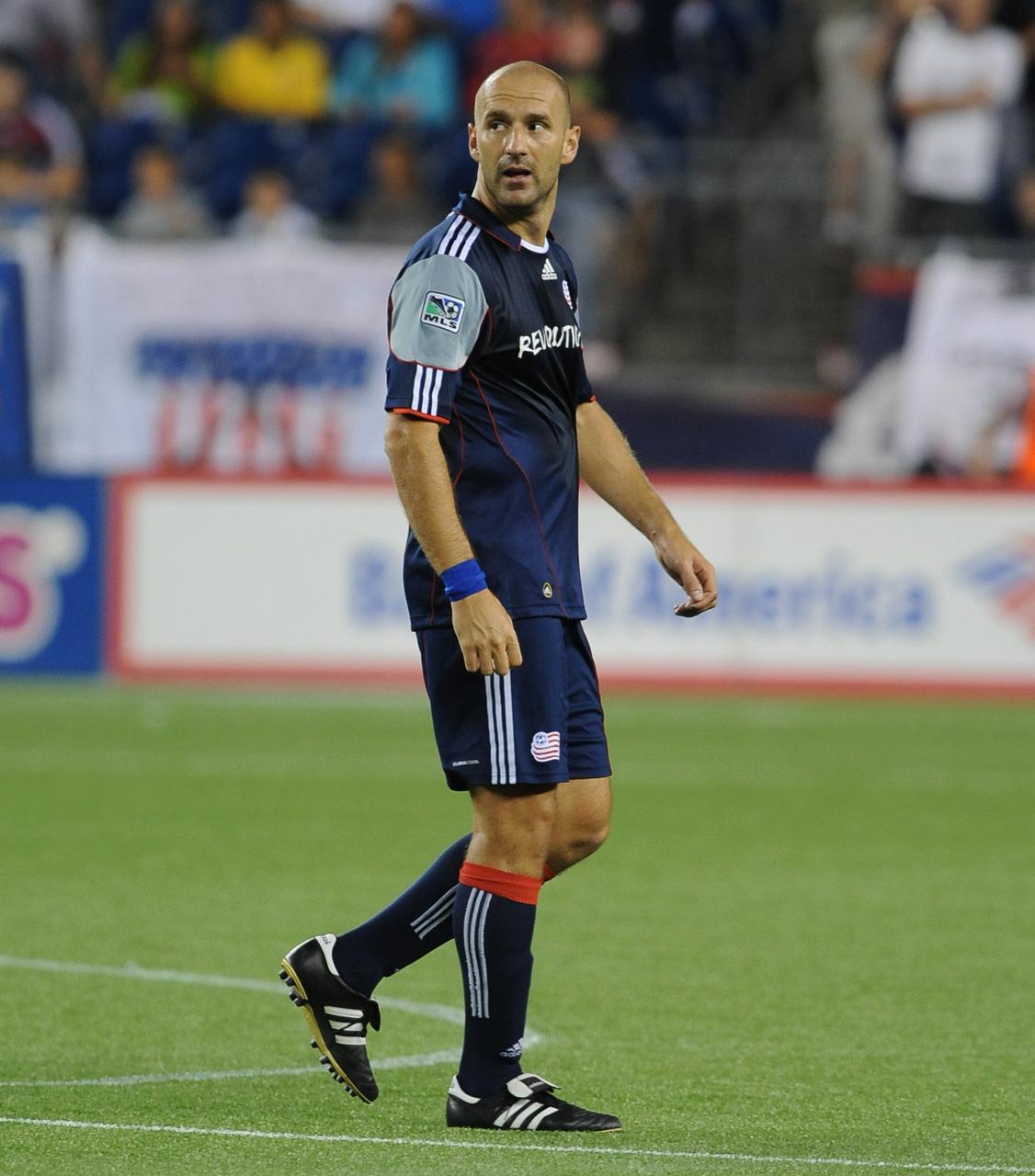 Ilija Stolica has recorded two goals and one assist in his first six league appearances with the Revs
The following story was published in the Revolution's "Match Day" program for the Sept. 4 game against Seattle Sounders FC
FOXBOROUGH, Mass. – In some ways, Ilija Stolica's recent move to the United States to play for the New England Revolution has presented him with unique challenges both on and off the field. At 31 years old, he's been thrust into a foreign country thousands of miles away from his home and family in Serbia. Not only is he adapting to a new culture, but also to a new league with a fast-paced playing style vastly different from many leagues around the world.
But at the same time, adjusting to an unfamiliar country is nothing new to the well-traveled Serb, who has now played in a total of six foreign countries during his 14-year career. Stolica began his playing days modestly enough at the age of 18 in his home country but had stints in Spain, Ukraine, Belgium, Greece and Montenegro before landing with the Revs in the U.S.
He first moved to a foreign country when he was just 19 years old, joining UE Lleida in Spain. While Stolica admits adapting to a new culture was difficult at such a young age, he truly believes the knowledge he gained from that experience – and his subsequent travels – has helped ease the process of his adjustment to life in the United States.
"If I came here [as] a young guy, I think I [would] need at least one year to adapt," Stolica said after a recent rain-soaked training session at Gillette Stadium. "That [would] be a longer process. But right now, I have a lot of experience changing countries, traveling a lot, and it helps."
Typically the most difficult aspect of moving to a new country is the seemingly inevitable language barrier. This can be especially important for professional athletes, as they need not only to communicate in their day-to-day lives, but also with their teammates on the field of play and with their coaches when discussing tactics.
As it turns out, speaking English wasn't an obstacle for Stolica, who began learning the language during his elementary school days in Serbia. A typical education in Serbia requires students to learn at least one foreign language and, according to Stolica, most students choose English because of its universal function.
But Stolica's linguistic repertoire goes far beyond English. When asked to give a comprehensive rundown of the languages he speaks, he rattled off a list which would make the world's greatest translators jealous.
"I speak English, Spanish, French, Russian and Serbian," Stolica said matter-of-factly, as if speaking five languages is rather unremarkable. "I (also) understand Italian because it's similar to Spanish and French – it's from the same group of languages – but let's say speaking languages, five."
Despite his proficiency in a multitude of world languages, Stolica was relatively unfamiliar with the United States upon his arrival this summer. He had visited the country just once before – as a tourist 10 years ago during a trip to New York City – but when his contract with his previous club in Montenegro expired and his agent informed him of an opportunity in the U.S., Stolica jumped at the chance to try something new. After all, fellow Serb and longtime friend Marko Perovic – whom Stolica claims has greatly aided his transition – was already playing with the Revolution and had urged Stolica to join him in Foxborough.
As varied as his playing career was prior to joining the Revs, Stolica had never played for a club outside Europe, so crossing the Atlantic to play for an MLS team has been something completely different in that regard. Like Perovic before him, one of the aspects of MLS to which Stolica has had to adjust is the extensive travel, which often includes cross-country flights and multi-game road trips. In fact, his first-ever experience traveling with the Revolution was a recent two-game swing through Chicago and Kansas City.
"To be honest, it's difficult," Stolica said of his newfound travel requirements. "This is a whole new game in a lot of ways for me. [I'm used to traveling] a maximum one hour. Even when I played in Belgium for four years, the longest trip we took was two hours with a bus. We didn't ever fly because Belgium is so small, we didn't have to fly.
"But here, it's a whole different game," he continued. "You fly to Chicago, you have a game there. From Chicago (you fly) to Kansas City. From Kansas City (you fly) to Dallas. I [covered] half of the United States in four days. This is really tough, and I need time to get used to it. In myself and on the game side, I feel those things. But I think it'll be better and better (with time)."
Not only has the constant travel taken a physical toll on the unaccustomed Stolica, but it's also interfered with his ability to get his home life in order here in the United States. The 31-year-old's job as a professional soccer player consists of daily two-hour training sessions and one or two games per week, but the rest of his free time since arriving Stateside has been devoted to sorting out aspects of his life which most take for granted.
In the past few weeks, Stolica has spent countless hours trying to obtain a Social Security Number, open a bank account, find an apartment and buy a car.
"Like in life, it's the same thing in football – every beginning is difficult," he said. "It's different and there really are a lot of things – a lot of administration things – that have nothing to do with football. But those are things you have to do. They are part of life and you have to do it. It's of course hard in the beginning because it takes your attention and your focus [away] from football. It's difficult to stay focused, but this is what we have to do."
Stolica believes it won't be long before he's fully settled in his new home, and he's confident he'll find more success on the field once he can get established in the U.S. Perhaps the biggest pieces to that puzzle are Stolica's wife and two-year-old son, both of whom were expected to join him in America in late August.
"I honestly can't wait for that to happen," said Stolica, lighting up with a smile at the thought of his family arriving. "Now I'm still moving in, buying furniture, preparing the apartment for my family to come. I can't wait to have them here. I really miss them. From that moment, it's going to be much easier for me and I think I will be much more relaxed."
While Stolica claims his game will improve once he's settled, there are those who would argue the 6-foot-1 striker has already proven worthy of a consistent spot in the starting lineup. Included among that group is the man who just happens to make those decisions, head coach Steve Nicol.
"He's just come in and done what he does," said Nicol when asked how Stolica has adapted to MLS. "He holds the ball up, we want him to score goals and we want to give him service. He's shown that if we give him good service, then he'll do both of those things. We just have to try to keep supplying him."
If Nicol wants Stolica to score goals, then he'll be delighted with the performance the striker put forth in his first-ever start with the Revs on Aug. 14 against the Houston Dynamo. Playing in front of the home fans at Gillette Stadium just one week after stepping off the plane from Belgrade, Stolica scored the game-winning goal in a 1-0 win over the Dynamo, lashing home a volley from the top of the box with expert precision.
Still short on fitness, Stolica was replaced in the 77th minute of that game, giving the new signing his first chance to be acknowledged by the hometown crowd. It's a feeling he won't soon forget, and one he hopes he'll experience many times to come.
"That was a great feeling, really," Stolica said. "I think there is no better way to start than to score a goal and win the game. You don't feel so good if you score and your team doesn't win. When you score and the team wins, that's really something.
"That moment when I was going out, the ovation that I had here, I was so very happy," he recalled. "I was telling myself I made a great decision moving here, and knowing people appreciated [me] immediately made me feel like I'd already been here a long time. That's a great feeling."