9/6/10
| | |
| --- | --- |
| Revolution Update: September 6, 2010 | |
Revolution looks to establish new winning streak with Friday's match at Chivas USA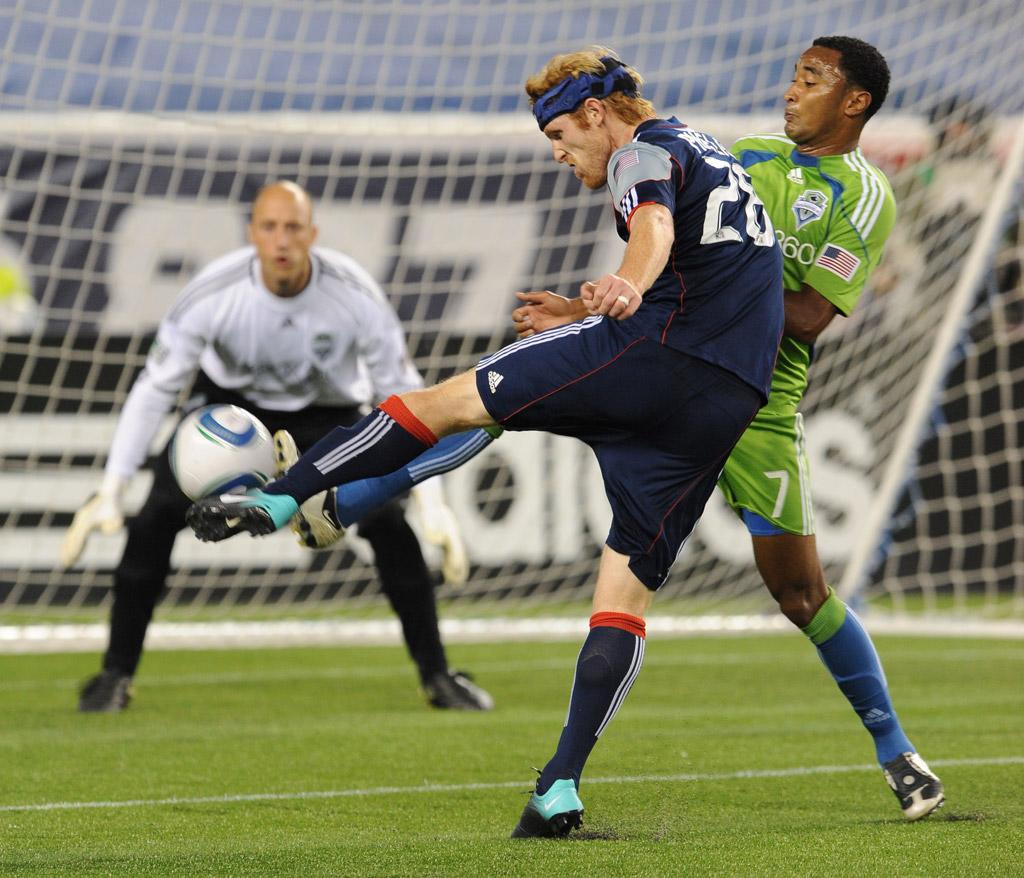 Pat Phelan is now tied with Sainey Nyassi for the team lead in appearances this year
NEW ENGLAND VS. CHIVAS USA SERIES INFORMATION
New England leads the all-time, regular-season series between the two clubs, 5-4-2 … the teams have met just once outside of regular-season action, playing to a 1-1 draw in the group stage of SuperLiga 2008.
Friday's match will be the second of two meetings between New England and Chivas USA in 2010 … Chivas USA handed the Revs their worst-ever home loss (4-0) at Gillette Stadium earlier this season on May 5.
The Revs are just 1-3-1 against Chivas USA in Carson, earning their only win in 2008 – a 2-1 victory powered by Taylor Twellman and Kenny Mansally goals.
At home, the Revs are 4-1-1 against Chivas USA at Gillette Stadium … New England has outscored Chivas USA, 11-6, in those six matches.
Before Chivas USA's win at Gillette Stadium earlier this year, New England's 2-1 win at The Home Depot Center on May 11, 2008, marked the only time the visiting team had won in the all-time series.
Eleven of the Revolution's 14 goals against Chivas USA have been scored in the second half, including the last seven overall … conversely, Chivas USA has scored seven of their 13 goals against the Revs in the first half.
New England has allowed more than one goal against Chivas USA just three times in 11 regular-season meetings, a 2-0 loss on June 30, 2007, a 2-0 loss on Sept. 13, 2009 and the 4-0 loss earlier this season … the Revs, meanwhile, have scored multiple goals against Chivas USA four times, including three of the last five meetings.
Prior to the 4-0 loss in May, the Revs had conceded just nine goals to Chivas USA in 10 regular-season meetings for a goals against average of 0.90.
New England and Chivas USA split the 2009 regular-season series, with each team winning a 2-0 decision at home … the Revolution struck first at Gillette on July 19, while the Goats evened the series at The Home Depot Center on Sept. 13.
PLAYER NOTES VS. CHIVAS USA
Taylor Twellman leads the Revolution with four goals in seven career appearances (five starts) against Chivas USA … Twellman scored the game-winning goal in both of New England's wins over Chivas USA in 2008.
Shalrie Joseph is the team's active scoring leader against Chivas USA, recording one goal and two assists in eight appearances against the Goats.
Kheli Dube, Kenny Mansally and Khano Smith have each scored one goal against Chivas USA … Dube's strike was the game-winning goal in the 2009 home game at Gillette Stadium, while Mansally struck at The Home Depot Center in 2008 … Smith's goal was the third of four goals in the Revs' 4-0 win on Sept. 11, 2008, at Gillette Stadium.
Chris Tierney is the only other active player to be involved in a scoring situation against Chivas USA, setting up Dube's goal last season.
Preston Burpo played for Chivas USA for the 2006 and 2007 seasons… during this time he appeared in 22 regular-season games, finishing with an 8-4-10 record … as a member of the Goats, Burpo made three starts against the Revs in 2006-07, going 1-0-2 with a 0.67 goals against average and one shutout … earlier this season, he was in goal for the Revs' 4-0 loss to Chivas USA at Gillette Stadium.
Matt Reis has the most Revs appearances against Chivas USA – 10 – but by missing the earlier meeting this season while recovering from off-season shoulder and knee surgeries, he was denied the opportunity to maintain his position as the only Revs player to play in every minute of every match in team history against the Goats … he is 5-3-2 with three shutouts against the Goats.
NEWS AND NOTES
ROAD WARRIORS AND TIME TRAVELERS
After completing its three-game home stand in all competitions on Saturday against Seattle, the Revolution will play its next three games on the road ... with a stop in Carson, Calif., against Chivas USA on Friday, and then a seven-day, two-game road trip to Commerce City, Colo. (Colorado Rapids) and Frisco, Texas (FC Dallas), the Revs will spend time in all four continental U.S. time zones in the next two-and-a-half weeks ... in total, the Revs will travel 9,150 miles in a 16-day span to complete the trips.
ARE WEST-COAST WOES CHANGING?
In 2010, the Revs have posted a 3-6-2 overall record against teams in the Western Conference, including an 0-4-0 record on the road … after starting the season 0-6-2 against the West, the Revs have earned three consecutive wins against Western teams (July 10 vs. LA, Aug. 14 vs. Houston and Sept. 4 vs. Seattle), however all three of those games were at home … with the team's next three games on the road in western markets, the club now has three chances to gain its first road win against a Western Conference club this season.
NOT-SO HOME DEPOT CENTER SWEET HOME
As the Revs search for their first win in the West this year, they are venturing to one of their tougher road venues … since The Home Depot Center opened in 2003, the Revolution is just 4-7-2 all-time at the venue, including matches against both the LA Galaxy and Chivas USA … the Revs have scored 14 goals in 13 games at the HDC, but have been shut out in their last three trips overall to Carson (1-0 loss to LA on July 4, 2009; 2-0 loss to CHV on Sept. 13, 2009; and 1-0 loss to LA on March 27, 2010) … all four of New England's wins at The Home Depot Center came in a three season stretch: 2006 (one win), 2007 (one win) and 2008 (two wins) … the team's last win in Carson came on July 4, 2008, a 2-1 victory against the Galaxy.
COMEBACK SONG
Saturday's win against Seattle marked just the second time this season New England came from behind to earn a win … after falling behind, 1-0, the Revs were sparked by a three-goal outburst in an 11-minute span in the second half to take the win and snap a four-game losing streak in all competitions, including three league games … earlier this season, the Revs trailed Toronto, 1-0, at home before scoring four unanswered goals to claim a 4-1 win in the team's home opener at Gillette Stadium on April 10 … overall, the team is 2-9-1 this season when the opponent scores first.
SEEKING REVENGE?
Earlier this season, Chivas USA earned a 4-0 win at Gillette Stadium and handed the Revs their worst-ever home defeat … it was also Chivas USA's first-ever win at Gillette Stadium, having played to an 0-4-1 record in five previous matches at the Revs' home ground … now the Revs head to Carson for the return engagement looking to gain three points on the road and turn the tide on Chivas USA.
REIS' RECORD (AGAIN)
Matt Reis' win on Saturday night against Seattle was his 75th in a Revolution uniform … Reis now has a record of 75-59-49 with the Revs in 183 appearances since 2003, when he was traded to New England from LA … Reis holds all of the Revs' goalkeeping records, including games played in goal (183), games started in goal (181), minutes played in goal (16,392), goals against average (1.26), wins (75), saves (739), shutouts (50) and save percentage (.732).
FIRST GOAL FESTIVAL
Saturday's game also proved to be significant for two other Revs: Chris Tierney and Kheli Dube … both players scored goals, and cracked the score sheet for the first time this season … for Tierney, it was also his first career MLS goal, and came in his 40th career appearance for the Revs … Dube, who entered the season with 12 career goals, had been stymied so far in 2010 … his 81st-minute goal was his first of the 2010 season and snapped an 11-month, one-day scoreless streak that spanned 16 overall games … Dube's last goal came on Oct. 3, 2009 in Colorado.
ONE RETURNS, ONE DEPARTS
While Cory Gibbs is eligible to return from his one-game red card suspension this Friday against Chivas USA, the Revs will lose another player … Marko Perovi?, who picked up his fifth yellow card of 2010 on Saturday night against Seattle, will be forced to miss Friday's game while serving his one-game caution accumulation suspension … Perovi? also missed the team's trip to Los Angeles earlier this year – against LA on March 27 – after signing the day before and while awaiting his U.S. P1 Visa approval.
GAMBIANS SET TO RETURN, WRACK UP AIR MILES
Gambia internationals Kenny Mansally and Sainey Nyassi are scheduled to return to the Boston area on Monday, Sept. 6, and re-join the Revs at training on Tuesday, Sept. 7 before traveling with the team to LA on Wednesday … the duo has been away from the team for the last week while representing Gambia in the country's Africa Cup of Nations qualifier against Namibia in Banjul, Gambia, on Saturday … Nyassi recorded one goal in the Black Scorpions' 3-1 win in their opener in qualifying … Mansally was among the 18 players who dressed, but did not make an appearance in the game … in total, the pair will have accumulated almost 19,000 air miles in a 12-day span making the trip from Boston to Banjul and back, and then to Los Angeles and back.
PHELAN STEPS INTO THE LEAD
With Sainey Nyassi missing Saturday's match against Seattle – his first missed MLS game of 2010 – Pat Phelan stepped up and is now tied with Nyassi for the team lead in appearances this year … the third-year midfielder has appeared in 21 matches this year, which matches his single-season high (2009) in his brief career … the former Toronto FC draft pick out of Wake Forest has also established a new career high in starts with 19, which is tied for second (with Chris Tierney and Cory Gibbs) on the team behind Nyassi's 21 starts.