9/7/10
| | |
| --- | --- |
| Gambian globetrotters | By Jeff Lemieux, Staff Writer & Online Host |
Covering three continents and both coasts of the continental United States, Kenny Mansally and Sainey Nyassi will travel almost 19,000 miles in 12 days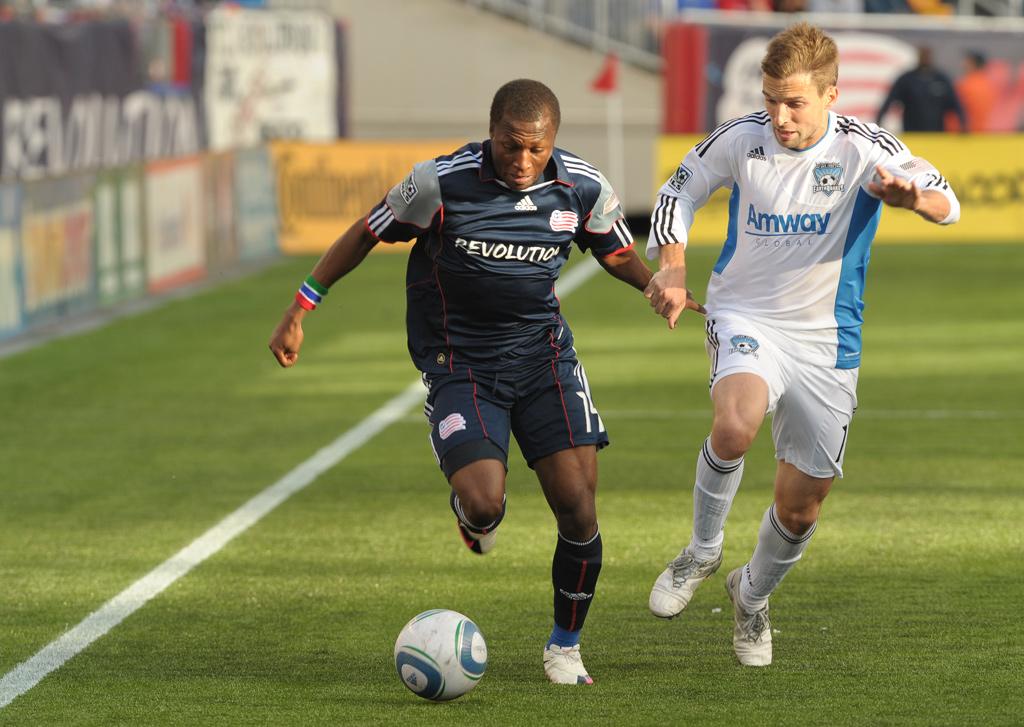 Sainey Nyassi scored his second career international goal for Gambia in last weekend's 3-1 win over Namibia
FOXBOROUGH, Mass. – Kenny Mansally and Sainey Nyassi might redefine the term "frequent flyer" by the end of this week.
The duo returned late Monday night from a week-long trip to Gambia, where the pair of 21-year-olds represented their country in an Africa Cup of Nations qualifier against Namibia this past Saturday. It was a successful journey, with Nyassi earning a start and scoring the opening goal to lead his country to a critical 3-1 win. Mansally was part of the 18-man game day roster but did not see action.
"It was a good game for us," Mansally said. "(It was our) first game at home and we needed those three points."
While the victory was rather routine, traveling to and from Gambia is anything but; starting their journey in Boston, Mansally and Nyassi made stops in New York, Brussels (Belgium) and Dakar (Senegal) before finally arriving in Gambia's capital city of Banjul. They retraced their steps one week later and made the same journey home, hitting two cities each in Africa and North America, with a stop in Europe sandwiched in between.
"It's like one hour (from Boston to New York), then to Brussels is like seven hours, then Brussels to Dakar is like five hours and 40 minutes, then Dakar to Banjul is like 25 minutes," Mansally explained as he mapped out the flights. "It's not that bad, but it's a long way to go."
Typically the entire trip takes somewhere around 14 hours from start to finish, but a long delay in Brussels on the way back to the United States stretched the return into an 18-hour excursion, so the duo didn't arrive back in Boston until approximately midnight on Monday.
Mansally joined the Revs for training on Tuesday morning, but Nyassi was given the day off to recover after his weekend performance in Gambia. Even though he didn't play in the match, Mansally was still feeling the effects of the time change and the twice daily training sessions while with the national team.
"We train twice a day, both morning and afternoon," Mansally said. "Plus, the time's different. [After] practice you've got to get to sleep."
As if the trip to and from Africa wasn't draining enough, the duo will immediately turn around and head on one of the Revolution's longest trips of the season, across the country to Los Angeles for a Friday night meeting with Chivas USA. After arriving in Boston late Monday night, Mansally and Nyassi will have less than 48 hours to essentially unpack and repack before leaving for the West Coast on Wednesday afternoon.
Under normal circumstances, the Revolution's game against Chivas USA would take place on Saturday night and the team wouldn't leave until Thursday, giving the Gambians at least one more day to get their bearings before heading back out on the road. But a rare Friday night meeting calls for a Wednesday departure, meaning it's straight back into the air for Mansally and Nyassi.
"I was thinking the (Chivas USA) game was going to be on Saturday," Mansally said with a chuckle. "Then (I realized) it's on Friday, so we're leaving [Wednesday]. I've got to get ready for another long trip again."
All told, Mansally and Nyassi will travel approximately 19,000 miles in 12 days and will cover three continents and both coasts of the continental United States.
Hopefully they submitted their frequent flyer numbers.