9/10/10
| | |
| --- | --- |
| Inconsistent performances frustrate Revs | By Jeff Lemieux, Staff Writer & Online Host |
Less than one week after earning a character-building win over Seattle Sounders FC, the Revs were dealt a blow with a discouraging loss to Chivas USA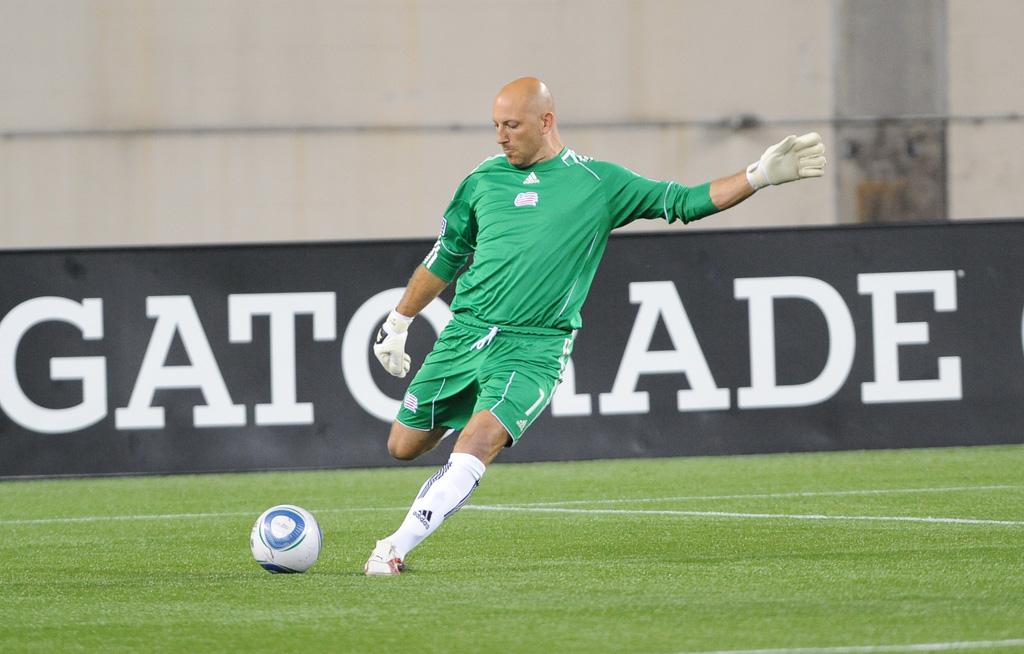 Matt Reis: "To come out in a big game like this and lay an egg is really tough, but that's how it's been all year."
CARSON, Calif. – Just six days ago the New England Revolution put forth an inspired performance which sparked hopes of yet another late playoff push. Last Saturday night at Gillette Stadium, a trio of quick-fire goals helped the Revs erase a one-goal deficit and claim a critical 3-1 win over Seattle Sounders FC.
But on Friday night at The Home Depot Center, last week's victory over the Sounders provided little solace as the Revolution was outplayed from the opening whistle en route to a 2-0 loss to Chivas USA.
The Jekyll and Hyde act has left the players frustrated, knowing the ability is there but the performances aren't on a week-to-week basis.
"We've backed ourselves into a corner and we have really no room for error," said goalkeeper Matt Reis. "To come out in a big game like this and lay an egg is really tough, but that's how it's been all year.
"We've been very inconsistent," he said. "We've been up and down. We play a good game like we did last weekend … and then we'll turn around and less than seven days later come out and give this performance."
The Revs found themselves in an early hole against Chivas USA when Justin Braun scored his team-leading ninth goal of the season in just the sixth minute, making the already difficult task of winning on the road that much more challenging. Not only had the Revs won just twice when conceding the first goal this year – one of those wins being last weekend's victory over Seattle – but they were a league-worst 1-8-1 on the road.
Even still, a 1-0 deficit at halftime might've been manageable, but when Paulo Nagamura made it 2-0 for the hosts before the halftime break, it proved to be a backbreaker.
"I think it kind of took the air out of us a little bit, especially when they got consecutive [goals]," said forward Zack Schilawski, who made his first start since Aug. 7 in place of the suspended Marko Perovic. "I think if we'd been able to get into the half 1-0, we would've been able to have a little more energy going after it like we did last weekend. But two consecutive goals like that is tough, especially when we feel like we could've prevented them."
Trailing by two goals entering the second half, the Revs made two substitutions and switched to a more attacking 3-5-2 formation. Sainey Nyassi and Khano Smith came on to take over the wide roles with Kheli Dube and Emmanuel Osei going to the bench, but despite the aggressive move, the Revolution failed to generate much in the attacking third.
"I don't think (Chivas USA goalkeeper) Zach (Thornton) was too troubled on much of anything," said Reis. "We just weren't patient when we needed to be, and we didn't create any really decent scoring chances.
"We couldn't pass the ball to save our life and they did a great job of keeping possession and once you're chasing the game, then it's very, very difficult on a big field like this."
It won't get any easier for the Revs, who will head back on the road for their next two games against the Colorado Rapids and FC Dallas. According to head coach Steve Nicol, it's make-or-break time in the final seven games of the regular season.
"We want to see what people are made of, and certainly giving the ball away all the time just doesn't help," he said. "You're just under constant pressure for 90 minutes when you give the ball away, so we need to improve on that.
"This is the time for the guys to show me and everybody else what they're made of."