9/18/10
| | |
| --- | --- |
| Basic errors cost Revs in Colorado | By Jeff Lemieux, Staff Writer & Online Host |
For the second straight game the Revs fell behind in the opening 10 minutes and failed to recover from the early hole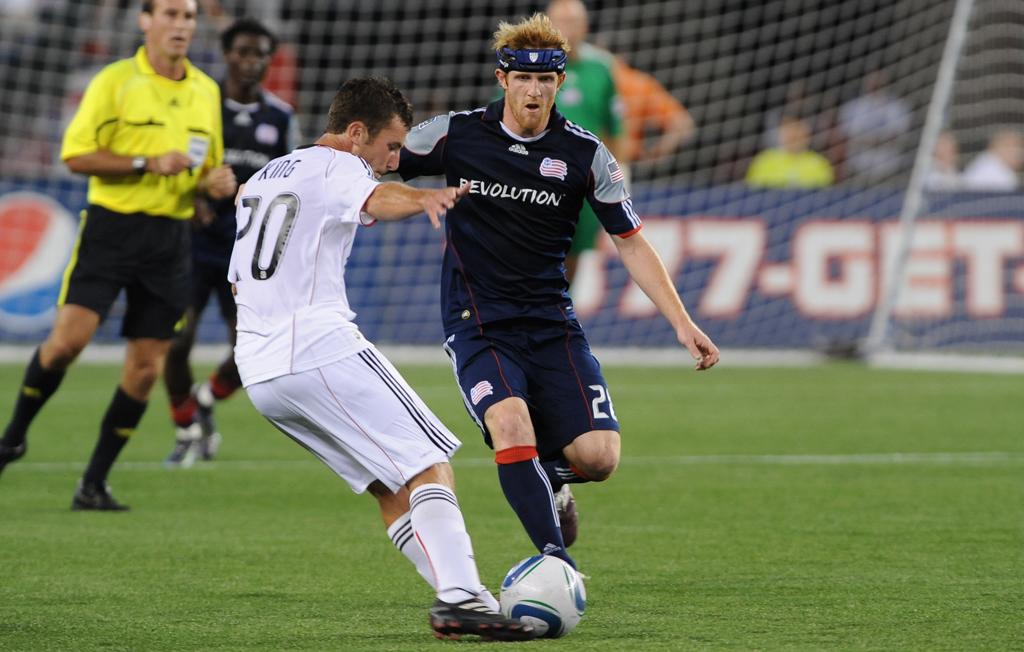 Pat Phelan said the Revs haven't played with enough heart and passion in recent weeks
COMMERCE CITY, Colo. – The New England Revolution has had issues with conceding the first goal throughout the 2010 season, going behind 14 times in 24 regular-season games. Only three times have the Revs been able to erase the one-goal deficits, earning two wins and one draw while suffering 11 losses.
Those first-goal woes have been taken to a new level in the last two weeks, however, as the Revs have fallen behind in the opening six minutes twice in a pair of shutout losses to Chivas USA and the Colorado Rapids.
On Saturday night at Dick's Sporting Goods Park it was the speedy Omar Cummings who did the damage, giving the Rapids a 1-0 lead with his 10th goal of the season in the fifth minute. Colorado went on to win the game 3-0.
"You're not going to win games when you when you put yourself in a hole like that, (especially) that early in the game," said central midfielder Pat Phelan. "It was the same thing that happened against Chivas USA and we couldn't come back."
"When you take a goal in the first five to 10 minutes, then it's really difficult to come back, especially on the road," added forward Ilija Stolica. "We have to put more effort and press more. When you start to press, you wait for their mistakes and counter. It's really hard when they have an advantage in the beginning."
Both Phelan and Stolica noted the Revolution's game-plan was to stay organized and not chase the Rapids when the home side was in possession, but the result was too much time and space provided to Colorado's wingers – especially the consistently dangerous Jamie Smith – to feed the dynamic forward tandem of Conor Casey and his strike partner Cummings.
Casey and Cummings punished the Revs with first-half goals, finishing from an almost identical area in the left side of the box. According to head coach Steve Nicol, both goals could've been prevented if not for fundamental errors.
"Two of the goals were avoidable," he said. "If we had cleared the first one correctly and then followed the run on the second goal – it was basic stuff.
"This is a hard enough place to come anyways without giving them goals, but it's basic stuff," Nicol continued. "It's not rocket science why we've lost tonight. We've made too many basic errors, which just encourages the opposition to come after us."
The Revs did show improvements in the second half as they increased their time on the ball and raised their shot total from one in the opening 45 minutes to eight after the interval, but they never found the breakthrough and were ultimately shut out for the second straight game.
From one point of view it was encouraging to see a second-half improvement, but there's also concern that it's become a habit for the Revs to wait until they're in an insurmountable hole before they turn it on.
"Even though this game was disheartening and it's tough to lose like this, there were some positives in the second half," said Phelan. "I think if a couple things went our way, we could've pulled one back. We had some spells of good attacking soccer and I think it was the same story as it's been all year long. If we do that in the first half, we'll be in a much easier position to make a run for the game."
The Revs don't have much time to regroup, as they'll head directly to Texas for a meeting with FC Dallas – currently toting a 15-game unbeaten streak – on Wednesday night at Pizza Hut Park. In order to have a chance against the Hoops, the Revolution must improve from the opening whistle.
More plainly, the Revs must play with pride.
"It's just looking inside you and saying that you're not going to let this happen," said Phelan. "It's heart – or lack of it – right now.
"It's been the same all year long," Phelan continued. "Teams come at us but we've let them do that. We haven't played with enough heart and passion, and it shows."
Nicol's assessment of the midweek match against FC Dallas was simple.
"We'll either sink or swim," he said, "and we better swim."