9/24/10
| | |
| --- | --- |
| Road-tested Revs return home to host Crew | By Jeff Lemieux, Staff Writer & Online Host |
After three consecutive road games in a trio of different time zones, the Revs host the Eastern-Conference leading Columbus Crew on Saturday night at Gillette Stadium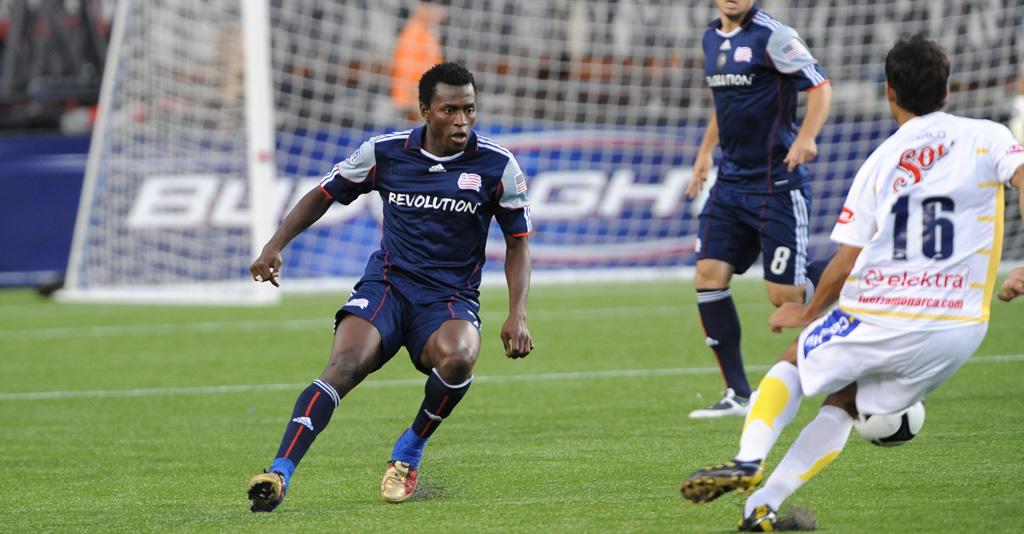 Kenny Mansally could earn his second straight start at left midfield on Saturday night
FOXBOROUGH, Mass. – Both the New England Revolution and Columbus Crew will have major incentive to win when the teams meet at Gillette Stadium on Saturday night, but where the sides differ is in the ultimate motivation.
The Revs (7-14-4, 25 pts.) are attempting to stay mathematically alive in the postseason race, as a loss this weekend – coupled with victories by the San Jose Earthquakes and Seattle Sounders FC, plus a win or draw for the Colorado Rapids – would officially end New England's faint playoff hopes. The Crew (13-7-5, 44 pts.), meanwhile, can clinch a spot in the MLS Cup Playoffs with a victory, combined with losses for Seattle and the Kansas City Wizards.
Although New England and Columbus are separated by 19 points in the Eastern Conference standings, the Revolution's determined performance in Wednesday night's 2-2 road draw with FC Dallas suggests the Revs can compete with any team in the league when on top of their game.
"It's encouraging because we played [well]," said forward Ilija Stolica, who scored the Revolution's second goal against FCD. "That's the most important (thing). I think even the second half in Denver (in a 3-0 loss to the Colorado Rapids) was much better than the first half. When you see that things are starting to change, that's encouraging and gives you a good feeling for the future."
"We were just committed (on Wednesday)," head coach Steve Nicol said about the difference in levels of performance against the Rapids and FC Dallas. "Whatever we'd done in [Colorado] hadn't been to the full. We hadn't been committed, whether it be shots, challenges or headers. That's what we did on Wednesday – we were committed."
The Revolution's commitment began at kickoff, as the visitors jumped on FC Dallas early and were rewarded when Shalrie Joseph opened the scoring with his first goal of the season in the fifth minute. With a rare early lead, the Revs had the luxury of settling down and working themselves into the game instead of chasing their opponents from the outset.
"That's what we came out to do early in the game," said Joseph. "We wanted to get that early goal, and I think once we did our confidence just started lifting a little bit. With this team, once we get that (first) goal I think everybody just starts relaxing a little bit … and concentrating some more."
Although David Ferreira and Jeff Cunningham scored a pair of late goals to pull FCD level and dash the Revolution's hopes of a significant victory, the performance at Pizza Hut Park provided an essential morale boost nonetheless.
Columbus has been much less encouraged by its last two MLS results: a 3-1 loss to the league-leading LA Galaxy on Sept. 11 and an unexpected 4-0 setback against visiting Seattle on Sept. 18. Although the Crew has found success in the CONCACAF Champions League recently – earning back-to-back shutout wins over Joe Public FC (TRI) and Santos Laguna (MEX) – the club's slumping league form has seen its lead atop the Eastern Conference shrink to three points.
From the Revolution's perspective, the Crew's recent struggles simply mean the visitors will be extra hungry to turn it around on Saturday night.
"They're top of the conference and they're pretty steady," said Nicol. "They had a bad result last week, which I guess if nothing else is going to give them a kick on the backside, so we'll need to be on our toes."
If Columbus is to respond with an improved performance, it'll have to do so without the services of a few key contributors. Danny O'Rourke (back), Gino Padula (ankle), Emilio Renteria (groin) and Robbie Rogers (knee) are all expected to be unavailable this weekend, while it's likely standout defender Chad Marshall will also miss out after suffering a kick to the jaw in Tuesday's Champions League win over Santos Laguna.
The Crew, however, will feature creative playmaker Guillermo Barros Schelotto, who is expected to play despite past reports which have stated an aversion to artificial surfaces.
On the opposite side of the field, it's possible the Revs could run out the same starting lineup which began Wednesday night's draw with FC Dallas. If that's the case, it would mean Kenny Mansally would retain his spot on the left side of midfield and Chris Tierney would continue at left back, while Darrius Barnes would start in central defense in favor of Emmanuel Osei. Should the Revs produce an identical starting lineup against the Crew, it would mark the first time they'd used the same lineup in back-to-back league games since April 24 and May 1.
Regardless of who takes the field for the Revolution, one intriguing question looms.
Do the Revs have the resiliency to rebound following Wednesday night's crushing finish, when they were denied by a last-second goal?
"I think we answered the question on Wednesday," said Nicol, referring to his side's inspired performance in Dallas just four days after a deflating loss in Colorado. "And we'll answer the question again tomorrow."