9/25/10
| | |
| --- | --- |
| Déjà vu as Revs see two-goal lead slip away | By Jeff Lemieux, Staff Writer & Online Host |
Just as they did against FC Dallas three nights ago, the Revs conceded two late goals to the Crew en route to a frustrating 2-2 draw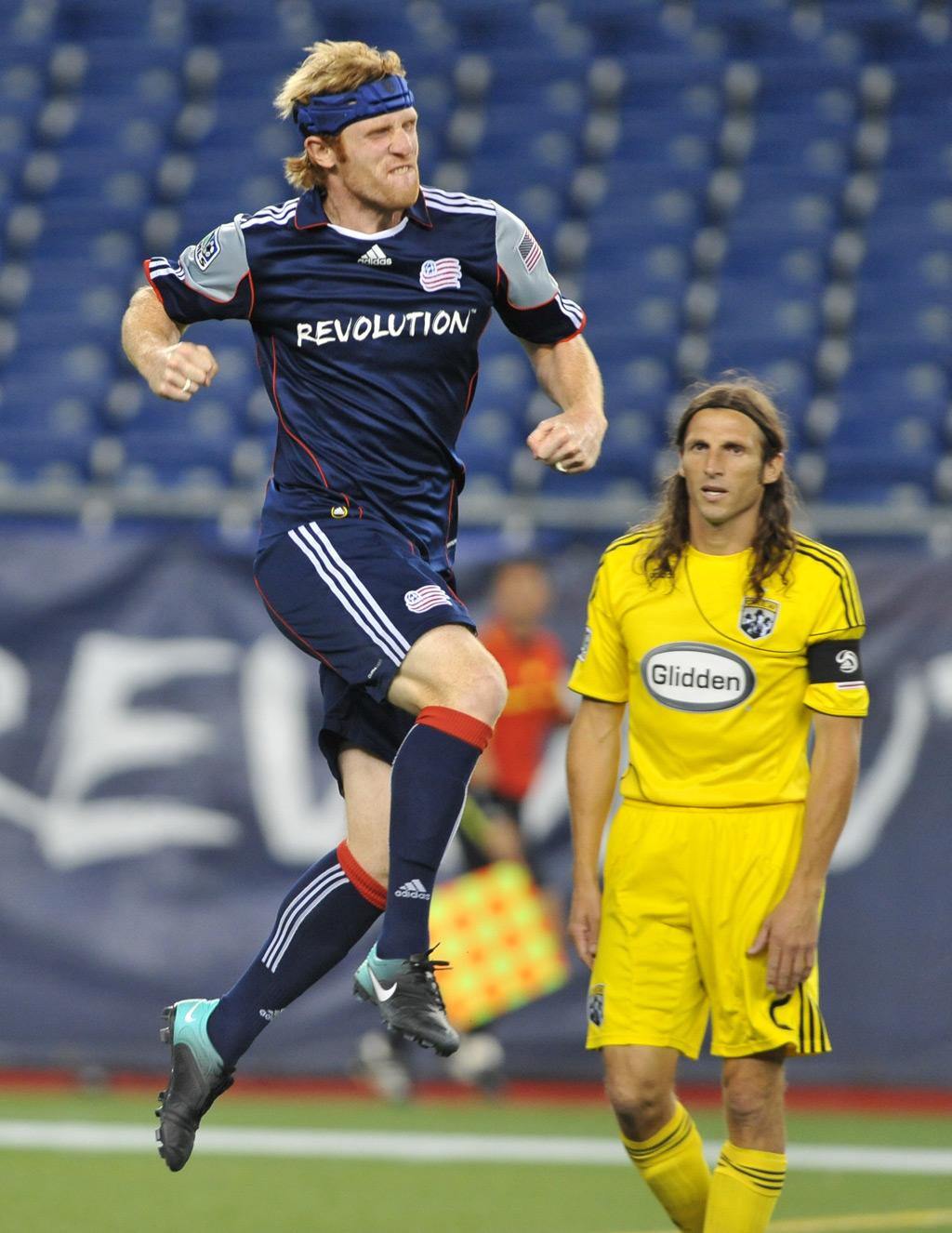 Pat Phelan scored his second goal of the season on Saturday night, but the Revs squandered another two-goal lead
FOXBOROUGH, Mass. – When Pat Phelan and Shalrie Joseph scored either side of halftime to give the New England Revolution a 2-0 lead over the Columbus Crew on Saturday night at Gillette Stadium, there was a sense of déjà vu looming in Foxborough.
Three nights ago in Texas, Joseph and Ilija Stolica gave the Revs a two-goal lead over FC Dallas, an advantage they carried into the final 10 minutes only to see late goals from David Ferreira and Jeff Cunningham earn FCD a dramatic 2-2 draw.
The Revolution succumbed to a remarkably similar fate against the Crew, as Steven Lenhart (62nd minute) and Guillermo Barros Schelotto (80th minute) struck for Columbus to send the Revs to another maddening 2-2 draw-which-feels-like-a-loss.
"I think we took our foot off the gas just a little and once they scored that first goal, there was probably some doubt creeping in people's minds like, 'Oh no, here we go again,'" said Phelan. "You try and prevent that but you can't help but think of it."
Phelan got the Revs off to the perfect start with his second goal of the season in the second minute, and the Revolution then rode out the first half to take a slim advantage into the halftime break. Joseph struck shortly after the interval – converting New England's first penalty kick of 2010 – to give the Revs a two-goal lead and the hosts looked comfortable.
According to Joseph, the Revs may have gotten a little too comfortable as they took a conservative defensive approach after going up by a pair of goals.
"I just think we gave them way too much space and we gave them way too much time on the ball," he said. "When you do that with a good team like Columbus, it comes back to hurt you. Tonight it did.
"We just have to be a bit sharper mentally and stay focused for 90 minutes," Joseph continued. "That's been costing us all season; we've been up in games and we should be closing it down. We have a great defensive team and our back four has been great for us all season. We relied on them a little too much tonight. Unfortunately, we just couldn't keep that lead."
While Schelotto's goal ultimately proved to be the game-tying strike, it was Lenhart's header in the 62nd minute which was truly the killer for the Revs. At that point in the game the Revs were well on top and looked like coasting to victory, and Lenhart's goal not only gave the Crew hope, but also planted a seed of doubt in the Revolution's mind.
The goal developed from nothing, as a bouncing left-wing cross from Shaun Francis was nodded home at the near post by Lenhart as he was put under pressure by Cory Gibbs.
"The first goal was a bad goal," said head coach Steve Nicol. "Number one, we don't close the ball, and then we don't attack the cross."
Lenhart's goal set the stage for Schelotto's penalty kick, which was awarded when Joseph handled the ball in the box. The Argentine buried his attempt into the right side of the net and for the second time in less than a week, the Revs were left wondering how a two-goal lead slipped away.
"It's just a mentality thing," said Phelan. "As positive as it is to start off fast and go up 2-0 on a very good team, you're not going to win games, you're not going to get the playoffs, if you don't finish it out."