9/27/10
| | |
| --- | --- |
| Dube finally gets to dance | By Jeff Lemieux, Staff Writer & Online Host |
After fighting through a maddening goal-scoring slump, third-year forward Kheli Dube had cause to celebrate when he scored against Seattle Sounders FC on Sept. 4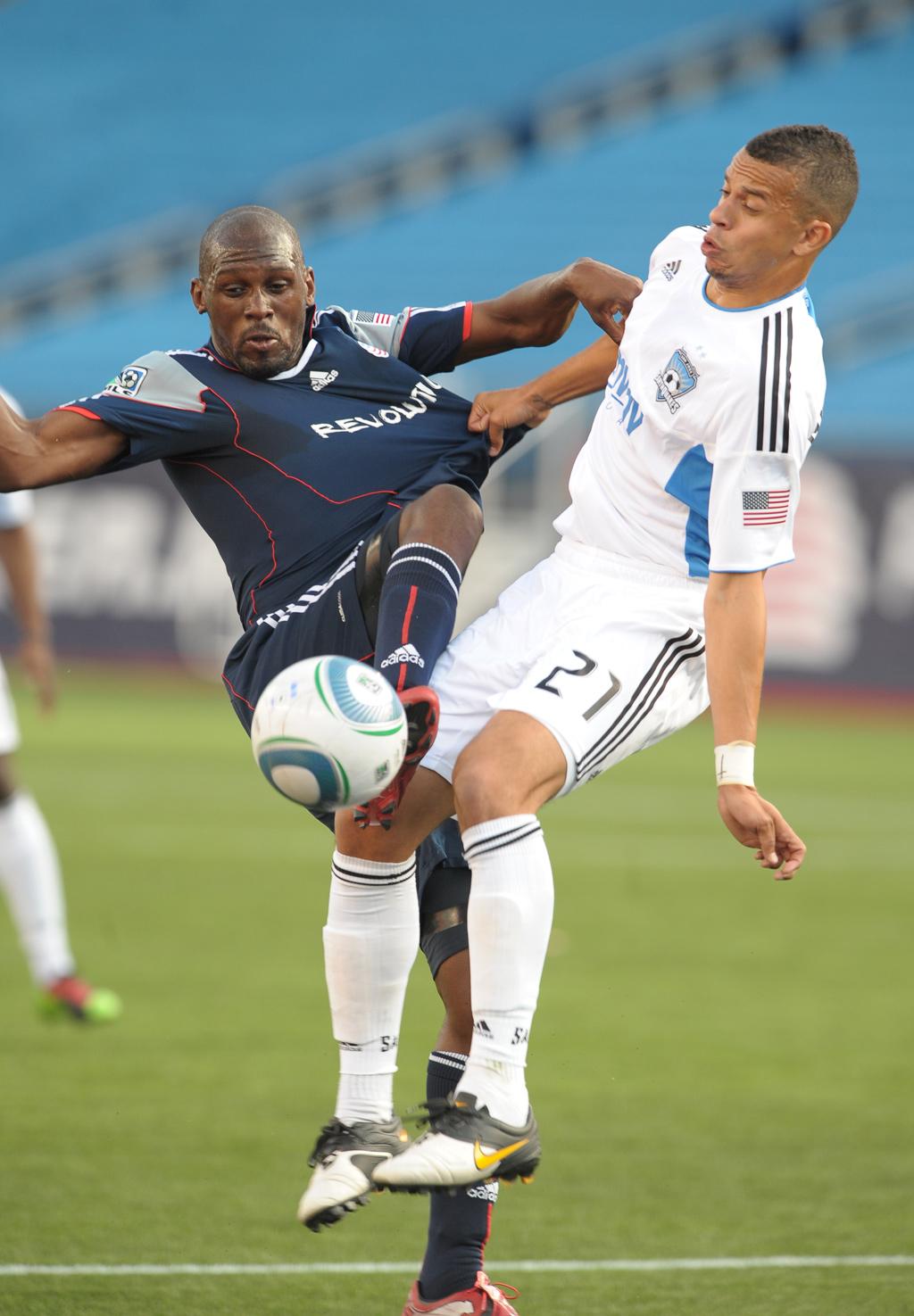 Kheli Dube fought through a frustrating goal-scoring slump before getting off the mark on Sept. 4 against Seattle
The following story was published in the Revolution's "Match Day" program for the Sept. 25 game against the Columbus Crew
FOXBOROUGH, Mass. – Kheli Dube's 2010 season hasn't gone exactly as planned.
The 27-year-old forward carried huge expectations into his third year with the New England Revolution after a breakout season in 2009, when he registered 10 goals in all competitions (including eight in the regular season) to lead the Revs in scoring. It was an impressive follow-up to his successful rookie season, when Dube recorded four goals and four assists and was one of three finalists for the league's 2008 rookie of the year award.
A string of impressive preseason performances this year indicated Dube's reputation as an opportunistic finisher would continue to grow. Day after day he scored at a rapid rate in training, and he transferred that self-belief to game action as he notched one goal and two assists in five preseason appearances.
"I felt so confident (through preseason)," Dube said. "I felt like this was going to be the perfect year for me."
With fellow forwards Taylor Twellman (concussion) and Edgaras Jankauskas (calf strain) both ruled out for the start of the season because of injuries, Dube began the 2010 campaign as the Revolution's most potent attacking weapon. As such, the third-year forward had lofty aspirations.
"I wanted to score more goals than I did last year," Dube said. "You always set your goals high, especially if you finish a season on a high note. You always want to improve all the time.
"But it doesn't always go the way you planned."
When the Revs departed for a two-game road trip to face the Colorado Rapids and FC Dallas last week, Dube had scored just one goal and was seventh on the team's scoring chart, trailing a pair of rookies in Zack Schilawski (5 goals) and Zak Boggs (2 goals). Dube went goalless through his first 13 league appearances this season and only recently found the back of the net, recording the Revolution's third goal in a 3-1 win over Seattle Sounders FC on Sept. 4.
"It's tough," Dube admitted. "Professional soccer is always different. Some years you have great years, some years [you have] down years. I think this year's been a down year."
Dube's struggles began innocently enough as a minor scoring slump to start the season, with the general assumption that he'd break out after finally scoring that first goal. But that first goal became increasingly hard to come by as the season progressed into mid-May, and soon scoring chances which looked like certain goals were turning into near misses and miraculous saves.
Then, of course, there were the truly gut-wrenching instances when Dube simply seemed snake-bitten. There was one particular "I-can't-believe-that-just-happened" moment in Toronto on May 22, when Dube worked free of his defender and unleashed a perfectly-struck full volley just a few yards from goal. TFC goalkeeper Stefan Frei had no time to react to the shot – which was screaming toward the roof of the net – but remarkably, the ball struck Frei directly in the forehead and bounced to safety, leaving Dube with his head in his hands.
"That's when you get frustrated and start thinking about it," said Dube. "It's tough, especially when you're trying to get goals and you get chances like that, and for some reason it doesn't go in, and you get frustrated.
"But with the coaching staff we have and the players around, I feel confident," he continued. "Every day I come in and try to work hard."
As Dube coped with the frustration of his goal-scoring woes, he maintained focus by concentrating on the other aspects of his game. While he couldn't simply will the ball into the back of the net, his effort and determination were completely under his control, and those are two attributes which have never been in short supply with the hard-working forward.
Dube's resolve paid dividends and he led the Revolution with four assists at the midway point of the season, matching his previous career-high (2008) and showing significant improvement in the playmaking department after recording zero assists last year. Although it won't show up in the box score, Dube was also directly responsible for at least two other goals by forcing defensive turnovers through relentless pressure.
"You've got to make sure you're doing the other things better," he said. "If you're not scoring, you've got to be helping your team, assisting your teammates and making sure you stay positive in all the things you do. Because as soon as your confidence goes down, then there's no way you're going to pull yourself up.
"You just keep on working hard," Dube continued. "This is a team sport. If you're not doing it on your own, then you've got to make sure somebody's doing it. When you're working hard and helping your teammates, that's what teammates can do for [each other]."
Although Dube was contributing in other ways, the persistent questions regarding the goal-scoring slump continued to wear him down. Upon the conclusion of the SuperLiga group stage in mid-July, Dube had made 19 appearances in all competitions without scoring a goal and it became a daily struggle to ignore the statistics.
The increasing mental strain associated with the scoreless streak was eventually coupled with an actual physical injury. It was announced shortly before the Revolution's game against the Philadelphia Union on July 31 that Dube had suffered a right knee sprain and would be granted a brief leave from the team to recover from his injury and visit his newborn son, Deshawn, in London.
Deshawn's birth provided a welcome distraction from soccer and altered Dube's perspective on life almost instantly as he became a father for the first time.
"Your responsibility changes," he said. "You don't just think about yourself all the time – you think about your family. Every decision you make, you're not thinking about yourself first."
The time spent with his son not only allowed Dube's injured right knee to heal, but it also served as a much-needed break from the stress and strain of his goal-scoring slump. After two weeks in England, Dube returned to the Revolution in late August refreshed and rejuvenated.
"It helped me a lot just getting away and being away from the sport for a little bit," he said. "When I came back I felt more motivated, and I think it helped a lot."
Revitalized following his brief hiatus, Dube returned to the Revolution's starting lineup for the SuperLiga 2010 final against Monarcas Morelia on Sept. 1, playing right midfield in place of Sainey Nyassi while the Gambian winger was on international duty. It was a new experience for Dube, who had brief spells as a central midfielder but had never played on the wing in any stage of his career.
Despite the unfamiliar role, Dube was active from the outset and had a golden chance to put the Revs ahead when he was played through on a breakaway in the 57th minute. Just as he had been all season, however, Dube was denied and the problematic first goal continued to elude him.
But the Zimbabwean kept his head up and received his second straight start on the wing when the Revolution hosted the Sounders on Sept. 4. With the Revs already leading 2-1 in the 81st minute, Dube finally made the long-awaited breakthrough with a stunning 18-yard finish from Ilija Stolica's layoff.
"Just great," Dube said about the relief of getting off the mark in 2010. "After a long time not scoring a goal, it was great to have that."
Not only did Dube's goal allow the industrious forward a chance to exhale, but it also gave him cause to celebrate with one of the traditional African dances which have marked each of his goals since he first found the back of the net in May of 2008.
"It felt good because we were winning the game," said Dube. "It's always good to score when you're winning the game, but maybe if it was a tying goal, then you don't have to do that. But if you're winning, it's always great to do that."
With five more games remaining in the regular season – including Saturday night's meeting with the Columbus Crew – Dube hopes he'll have a few more chances to dance in 2010.
"We've got [five] games to go," he said. "So I'm going to try to get goals and see how it's going to go."