9/27/10
| | |
| --- | --- |
| Planting for the future | By Katie Callaway, Revolution Communications |
The entire Revolution squad participated in a community service project on Sunday at Children's Hospital Boston's Yawkey Family Inn
Photo Gallery >> I Video >>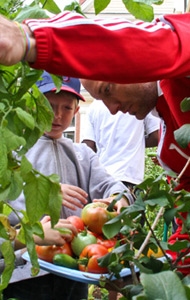 Matt Reis and the Revs spent their Sunday helping kids and more at the Children's Hospital Yawkey Family Inn
What happens when you put a professional soccer team, a group of children and lots and lots of planting together? We got the answer on Sunday, Sept. 26, when the New England Revolution unveiled a new greenhouse at Children's Hospital Boston's Yawkey Family Inn in Brookline.
The entire team came out for a day of service at the site, which also included a ribbon-cutting ceremony to commemorate the opening of the year-round greenhouse, a donation to the house by the team and MLS W.O.R.K.S., the league's charitable arm.
In keeping with the event's nurturing and fall themes, the players also turned over the summer's vegetable garden, potted new plants, painted pumpkins and decorated cookies with patients and families from Children's Hospital Boston.
That wasn't all, though. A few Revs players also helped kids with their soccer skills, while others played rousing games of bean-bag toss in the front yard.
Everyone got to know each other during a big group cook-out, and then the true service part of the afternoon commenced.
Veterans Matt Reis, Shalrie Joseph and Taylor Twellman spearheaded the efforts, coaching their fellow teammates and the children willing to help plant mums around the new greenhouse and then plant small pots of flowering plants for the greenhouse itself. The group also helped create welcome kits for future guests and families at the Inn, so they can have a plant to add during their stay.
By the end of the afternoon, the team had planted more than 100 chrysanthemums around the Inn, and added almost 100 pots to the greenhouse to get the project started. More than 100 families will now also have welcome hits when they arrive.
Take into account the time lost digging up and then relocating the mums that the players accidentally placed too close together in one of the gardens, and you can picture the well-organized, but hilarious group effort.
Between all the activities and the barbeque lunch, the players found time to sign autographs and talk to and take pictures with the patients and their families, signing everything from hats and posters to soccer balls. The families at the Yawkey Family Inn spend so much time away from home, and it was easy to see how much they enjoyed this event; even the players' enjoyment was unmistakable.
The Yawkey Family Inn welcomes as many as 23 families at a time in their spacious Brookline location at no or low cost while their children receive treatment at Children's Hospital Boston. MLS W.O.R.K.S. is Major League Soccer's charitable arm, and has helped teams around the league organize community service events this year and next in conjunction with the White House's "United We Serve" campaign and First Lady Michelle Obama's June 2009 "Call to Service."