9/30/10
| | |
| --- | --- |
| In support of the cause, Revs to go pink | By Jeff Lemieux, Staff Writer & Online Host |
As part of their Breast Cancer Awareness game against Real Salt Lake on Saturday night, the Revs will incorporate a variety of pink accents into the evening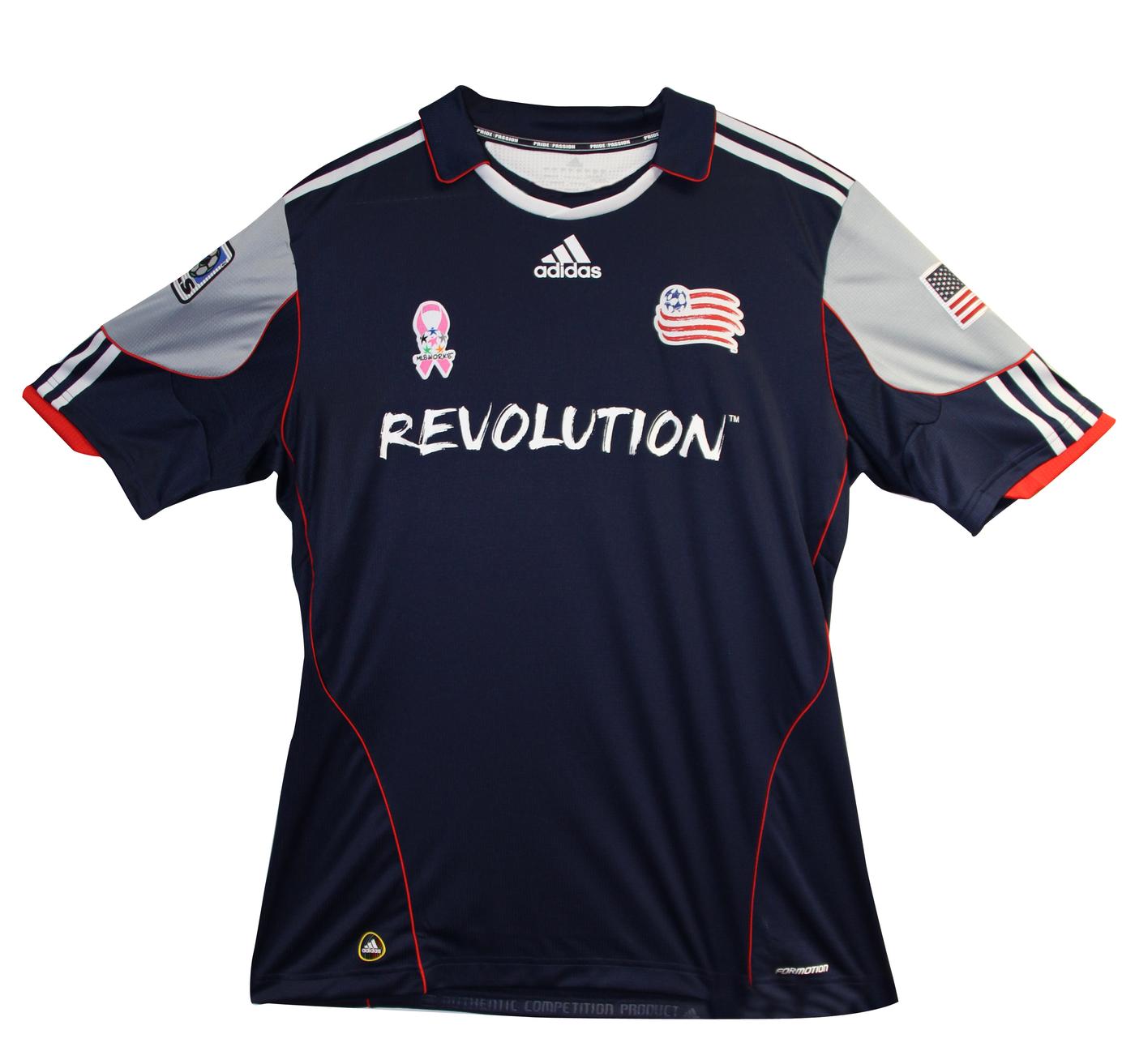 The Revolution's jerseys will feature pink ribbons on Saturday night
FOXBOROUGH, Mass. – If you notice an abundance of pink on the field when the New England Revolution hosts Real Salt Lake on Saturday night at Gillette Stadium, no need to rub your eyes or adjust the color control on your television sets.
In addition to playing with a pink adidas game ball, the players will wear pink ribbon patches on their jerseys and pink armbands, coaches will wear pink scarves, and selected players will wear pink-accented adidas cleats.
It's all part of the Revolution's participation in MLS W.O.R.K.S.' Breast Cancer Awareness campaign throughout October. To further the impact of Saturday's game, the Revs formed a partnership with the Massachusetts Affiliate of Susan G. Komen for the Cure as the club hosts a Breast Cancer Awareness game this weekend against defending MLS Cup champion Real Salt Lake. As part of the evening the Revs will celebrate survivors in a pregame presentation on the field, while there will also be fundraising efforts to help find a cure for breast cancer.
"Both my family and my wife's family have been affected by cancer, so we're both very supportive of breast cancer research and curing the disease," said defender Cory Gibbs. "I'm proud that the Revolution is helping raise awareness and funds for further research to find a cure."
Darrius Barnes will be one of the Revolution players wearing pink-accented adidas cleats, although it will be nothing new for the second-year defender, who has been wearing the cleats regularly for the majority of the season. He also plans to wear a pink armband in support of a cause for which he has strong feelings.
"We just want to do what we can, do our part to put it out there and let people know that we're supporting those people who have breast cancer and those to come who will have breast cancer," Barnes said. "Hopefully, there'll be a cure in the near future."
Rookie defender Seth Sinovic said it's important for the players to use their status as public figures to help raise awareness for any and all worthy causes.
"We're in a position where we can get the word out a lot easier since we're more involved with the media," he said. "Any chance we have the opportunity to do something like this, we're happy to do it and excited to do it."
The major fundraising elements will include a raffle at the game and an online auction for some of the pink game-used and game-worn items. The online auction will begin on Wednesday, Oct. 6, at biddingforgood.com, and all proceeds from both the raffle and auction will be donated to Komen MA in support of breast cancer screening, treatment, education programs and research.
All 10 of the pink ribbon jerseys worn by the Revolution's starting field players – autographed by the players who wore them – will be available, while additional items include autographed pink-accented adidas cleats from Barnes and Kevin Alston, autographed pink MLS W.O.R.K.S. scarves from the Revs coaches, and team autographed pink adidas game balls.
Assuming it arrives from the supplier on time, the centerpiece item of the fundraising efforts will be a custom-designed, game-worn pink goalkeeper jersey. As of Thursday afternoon, the jersey was in transit from the West Coast.
The Revolution's starting goalkeeper, Matt Reis, is also hoping to wear pink goalkeeper gloves during Saturday night's game to complete a wardrobe of his pink jersey, pink gloves, green shorts and white socks.
Asked if the 6-foot-1 Reis could successfully pull off such a daring look, Sinovic said he had no doubts.
"Absolutely," he said. "If anybody can do it, Matt Reis can."