10/4/10
| | |
| --- | --- |
| Fortuitous misfortune | By Jeff Lemieux, Staff Writer & Online Host |
When Seth Sinovic was forced to sit out his freshman season at Creighton because of a back injury, there was no way of knowing it may have positively shaped his entire future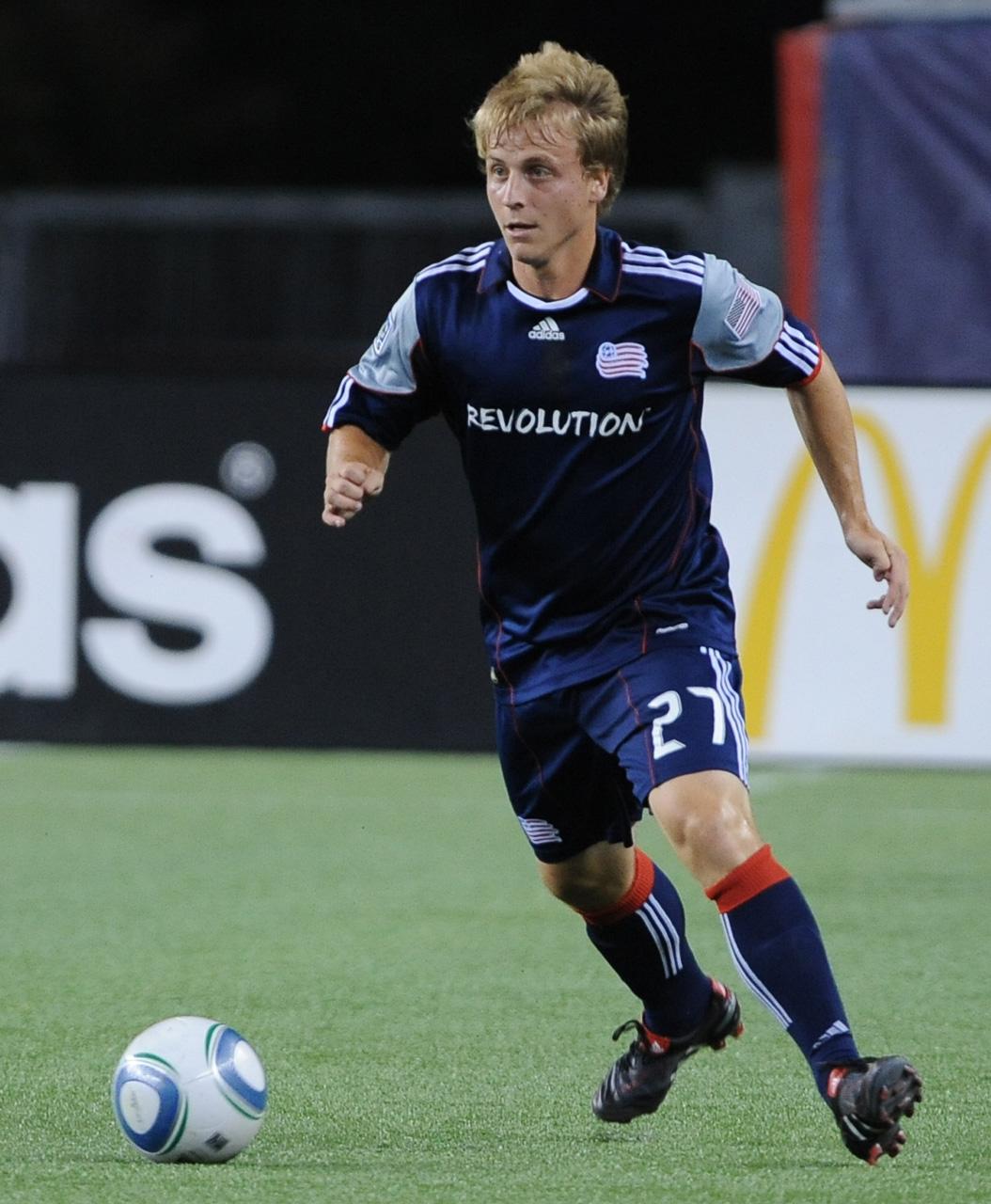 Rookie defender Seth Sinovic's first professional marking assignment was U.S. National Team star Landon Donovan
The following story was published in the Revolution's "Match Day" program for the Oct. 2 game against Real Salt Lake
FOXBOROUGH, Mass. – As 23-year-old rookie defender Seth Sinovic stood on the field at The Home Depot Center preparing to kick off the 2010 Major League Soccer season as the New England Revolution's starting left back, one thought dominated his consciousness.
How did I get here?
The path, it turns out, was anything but straightforward.
Sinovic's journey began approximately six years ago, when he was a standout forward playing high school soccer near his hometown of Leawood, Kan. When he was named the Western Missouri Offensive Player of the Year after scoring 25 goals as a senior, a number of college programs showed interest in Sinovic. He received a scholarship offer from the University of Evansville and walk-on opportunities from a few additional schools, including Creighton University in Omaha, Neb.
Instead of taking what could have been considered the safer route and accepting the scholarship offer from Evansville, Sinovic set his sights higher and decided to try his luck at Creighton, a school with a rich soccer history and an outside chance at a national championship.
"It's a good academic school, first and foremost, but it was an opportunity for me to play at a big-time program and that's what I wanted to do," Sinovic said of his decision to try out for the nationally-ranked Jays. "I felt if I really worked hard enough, I would get there."
Sinovic's inclination proved prophetic as he earned a spot on Creighton's roster his freshman season, although he found himself playing slightly out of position in his college debut. A star forward in high school and attacking midfielder with his club team, Sinovic enrolled at Creighton planning to continue his career as an offensive-minded player, but he was deployed as a defensive midfielder during his first year with the Jays.
Nonetheless, Sinovic was thrilled simply to have made the team and have the opportunity to play college soccer.
That was, until, his true freshman season ended after just one appearance.
"I had lower back problems – spasms – and it just kind of escalated throughout the year," Sinovic recalled. "I played [one] game and then it just got worse and worse and I wasn't able to play anymore. It just kind of took off from there."
Intensely disappointed, Sinovic sat out the remainder of his freshman season and watched one of his four years of college eligibility slip away as the Jays made a magical run to the NCAA quarterfinals before losing a heartbreaker to Clemson.
Determined to make the most of his remaining three years at Creighton, Sinovic returned for his sophomore season healthy and ready to contribute. He did just that, making 20 appearances as a defensive midfielder and helping the Jays to their second straight Missouri Valley Conference title and yet another NCAA tournament appearance.
Sinovic's defensive transition went a step further in his third year at Creighton, as he moved to an unfamiliar left back position for the first time in his entire playing career. The shift paid dividends for the Jays, who posted seven shutouts and led the conference with a 0.79 goals against average as Sinovic led all field players in minutes played.
Creighton topped those statistics one year later, leading the nation in shutout percentage (.650) and finishing second in goals against average (0.48) while recording a school-record 13 shutouts. Once again, Sinovic was a key cog on the backline, earning first-team All-Missouri Valley Conference honors and a second-team All-Midwest Region nod.
Thinking his collegiate career had come to an end at the conclusion of the 2008 season, Sinovic began training for the 2009 MLS Combine after receiving an invitation to the annual event. But just days before he was set to display his skills in front of MLS coaches and technical directors, Sinovic received a call which may well have changed the course of his life.
"I was ready to go to the combine and I was training for that," Sinovic remembered. "I was interning in Chicago and living with my brother when I got a call from my (college) coach saying I got a red shirt about a week before the combine.
"I was really excited and it was something I couldn't turn down," Sinovic said about being granted another year of college eligibility because of the injury he sustained his freshman year. "I didn't even think twice about it. I loved being at Creighton and I had a lot of really good friends on the team, and I loved the coaches, so it was a no-brainer for me."
Instead of trying to make an MLS team as a defender with just two years of experience at the position, Sinovic was granted the opportunity to gain another year of practice on the backline in college before making the leap to the professional game. He made 16 more appearances during his final year at Creighton and was the Jays' second-leading scorer with three goals and four assists.
Ironically, the back injury Sinovic suffered as a freshman ultimately proved fortuitous when it provided a chance to continue his evolution as a defender a few years down the road.
"It was frustrating, but at the same time – even though I did get a little bit of (playing) time – I wasn't ever going to be an integral part of the team that freshman year," Sinovic said. "So the opportunity to come back later in my college career and be able to start every game my red-shirt senior year, looking back, it was a good thing for me."
The extra year of experience proved invaluable to Sinovic, who entered the 2010 MLS Combine more sure of himself as a left back.
"Especially since I was hoping to play professionally as a defender, it never hurts to get another year of experience under your belt," he said. "[Staying at Creighton for an extra year] was a good decision for me."
Not only did Sinovic benefit from the additional playing time, but he also matured as a person with another year of life experience, serving as co-captain with Creighton his final year.
"I think maturity played a big factor for me," Sinovic said. "I feel like from my senior year to my red-shirt senior year, I grew a lot as a player. As far as leadership skills both on the field and off the field, it made a big difference in my play."
That maturity may well have earned Sinovic a chance with the Revolution, as head coach Steve Nicol and New England's technical staff drafted the standout defender in the second round of the 2010 MLS SuperDraft after an impressive showing at the combine.
While younger, more inexperienced players showed up to the combine relying primarily on natural ability, Sinovic worked tirelessly in the preceding weeks to ensure he'd be in top shape for the multi-day event, which can be exhausting both physically and mentally.
"Going in there, I just wanted to make sure I was in great shape and I just tried to play within myself," said Sinovic about his wise approach. "There's obviously a lot of pressure, but you can tell when you get there that there are some guys who don't prepare as much as other guys. I felt like after the first game I knew I had an advantage because I knew I was in really good shape."
Sinovic's preparation led to an opportunity with the Revs, who ultimately signed the 23-year-old rookie in mid-March following a string of solid performances in preseason.
Still adapting to the subtle nuances of defending when he joined the Revolution, Sinovic likely couldn't have asked for a better spot to land in MLS. As he's continued to progress, Sinovic has benefited greatly from the guidance of Nicol, who made more than 300 appearances as a defender for legendary English club Liverpool throughout the 1980s and early 90s.
"It's always great to learn from somebody who's been there, especially at the highest level," said Sinovic of the education he's received from Nicol. "Having Stevie as a coach has been great for me – I've learned a ton this year and I think I've gotten a lot better as a player as the year's gone on.
"I think more than anything (I've learned about) just finding my spots and keeping the play in front of me," he continued. "In college I was a big chance-taker and I kind of got caught with the ball getting behind me quite a bit, but I think I keep the ball in front of me a lot more (now). I think I've become quite a bit better of a defender since college."
The biggest adjustment for Sinovic has been withholding the urge to push into the attack every time the opportunity presents itself. In college, Sinovic's background as a forward constantly crept into his game and he consistently bombed up and down the wing, as evidenced by his status as Creighton's second-leading scorer his red-shirt senior year.
With the Revs, Sinovic has learned the value of the defense-first mentality Nicol instills in his defenders.
"When I was in college, I was more of an integral part of the attack," Sinovic said. "A lot of the attack started from our outside backs getting forward, [but] it's not as much at this level because there are too many good players who can take advantage of the mistakes that you make. You have to play defense first; that's something I've learned and hopefully I'll continue to learn as my career goes on."
Luckily for Sinovic, he's always been a quick study. He instilled enough faith in Nicol to earn the starting left back position in the Revolution's season opener against the LA Galaxy, a team which was one penalty kick away from claiming the 2009 MLS Cup title.
Of all the venues in MLS to make your professional debut, The Home Depot Center is quite possibly the most intimidating. But while that might be up for debate, there was no doubt about the daunting nature of Sinovic's first-ever professional marking assignment.
Defending league MVP and the U.S. National Team's all-time leading scorer, Landon Donovan.
"It was pretty crazy," Sinovic recalled with a chuckle. "Especially going up against Donovan in the first game – he's a U.S. Soccer legend.
"It was a great experience," he added. "I guess as far as nerves go, that's about as nerve-wracking as it can get – at The Home Depot Center against probably the best player in American soccer history."
As for that "How did I get here?" moment most rookies have in their first-ever professional appearance?
"That moment happened in warm-ups," Sinovic said with a laugh. "I was pretty nervous in warm-ups. I couldn't even complete a pass in warm-ups and everybody could see I had some trouble with my first few throw-ins in that game. It was an experience, but it was one I was glad to have."
Now that Sinovic has a chance to step back and process his astounding progression from star forward in high school six years ago to starting left back for a professional soccer team now, he can't quite comprehend the method in which circumstances fell into place in his favor.
But he sure is glad they did.
"It's incredible," Sinovic said with a shake of the head. "Even on top of [everything else], Jay Heaps happened to retire this year. Chris Albright was traded (in the offseason), so that's two other [defenders]. So I knew I had an opportunity to contribute when I made the team.
"It's incredible how it turned out," he repeated. "It's almost like it was meant to be."