10/5/10
| | |
| --- | --- |
| Phelan takes a licking, keeps on ticking | By Jeff Lemieux, Staff Writer & Online Host |
Despite a daily dose of bumps and bruises, Pat Phelan continues to lead the Revolution in appearances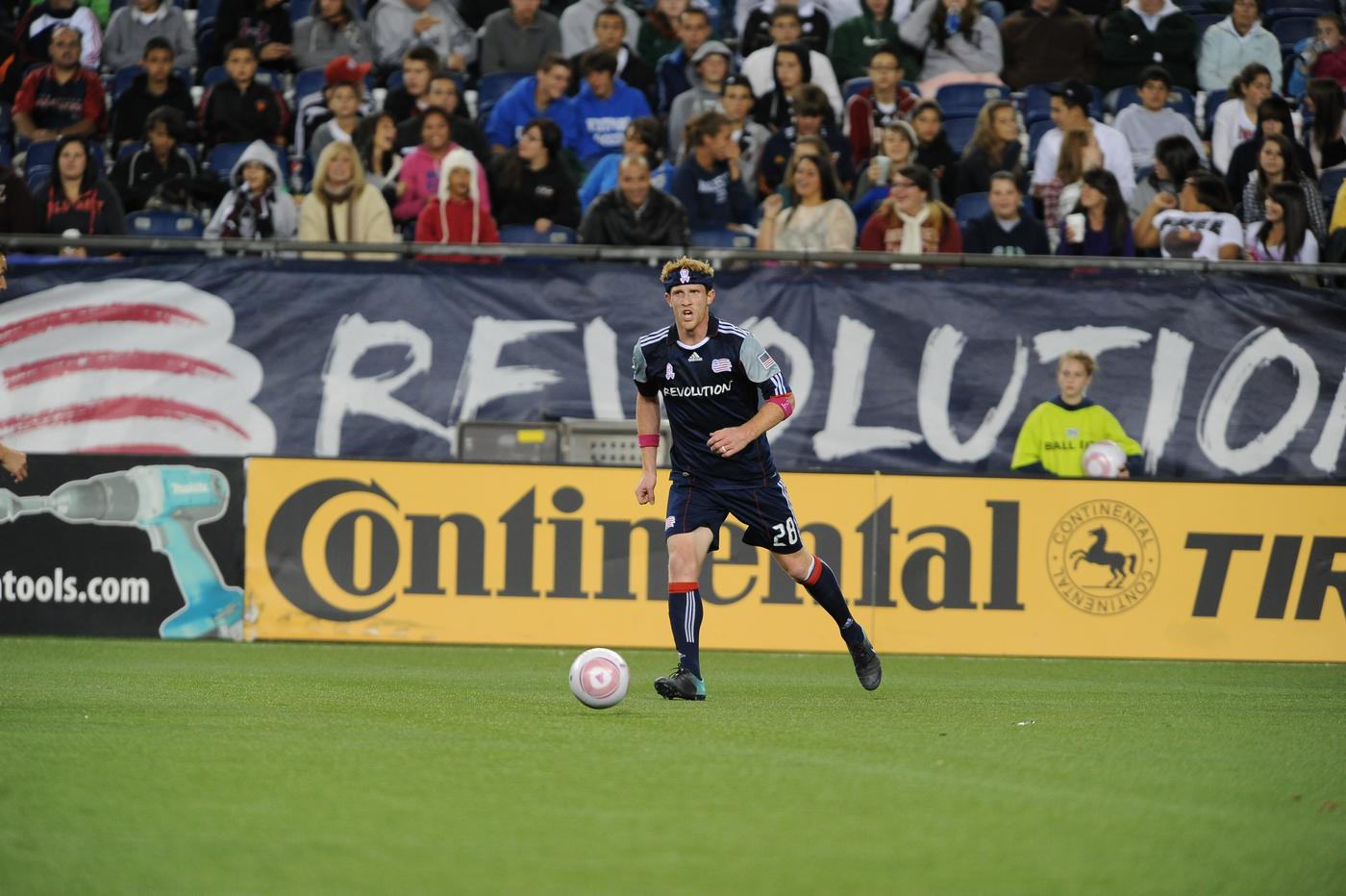 Pat Phelan has worn protective headgear since mid-July, when he sustained a gash which required 12 stitches on the left side of his head
FOXBOROUGH, Mass. – While conducting his usual postgame media availability in front of his locker following last weekend's 2-1 loss to Real Salt Lake, there was something slightly different about the way Pat Phelan spoke. His responses were articulate and well developed – reinforcing his status as one of the media's favorite quotes – but his speech was slightly slurred, as if he was trying to speak without moving his mouth.
Phelan's labored communication was a result of his severely swollen lower lip, which had been split open during an aerial challenge with RSL forward Robbie Findley late in the game, requiring three stitches. Following Tuesday morning's training session – three days after the incident – Phelan said the swelling had gone down but claimed the stitches were still "a little awkward," and his eating habits have been interrupted as he's required to take small bites and drink through a straw.
The busted lip is just the latest in a seemingly endless list of bumps and bruises Phelan has acquired this season. Most notably, the third-year midfielder sustained a sizable gash on the left side of his head when he clashed with the Chicago Fire's Peter Lowry during a SuperLiga 2010 group stage match on July 17. The injury forced Phelan off the field in stoppage time and the wound required 12 stitches.
As Revolution fans may recall, it wasn't the first head injury of Phelan's career. In fact, he'd been knocked unconscious on the field during a SuperLiga 2008 group stage match against Mexican club Pachuca when clashing heads with teammate Sainey Nyassi. After remaining on the field for several minutes, Phelan was carted off on a stretcher with his neck immobilized.
Taking into account his history with head injuries and considering his rugged style of play, Phelan made a measured decision regarding his health following his clash with Lowry. When he returned to the field for the Revolution's next match on July 20, he was sporting protective headgear.
"After the Chicago game, after I got those stitches, I just thought maybe it's time to be safe," Phelan said. "Because I was going to be hesitant playing after that, so [the headgear] allows me to go out there and be aggressive and not worry about going into challenges half-heartedly. [Plus], I've seen a bunch of guys within this organization and all over the league suffer with things like that."
Phelan has worn the headgear in every appearance since – "It's kind of become a part of me," he said half-jokingly – and actually scored the first two goals of his professional career while donning it. The 25-year-old even decorated the headgear with a pink ribbon for this past weekend's game against Real Salt Lake in recognition of Breast Cancer Awareness night.
With his head protected, Phelan's been able to continue his physical playing style without fear of sustaining any further damage to his cranium. But of course, the rest of his body isn't exactly immune to the battering it takes on a weekly basis. Case in point, Phelan's currently swollen lip.
Yet remarkably, Phelan's tied with Nyassi for the team lead in appearances (26), and the rough-and-tumble central midfielder is one of just a handful of Revolution players who hasn't missed a game because of injury this season.
Phelan attributes his ability to stay on the field – regardless of the bumps and bruises – to an intelligent approach both on and off the field.
"I take stock after the game of how sore I'm going to be, so I address [injuries] before I go to bed so I don't wake up in the morning with some kind of unexpected bruises and injuries," he said. "I throw my body around in there so it's kind of expected.
"I think I sacrifice my body, but I don't go into any stupid challenges where I'm going to get hurt," Phelan continued. "I take pride in the fact that I'm one of the few guys on the team – knock on wood – who hasn't had to miss a game because of injury. If I keep myself healthy, then I'll have a better opportunity of being on the field, and that's what I want to do."