10/8/10
| | |
| --- | --- |
| Revs hope to break road hex in Houston | By Jeff Lemieux, Staff Writer & Online Host |
After narrowly missing out on a road win at FC Dallas two weeks ago, the Revs will have another chance on Sunday night against the Houston Dynamo | MatchCenter >>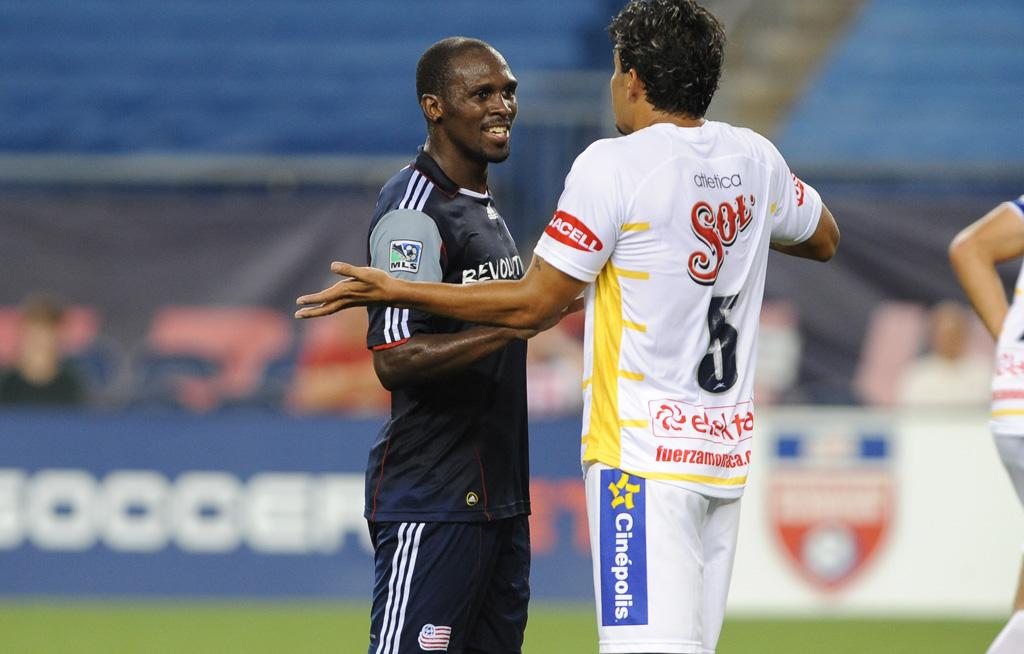 Kheli Dube has two goals and one assist in a pair of appearances at Robertson Stadium
FOXBOROUGH, Mass. – Looking to snap an 11-game road winless streak, the New England Revolution heads back to Texas this weekend for a Sunday night meeting with the Houston Dynamo.
The Revs (7-15-5, 26 pts.) were last in the Lone Star State a little more than two weeks ago on Sept. 22, and they looked destined to put an end to their road woes as they carried a 2-0 lead into the final 10 minutes against FC Dallas. An 80th-minute penalty kick from David Ferreira and a stoppage-time equalizer from Jeff Cunningham dashed those hopes, however, as the Revolution remained winless away from home (0-9-2) since a 2-0 win over D.C. United on April 3.
Ironically, the Revs will have another chance to pick up that elusive road win in Texas when they visit the Dynamo (7-14-6, 27 pts.) this weekend.
At first glance, Houston's Robertson Stadium would appear to be the last place a struggling road team would want to try to snap out of a funk. Since relocating from San Jose to Houston prior to the 2006 season, the Dynamo has lost a total of only 13 home games in almost five full seasons, including just one home loss in both 2008 and 2009.
However, the Revolution has defied the odds and has almost inexplicably been dominant at Robertson Stadium, going 3-0-1 in four previous trips to the venue. The Revs have won in each of their last three visits to Houston – all via shutout – and have conceded just one goal in four total matches.
"It's always a rivalry when we play Houston," said Kheli Dube, who has two goals and one assist in the Revolution's last two games at Robertson Stadium. "Most of the time we go there, we give our all and try to get a win. The last couple of years I've been here, we've been winning games over there. Hopefully on Sunday we'll win again."
To secure just their second road win of the season, the Revs will have to replicate the improved possession they've shown in recent weeks – particularly in last weekend's frustrating 2-1 loss to Real Salt Lake – while increasing their sharpness in front of goal.
"Making clearer chances and then putting them away [is] really what we need to do," said head coach Steve Nicol. "When you have so much of the ball, you have to take advantage of it. If you don't, then you see what happens. You give a sloppy goal away and all of a sudden you're up against it."
Nicol was referencing last weekend's loss to RSL, in which the Revolution outshot its opponent by a margin of 20-6 but was wasteful in the attacking third. The Revs were then pegged back when they conceded a pair of goals from set pieces.
According the defender Cory Gibbs, the Revs will need to be alert for the full 90 minutes on Sunday night in Houston, including on dead-ball situations.
"It's just focus and concentration," he said. "You just have to beat your man one-on-one and know that's your matchup and you're not going to lose that battle. Once you have that focus, you should be alright."
Defensively the Revs should receive a boost with the return of Gibbs, who missed last weekend's loss to RSL with a right hip infection but has since resumed full training. The Revolution will, however, be without right back Kevin Alston (L hamstring strain) and midfielders Kenny Mansally and Sainey Nyassi, both of whom are away on national team duty with Gambia.
The trio of absences likely creates a spot in the starting lineup for Dube, who filled in on the right side of midfield when Nyassi was on national team duty in early September, while it also means another reshuffling on the constantly changing backline.
"It's difficult," said Gibbs of the merry-go-round on defense, largely precipitated by a rash of injuries. "We've been dealing with it all season. It's something that you don't wish upon any team and for it to be the backline, it's most difficult. You want to have a steady backline throughout the season to build the core of the team.
"But we just have to work with what we have and just keep going from here on out, and just look forward to playing well these last couple games," he continued. "It's important for us, for our morale and just building for the offseason."
One task the backline won't have to worry about on Sunday night is marking forward Brian Ching, who will miss this weekend's game with a right knee injury. In Ching's absence, the Dynamo is likely to produce a forward pairing from the trio of Joseph Ngwenya, Dominic Oduro and Cam Weaver.
After meeting in championship matches for three straight years from 2006-08 (MLS Cup 2006, MLS Cup 2007 and SuperLiga 2008), the Revs and Dynamo find themselves in the unfamiliar situation of playing out their seasons, as both teams have already been eliminated from playoff contention.
Despite their positions in the standings, don't expect either side to approach Sunday night's game with any less vigor.
"If you've seen both ours and their games recently, you know that the results haven't been down to lack of effort," said Nicol. "Both teams have let themselves down in certain areas, which is why we're kind of where we are. But there'll be no lack of effort, that's for sure."