10/14/10
| | |
| --- | --- |
| Revs' goal is to continue attacking | By Jeff Lemieux, Staff Writer & Online Host |
Sparked by the offensive resurgence of captain Shalrie Joseph, the Revs have found their scoring boots with seven goals in their last four games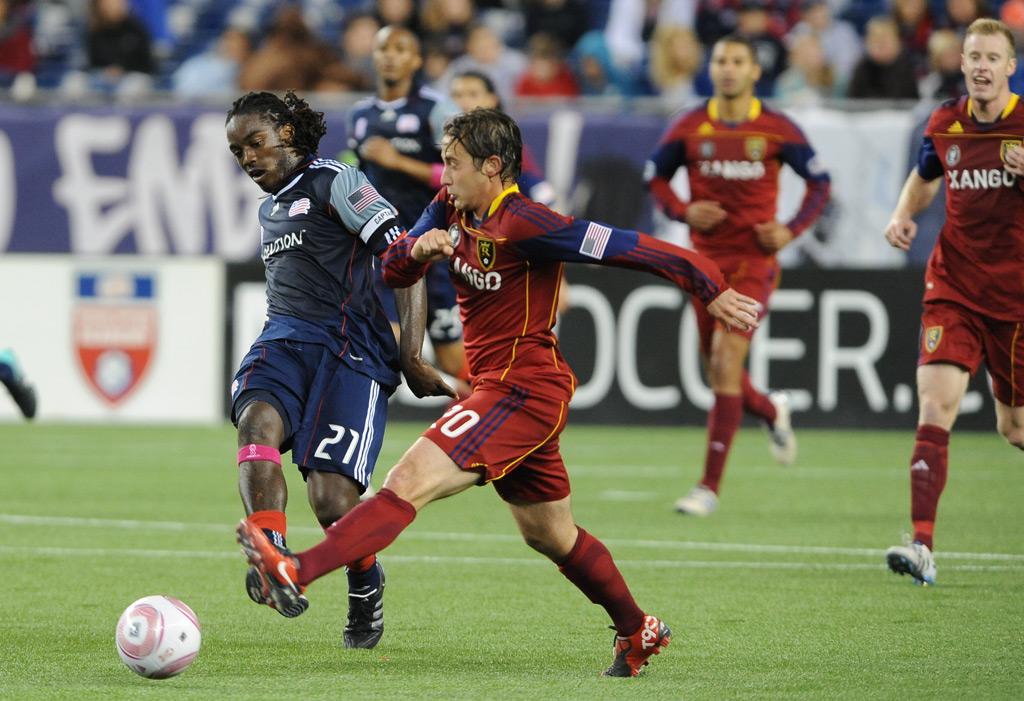 Shalrie Joseph has scored all three of his goals this season in the Revolution's last four games
FOXBOROUGH, Mass. – In danger of establishing a club record for fewest goals in a season after averaging just one goal per game through the first 24 games of the regular season, the New England Revolution has turned the proverbial corner in recent weeks with multiple goals in three of its last four games.
The turnaround began with a pair of 2-2 draws against league powerhouses FC Dallas and the Columbus Crew, and after a 2-1 loss to defending MLS Cup champion Real Salt Lake, the Revs put together another two-goal performance on the road in a 2-1 win over the Houston Dynamo.
While seven goals in a four-game stretch is far from an offensive outburst, it signifies a marked improvement in the attacking third of the field for a team which has been shut out nine times this season, just one shy of the single-season club record.
"I think we started creating a [few] more chances and luckily for us we've been able to finish those," said Shalrie Joseph. "The ball bounced our way here and there, but we'll take them."
Joseph has been one of the key contributors in the Revolution's offensive revival, scoring three of the club's seven goals during the current stretch. It marks an individual resurgence for Joseph, who led the Revs with a career-high eight goals last season but didn't score his first goal of 2010 until Sept. 22 in Dallas.
"Just my teammates giving me great balls and me finding myself [with] the right opportunity at the right time," said Joseph when asked what's led to his return to goal-scoring form. "Being able to finish those really put a smile on the team's face and mine personally."
One of the primary reasons the Revs struggled offensively early this season was the absence of the club's all-time leading scorer, Taylor Twellman, who led the team in scoring five times from 2002-07. Twellman scored at least eight goals each year from 2002-08 before concussion symptoms limited him to just two substitute appearances – and two goals – in 2009.
Twellman had hoped to return for a portion of the 2010 season and appeared on course to do so as he increased his training regimen through April and into May, but a setback in his recovery derailed those hopes and the 30-year-old was placed on the season-ending injury list on June 23.
With Twellman lost for the year and fellow forward Edgaras Jankauskas battling a series of injuries, the Revs went in search of attacking help and found it in Serbian forward Ilija Stolica. The veteran striker arrived in early August and has since formed a formidable partnership with fellow Serb Marko Perovic. The duo has had a hand in 16 of the Revolution's 37 goals in all competitions, meaning at least one Serb has contributed on more than 40 percent of the team's scoring output.
With Stolica settling into a forward role alongside Perovic, the Revs have managed a bit of stability in the starting lineup and the dividends have been increased offensive production.
"I think we're just starting to get used to players playing consistently in spots," said Chris Tierney, who's played six different positions this season. "We have a little bit of consistency in the lineup and so you get used to the players that you're playing with and you get their tendencies, and you kind of learn how to combine with them. I think that's created a bunch more chances for us."
In Twellman's absence, the Revs have had to rely upon a goal-scoring-by-committee approach in 2010. Perovic's six goals are the second-lowest individual total to lead a team – only besting Andy Najar's team-leading five goals for D.C. United – but the Revolution has spread its scoring around with nine players recording multiples goals on the season.
"We've had a bunch of guys get on the score sheet, but obviously not having Taylor hurt us a lot," said Tierney. "The past couple years we've sort of had that guy who's put the ball in the net ten-plus times and we don't this year, so it's been a little bit of a struggle finding goals. But anyone who can get on the score sheet and help us out, it's always a positive."
Despite the recent attacking improvements, the Revs still have work to do if they hope to avoid a new club record for fewest goals in a season, set last year when the Revolution scored 33 goals. With 31 goals heading into the final two games of the current season, at least two more goals will be necessary to avoid establishing a new mark.
If all goes according to plan, the Revs would like to put the possibility to rest on Saturday night in the 2010 home finale against the Kansas City Wizards.
"This weekend we're just going to start creating chances and push a lot of people forward, start putting balls in the box and hopefully one goes in early," said Joseph. "Then we (can) start pushing more and more and get that second one."