10/18/10
| | |
| --- | --- |
| Most Valuable Perovic | By Jeff Lemieux, Staff Writer & Online Host |
Marko Perovic's successful first year with the Revs culminates with the 26-year-old being named the Revolution's Most Valuable Player by the club's fans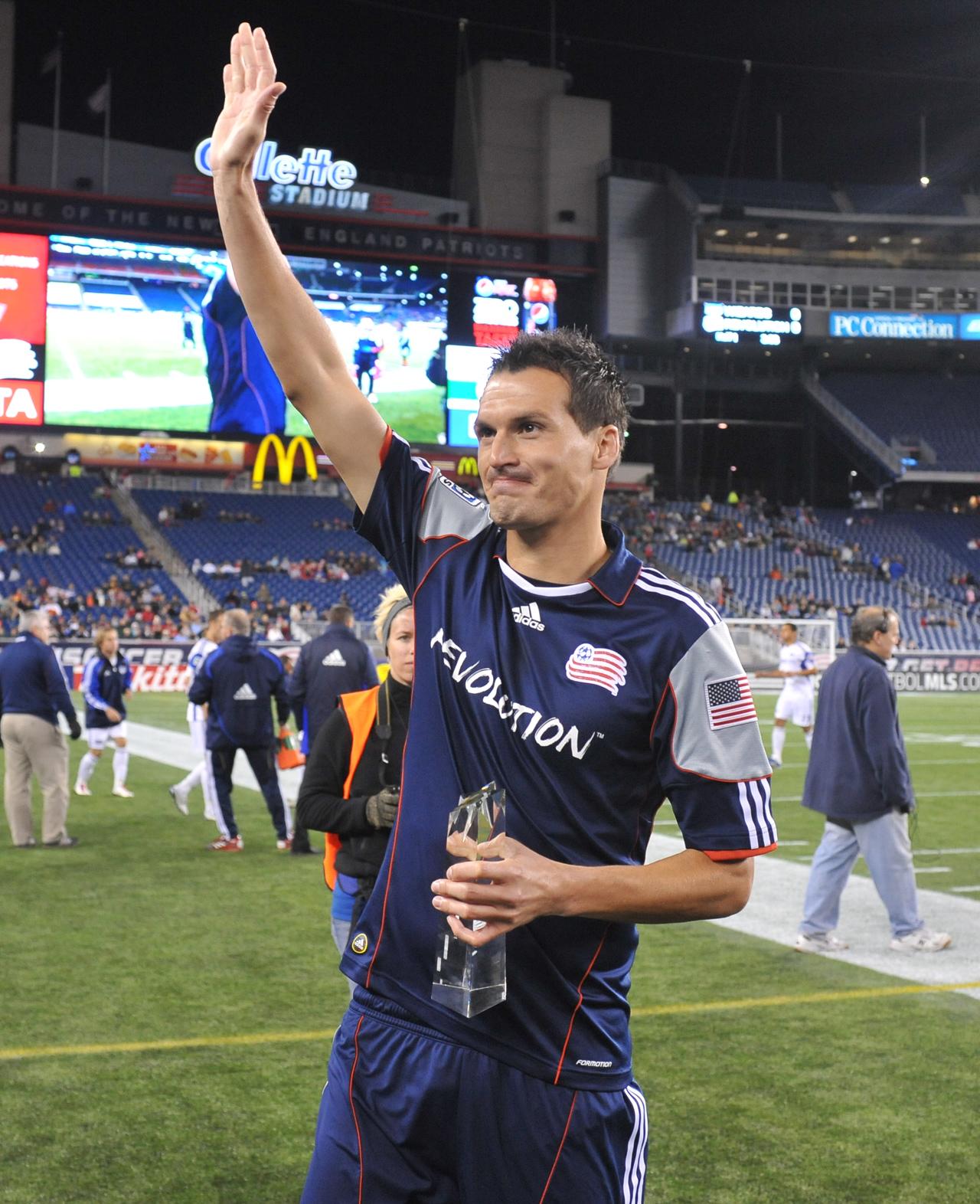 Marko Perovic accepted his MVP trophy prior to kickoff against the Kansas City Wizards on Saturday
The following story was published in the Revolution's "Match Day" program for the Oct. 16 home finale against the Kansas City Wizards
FOXBOROUGH, Mass. – When Marko Perovic signed with the New England Revolution back in March, most Revs fans wouldn't have recognized the 26-year-old Serb if he'd shown up on their doorstep. Just seven months later, Perovic has officially won a place in the hearts of the Foxborough faithful – not to mention a spot in the Revolution record books – as Revs fans voted the influential attacker the club's 2010 Most Valuable Player.
Perovic becomes the fifth different player to win the Revolution's MVP award in the last five years, joining Matt Reis (2006), Taylor Twellman (2007), Steve Ralston (2008) and Shalrie Joseph (2009).
Following a recent trend, Perovic claimed the honor primarily with his contributions in the attacking third of the field, leading the team in scoring with six goals and three assists in regular-season action heading into Saturday night's home finale against the Kansas City Wizards. Perovic also added two goals and one assist in five SuperLiga appearances.
"He's been huge for us," said Joseph, last year's team MVP. "I think he brings that attacking presence that we desperately needed this season. When he's on the ball, he's a thing of beauty to watch. He creates a lot of chances and finds a lot of holes. When he goes against defenders, he gives them nightmares."
It was apparent the first time Perovic stepped on the field at Gillette Stadium that he had something special. Within seconds of making his MLS debut as a substitute in the 70th minute of the home opener against Toronto FC, the inventive Serb effortlessly worked his way through midfield and after combining with teammate Chris Tierney, unleashed his first shot in a Revolution uniform. Although the effort sailed inches wide of the upper right corner, New England's newest weapon had stated his intent.
Perovic wasted little time turning his intent into action, scoring his first goal for the Revs on a curling 25-yard free kick on April 24 against the Colorado Rapids. It was the first of three goals Perovic scored direct from free kicks with his lethal left foot in 2010, while he also contributed on set pieces with assists from both corner kicks and indirect free kicks.
Touted as a left-sided midfielder when he crossed the Atlantic to join the Revs from Swiss club FC Basel, Perovic has played primarily as a withdrawn forward with the Revolution, most recently forming an effective partnership with fellow Serb Ilija Stolica. Not only did Perovic spend much of the season adjusting to a new position, but he also simultaneously adapted to an unfamiliar country and coped with a rigorous travel schedule the likes of which he'd never seen during his career in Europe.
Through it all, Perovic showed his class on the field and made it patently obvious to Revolution fans exactly why head coach Steve Nicol and the technical staff had been so keen to bring the dynamic Serb into the fold.
"I think you're probably seeing the best of him now," said Nicol. "It's quite a transition for foreign players coming here and adjusting to the league, particularly with the travel, but I think what you're seeing now is the best of him."
As it turns out, the best of Perovic was also the best of the Revolution in 2010.