10/19/10
| | |
| --- | --- |
| Revs look to finish strong in New York | By Jeff Lemieux, Staff Writer & Online Host |
Riding back-to-back wins, the Revs aim to make it three in a row to end the season on Thursday night at Red Bull Arena. LIVE NOW on ESPN2 | GameDay >>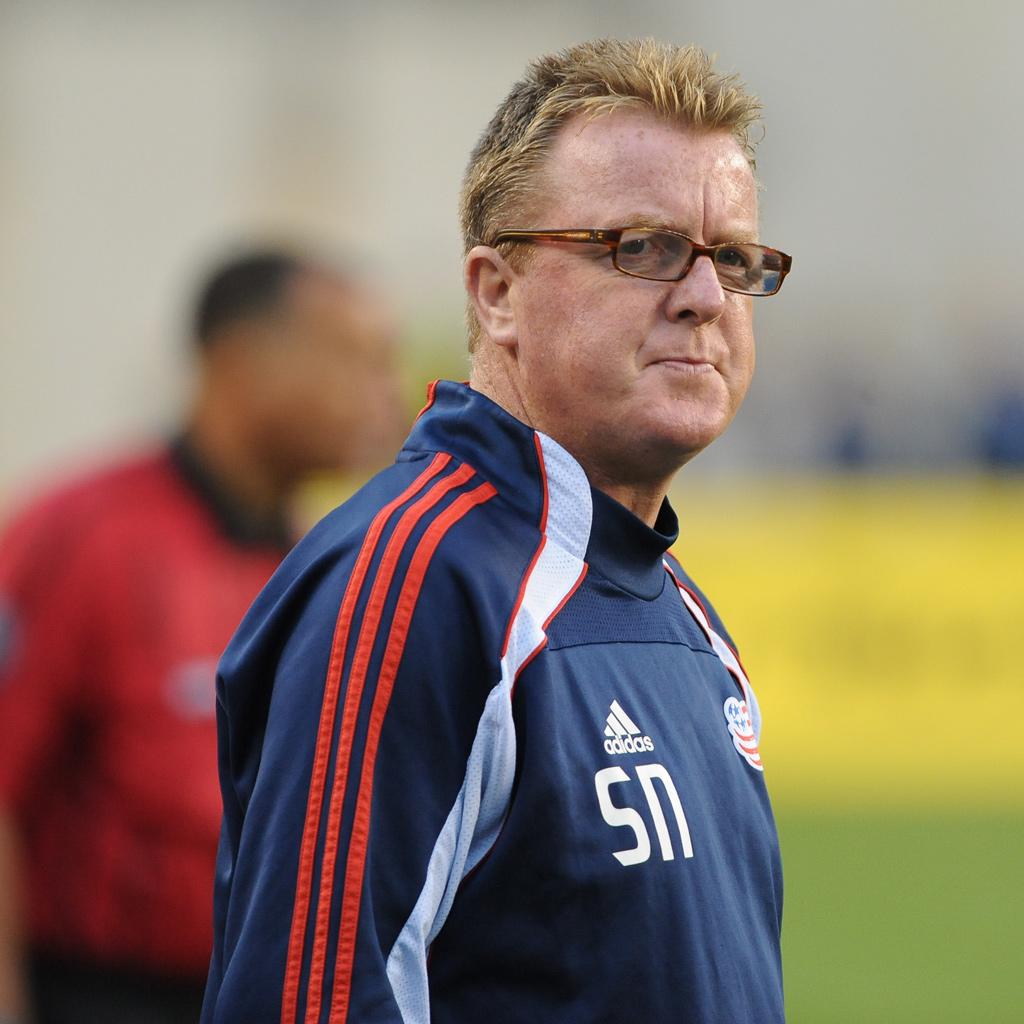 Head coach Steve Nicol is looking to guide the Revs to their sixth straight 10-win season
FOXBOROUGH, Mass. – The New England Revolution has known for weeks that the 2010 season would ultimately end in disappointment with a postseason berth not in the cards for the first time in nine years.
That fact hasn't prevented the Revs (9-15-5, 32 pts.) from battling through the remainder of their schedule, however, as they've strung together a series of impressive performances against some of the league's top teams. They were finally rewarded for their efforts with victories in their last two games against the Houston Dynamo and Kansas City Wizards.
Now the Revolution looks to make it three wins in a row for the first – and only – time this season as the club closes out the 2010 schedule against the rival New York Red Bulls (14-9-6, 48 pts.) on Thursday night at Red Bull Arena.
"It'd be huge (to finish) with three straight wins," said defender Darrius Barnes. "You always want to build off your last game. They say you're only as good as your last game, so if we can have that mindset going in and try to get a 'W' in New York, it would be huge for this team.
"We feel like we've played our best ball here down the stretch," he continued. "So if we just think about that performance-wise, and the product we've been able to put on the field these past few games – if we can keep that up in New York, I think we'll do well."
While the Revs have only pride to play for this weekend as they conclude the 2010 season, the Red Bulls have much more on the line. Currently one point ahead of the second-place Columbus Crew in the Eastern Conference standings, New York needs a victory on Thursday night to clinch the top seed in the East and guarantee home-field advantage en route to MLS Cup. Anything less would leave the door open for the Crew to leap into the top spot with a result against the Philadelphia Union on Sunday.
The Revs are no stranger to playing the role of spoilers, as they did so last weekend when they ended the Wizards' playoff hopes with a 1-0 win in the home finale at Gillette Stadium.
"We played spoiler [last] weekend against Kansas City and to kind of spoil New York and make them have a little bit of a tougher road going to win MLS Cup would be big-time for us," said Barnes. "Anything we can do to kind of throw a little pebble or rock in the road for them, we're going to try to do."
Central midfielder Pat Phelan agreed his side would have extra motivation because of New York's current position in the standings, but also noted the Revs are primarily driven by their own desire to perform.
"It's not necessarily about sticking it to another team," said Phelan. "Obviously, we'd like to be in their position. It's more about us playing well and having something to play for … This season's been a disappointment and to go out with a loss would just kind of cap that off the wrong way. So I think we're going to go down there and give it our all."
Phelan is one of two players – along with defender Cory Gibbs – who will return for the Revs on Thursday night after serving a one-game suspension for caution accumulation in last weekend's win over the Wizards. Both players are likely to slot back into the starting lineup, and their return could allow the Revolution to fill out a full game-day roster of 18 players for just the 15th time this season.
Regardless of how many players dress for the Revs, history will undoubtedly be on their side. The Revolution is an unbeaten 8-0-6 in the last 14 regular-season meetings with New York dating all the way back to the end of the 2005 season, and included in that record is a 2-0-5 mark in the last seven road games.
But the 2010 edition of the New York Red Bulls is far from the team which finished with a league-worst five wins and 21 points last season. With a state-of-the-art new stadium and a pair of high-profile signings in Thierry Henry and Rafael Marquez, the Red Bulls have reshaped their image.
"It's going to be tough," said Barnes. "We're going to have to be smart with the way we pressure them because we don't want to get played through or played over the top. So we just have to be smart and make sure we're keeping a good line and getting everybody behind the ball to make things tough for them.
"Also, we have to be able to play and get the ball moving side to side when [we're in possession], because when you have a team like that which keeps the ball well, you don't want to be defending the entire game," he continued. "If we can be smart with the ball, I think we'll do well."
Should the Revs succeed in extending their unbeaten run against the Red Bulls to 15 league games, it will undoubtedly provide a bit of hope at the end of a trying season. But head coach Steve Nicol was quick to caution against letting the final month of the campaign erase the memory of what went before.
"We have a bunch of guys who, all season, have given their all, from the first game to the last," he said. "But we've made mistakes. We can't hide behind that because we won a couple of games at the end of the season. We've made mistakes at the wrong times and at crucial moments that have put us where we are.
"But as I said, everybody from the first game to the last has given their all and everything they've been asked," Nicol continued. "At the very least, that's all we can ask for."