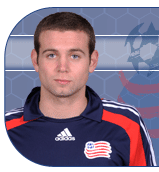 #34 - Sam Brill - D
Height: 6'2 Weight: 190 lbs.
School: Boston College
Born: Sep 6, 1985 Newton
Biography
Youth Club Team: Boston Bolts
A strong central defender who uses smart positioning and anticipation to help stop the attack ... a tall defender, he is good in the air and a threat on set pieces ... a vocal leader in the back.
COLLEGE: A four-year starter at Boston College, manning the backline from 2003 through 2006 ... appeared in 63 games at BC, starting 58 in his career ... scored six goals and added three assists for the Eagles ... has his best offensive year as a senior, scoring a career-high three goals and adding two assists ... earned All-Big East honors as a sophomore in 2004 as he anchored the Eagles' defense that allowed just 10 goals in 20 matches ... as a senior, helped give the Eagles their first ACC victory scoring the game-tying goal and assisting on the game-winning goal in overtime against Virginia Tech ... his headed goal against Connecticut sent BC past their regional rivals, 1-0, in the second round of the 2004 NCAA Tournament.
U.S. NATIONAL TEAM: Called into a pair of Under-18 camps.
PERSONAL: Son of Larry and Susan Brill ... is the middle of the couple's three children ... was an NSCAA High School All-American in 2002 out of Newton North High School.