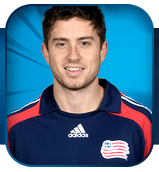 #8 - Chris Tierney - M
Height: 6'0 Weight: 170 lbs
School: Virginia
Born: Jan 9, 1986 Boston, MA
Biography
How Acquired: Selected by the Revolution in the second round (13th overall) of the 2008 MLS Supplemental Draft; signed by the Revolution on June 3, 2008
A versatile left-footed player, Tierney is a good crosser of the ball, especially from out wide on the flank ... a midfielder in college, he made the transition to the backline with the Revs in 2008, seeing action primarily as a left-sided defender ... steady on set pieces, especially free kicks ... was signed to a developmental contract on June 3, 2008, after finishing his degree requirements and graduating from Virginia ... stood out to the Revs' technical staff at the team's annual invitation-only tryout in late January 2008, before being drafted in the Supplemental Draft the following day … also played under former Revolution assistant coach Paul Mariner as a youth player in the Boston Bolts youth program.
2009: Made 14 regular-season appearances - including 13 starts - splitting his time as a left-sided defender and left midfielder. Recorded two assists. Overall, made 19 appearances, including U.S. Open Cup and SuperLiga. Earned his first assist of the season at Toronto (May 23), setting up Shalrie Joseph's 12th-minute goal with a cross from the left wing. Was set to start at left back against LA (July 4), but suffered a left knee sprain in training the day before the game and was forced out of the lineup. Also missed the 0-0 draw with Kansas City (July 11) because of the injury, but returned to the starting lineup for the 2-0 win over Chivas USA (July 19) and assisted on Kheli Dube's game-winning goal in the 61st minute. Made his only substitute appearance of the season in the playoff-clinching, 1-0 win over Columbus (Oct. 25), entering the match in stoppage time. Started at left back and played the entire 120 minutes of the 2-1, extra-time loss to the Harrisburg City Islanders of USL-2 (June 30). Appeared in all four matches in SuperLiga and recorded one assist. Made his only start in the semifinal against Chicago (July 15) on the left side of defense and assisted on Edgaras Jankauskas' 44th-minute goal in the 2-1 loss. Appeared in all three matches in the group stage as a late substitute at left midfield.
2008: Made six regular-season appearances, including four starts at left back. Recorded one assist in MLS action. Overall, made 14 appearances, including regular season, U.S. Open Cup, SuperLiga, CONCACAF Champions League and MLS Cup Playoffs. Made his MLS and Revolution debut on June 21 at Real Salt Lake, entering in the 77th minute and slotting into a left midfield position. Earned his first MLS start on Aug. 9 against Chicago, playing on the left side of a four-man backline. Followed up with a start at Toronto (Aug. 23) at left back as he recorded his first-career MLS assist on Taylor Twellman's 35th-minute goal. Made three appearances, including two starts, in SuperLiga. Started at left back against Pachuca (July 16), marking his first professional start at Gillette Stadium, and against Houston (Aug. 5) in the final. Scored the Revs' fifth penalty kick in the 6-5 shootout victory in the final against the Dynamo. Was the only member of the Revs to play all 180 minutes in the two-leg series against Joe Public in the CONCACAF Champions League. Also made two starts at left midfield in the U.S. Open Cup, recording two assists - both against Richmond (July 1). Also scored the Revs' third penalty kick in the shootout victory over Crystal Palace Baltimore (July 8) in the quarterfinals. In addition to first-team action, made eight appearances with the Revs' reserve team, including seven starts. Scored one goal while playing central midfield, attacking midfield, left midfield and left back. Played in four reserve matches before signing with the team. Started Game 1 of the Eastern Conference Semifinal Series against Chicago, before suffering a sprained knee in training the following week and missing Game 2.
COLLEGE: Appeared in 79 games with the Cavaliers, starting 38, scoring 11 goals and adding 16 assists in his four-year career … as a senior, scored a career-high seven goals, and assisted on seven more … voted to the 2007 ACC All-Tournament team … helped the Cavs advance to the NCAA College Cup in 2006 for the first time since 1997.
PERSONAL: Son of Cathy and Sandy Tierney … has a brother, Alexander, and a sister, Caitlin … enjoys skiing … a psychology major at Virginia … played his prep soccer with Revs teammate Mike Videira at Noble & Greenough in Dedham, Mass. ... was one of three Revs to train with the Brazilian National Team on June 4, 2008, while the world's second-ranked team was preparing for its match against Venezuela at Gillette Stadium … ... was one of 15 young MLS players featured in CosmoGirl.com's 2009 "Eye Candy" piece … spent one month of the 2009-2010 offseason in South Africa with Grassroot Soccer, volunteering with the organization and its inoculation and AIDS/HIV education work.
TIERNEY'S CAREER STATISTICS
| | | | | | | | | | | | | | | |
| --- | --- | --- | --- | --- | --- | --- | --- | --- | --- | --- | --- | --- | --- | --- |
| YEAR | TEAM | GP | GS | MIN | G | A | SHT | SOG | FC | FS | OFF | CK | C | E |
| 2008 | New England | 6 | 4 | 340 | 0 | 1 | 0 | 0 | 2 | 0 | 0 | 0 | 1 | 0 |
| 2009 | New England | 14 | 13 | 1044 | 0 | 2 | 7 | 4 | 8 | 2 | 0 | 12 | 0 | 0 |
| | Totals | 20 | 17 | 1384 | 0 | 3 | 7 | 4 | 10 | 2 | 0 | 12 | 1 | 0 |
| | | | | | | | | | | | | | | |
| YEAR | POSTSEASON | GP | GS | MIN | G | A | SHT | SOG | FC | FS | OFF | CK | C | E |
| 2008 | New England | 1 | 1 | 90 | 0 | 0 | 0 | 0 | 0 | 0 | 0 | 0 | 0 | 0 |